Farm Progress Show brings students, ACT to the forefront of innovation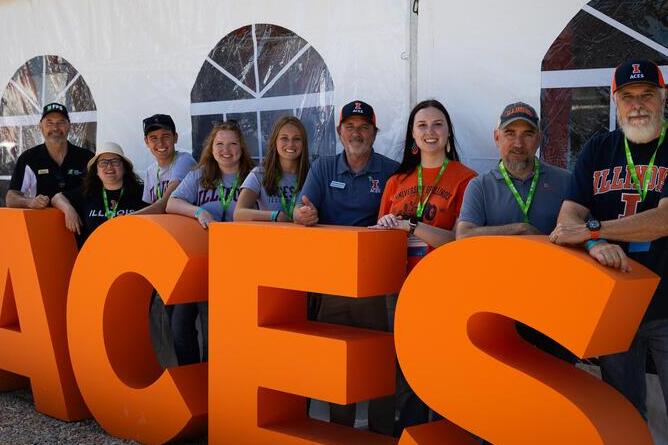 URBANA, Ill. — Every year, farmers, researchers, and companies gather to visit a hub of innovation— the Farm Progress Show (FPS), the biggest show of its kind in the U.S. This year, the Illini Agricultural Communicators of Tomorrow (ACT) club was invited to join the media tent, sharpening their on-the-ground reporting skills through the opportunity to shadow professionals at an in-person agricultural event.
Illini ACT is open to all students at the University of Illinois Urbana-Champaign, regardless of major, who are interested in learning more about communications within the agricultural industry. 
"I'm a believer in experiential education. I like how ACT gives students applied experiences that will help them prepare to enter the sector as highly skilled agricultural communications professionals and agricultural journalists," said Illini ACT advisor Owen Roberts, director of agricultural communications in the Agricultural Leadership, Education, and Communications (ALEC) program in the College of Agricultural, Consumer and Environmental Sciences (ACES). Roberts was joined at the FPS show by agricultural communications faculty members Pam Axtman-Barker and Eric Morgan.
The FPS event, which rotates between Boone, Iowa, and Decatur, Illinois, has become a place of common ground for leaders in the agricultural industry to share recent breakthroughs, new technology, and improved farming strategies while also educating and interacting with consumers face-to-face.   
Staying true to its purpose of connecting students with professionals, ACT was invited to the Farm Progress Show by ALEC alum Mike Wilson, an agricultural journalist who worked for the National FFA magazine, New Horizons; Prairie Farmer; and, for the past 20 years, Farm Futures. Both Prairie Farmer and Farm Futures are part of Farm Progress media. Wilson served as an editor on the media team at the Farm Progress Show, covering the event for publication. 
"For the first time ever, we reached out to the ag communications program, specifically Illini ACT," Wilson said. "We've always tried to look for ways to help build students' careers, interests, and career development."
Students from ACT celebrated the show's 70th anniversary by shadowing professionals in three different areas: print, photography, and radio broadcasting. The day was filled with ACT attendees learning about the career field they'll be entering upon graduation.
Ava Splear, a junior majoring in ALEC and vice president of Illini ACT, attended FPS to learn more about one element of the industry she had not yet explored: radio broadcast.
"I shadowed someone who was interviewing different people for radio clips on RFD radio, which is a radio station out of the Illinois Farm Bureau. It was really neat. I actually got to conduct some of my own interviews with the seed company Wyffels Corn Hybrids and the soil and water conservationists from Champaign County," Splear said.
"I hadn't explored radio and broadcasting at all. So, I honestly wasn't sure what to expect when I went into it," she added. "But I really enjoyed my day, and I thought it was a good opportunity to be curious and ask questions. That experience could impact my future plans." 
Students networked with media professionals, including those in photography, broadcasting, and print media. They also heard talks given by legislators like Tom Vilsack, the U.S. Secretary of Agriculture.
The event brought together generations of ag communicators to support students who will go on to become leaders in the industry. Wilson and Roberts are hopeful the successful experiment will become a tradition for ACT clubs at future Farm Progress Shows. 
"I enjoyed meeting all the students and being able to play a tiny role in helping to support the future of our industry," Wilson said. I've always been thankful to the people who helped me make good career decisions or learn about various career ideas. And so we're always looking to give back, as a company, to try to help support the youth and young people coming up in the profession."
The College of ACES always has a presence when the show comes to Illinois. Bringing representatives from the college and Illinois Extension, ACES seeks to showcase innovations the farming public can use and introduce prospective students to its forward-looking degree programs. 
To learn more about the agricultural communications program, contact Owen Roberts at oroberts@illinois.edu.