Harvest Open House introduces families to today's agriculture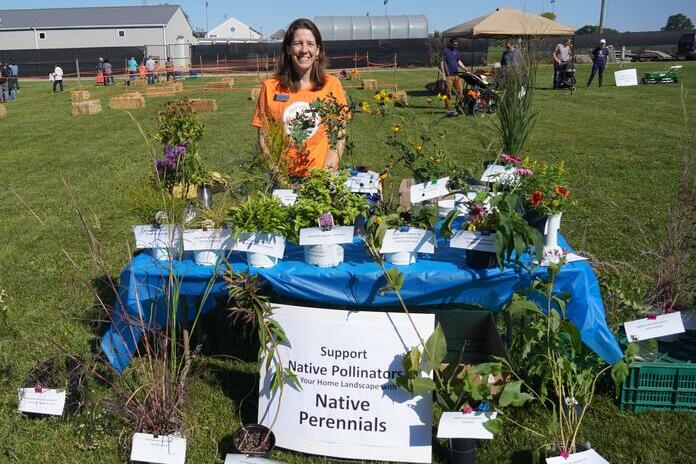 Andrea Faber Taylor at Harvest Open House 2022
URBANA, Ill. – Looking for a family-friendly event this weekend? Check out the second annual Crop Sciences Harvest Open House from 10 a.m. to 4 p.m. Sept. 30 at the Agronomy Seed House south of campus.  
Hosted by the Department of Crop Sciences and the College of Agricultural, Consumer and Environmental Sciences (ACES) at the University of Illinois Urbana-Champaign, the Harvest Open House will feature interactive exhibits, activities, and food for all ages. 
Visitors can look forward to sampling salsa from produce grown on the Sustainable Student Farm; learning popcorn genomics while enjoying the buttery treat; seeing biological control of pest insects in action; pumpkin and face painting; touch-a-tractor (and other farm equipment); and much more. Other activities include seed planting, turning wheat into pasta, shelling corn, digging in soil for prizes, and more.
"Harvest Open House brings the excitement of the harvest season together with innovative scientific advances in agriculture to one location," says crop sciences professor Andrea Faber Taylor. "We're always thrilled to help kids learn more about where their food comes from and experience the fascinating interactions between plants, land, and insects."  
Adam Davis, head of the Department of Crop Sciences, adds, "The Harvest Open House is a nice opportunity to spend a fall day outdoors learning and playing with your family and friends in a living classroom. We look forward to welcoming the community this weekend."
Between the games and snacks, visitors will learn today's agriculture doesn't fit old stereotypes. It means developing sustainable, regenerative systems to ensure an abundant food supply and a healthy environment; melding computer science and crop science to leverage big data generated by precision agriculture systems; breeding climate-adapted crops for a changing world; developing smart tools to battle weeds and pests that threaten food and fuel security; and so much more.   
Harvest Open House attractions will be located at the Agronomy Seed House at 2102 S. Wright St. in Urbana. The event is free; food will be available for purchase from the Maize food truck.
For more information, visit the Crop Sciences Open House website or contact Andrea Faber Taylor at afabrtay@illinois.edu or 217-244-3898.