IBRL team jumps in to help health care facilities curb coronavirus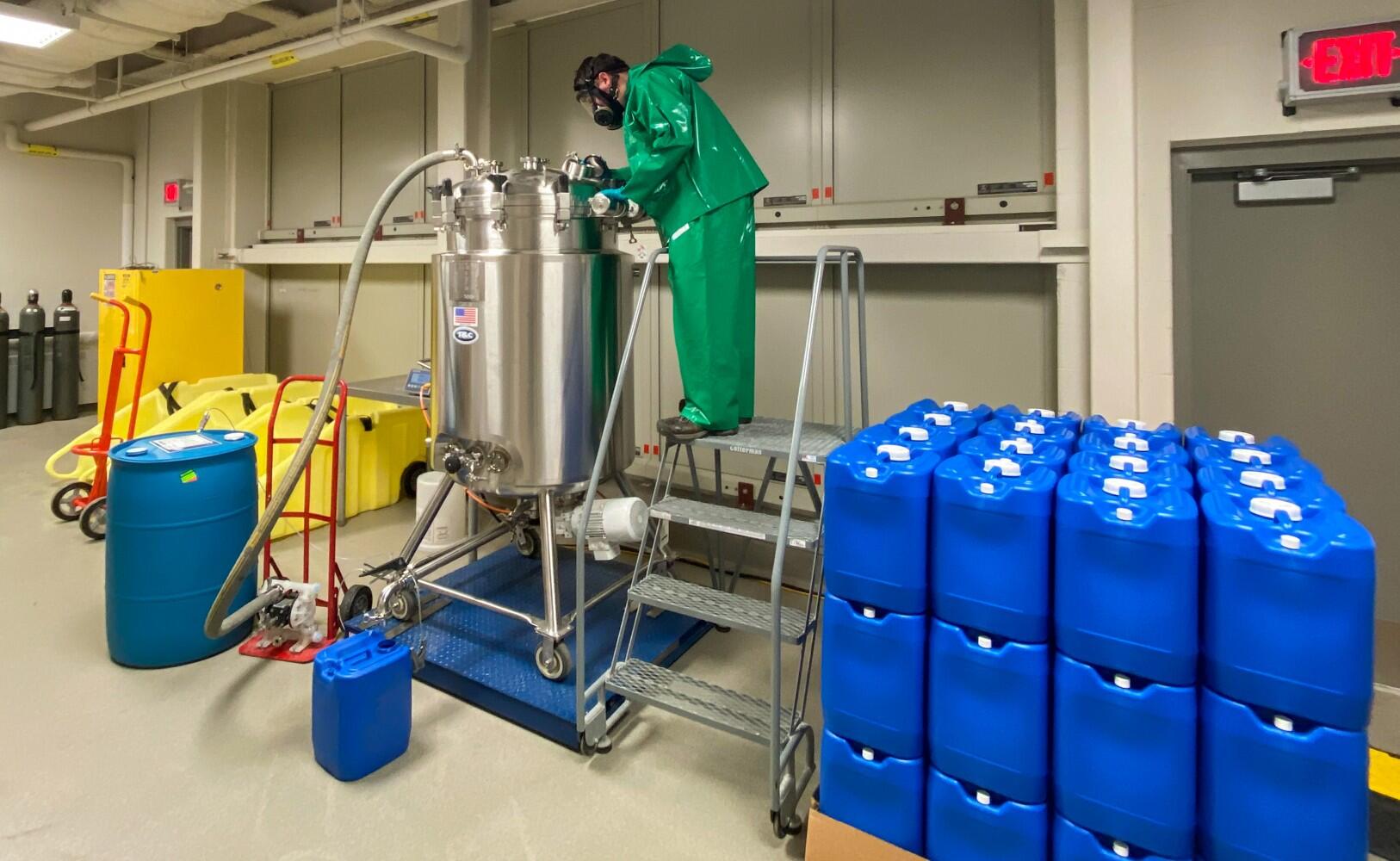 IBRL team jumps in to help health care facilities curb coronavirus
URBANA, Ill.—Get Brian Jacobson started, and he just might not stop. Talking about – and producing – hand sanitizer, that is. He's that excited about the Integrated Bioprocessing Research Laboratory's vital role in helping stem the spread of the coronavirus.
Granted, with most staff working remotely and students off campus for now, the team is smaller than usual. Small, but mighty. It's also buoyed by a host of other University of Illinois colleges and units pitching in to address serious needs for already-stretched-thin health care facilities around the state.
"It's unbelievably rewarding to be able to do something in the fight against the spread of the coronavirus," says Jacobson, assistant director of pilot plant operations at the Integrated Bioprocessing Research Laboratory (IBRL), part of the Department of Agricultural and Biological Engineering in the College of Agricultural, Consumer and Environmental Sciences (ACES) and Grainger College of Engineering at U of I. "Our work here will help University of Illinois Hospital in Chicago and other facilities in need."
Donning protective gear, including full-face respirators, Jacobson and a handful of IBRL employees – Eric Wolfe, Phil Manning, and Jedi Brown – plan to produce more than 300 gallons of hand sanitizer a day as long as the need continues and supplies remain available. Health care facilities will use IBRL's 5-gallon drums to fill smaller containers so more people can access the hand sanitizer they need to keep themselves and others healthy.
Under normal conditions, IBRL features 30 to 35 people working to help food and bioprocessing companies and researchers. The IBRL team received the 2020 College of ACES Team Award for Excellence. Now they're using their equipment and expertise to manufacture something even more urgently needed.
"ACES and IBRL thrive on shifting innovative thinking into action," ACES Dean Kim Kidwell says. "The IBRL team jumping in to help hospitals, clinics, patients, and communities serves as a prime example of the difference this kind of culture makes in finding solutions to our world's biggest challenges.
"It's exciting for future innovators to see what people in ACES can do. I'm looking forward to the day that a new student tells me that learning about this hero-level work and other endeavors prompted them to choose ACES."
The School of Chemical Sciences in the U of I College of Liberal Arts & Sciences is providing IBRL with ethanol, glycerol, and hydrogen peroxide from its chemistry storerooms.
"We procured chemicals from a variety of places, including faculty donations, trusted vendors, and local companies," says Vijay Singh, IBRL director and professor in agricultural and biological engineering. "We continue to look at all of those avenues for getting chemicals so we can make more hand sanitizer and help more people."
From there, the Illinois Fire Service Institute (IFSI) and the joint U of I/Champaign County Emergency Operations Center (EOC) handle distributing hand sanitizer to first responders and health care facilities in need. Dr. Farzaneh Masoud, IFSI director of research, helped IBRL with the hand sanitizer recipe and validation of the first batch. The university received approval from the Federal Drug Administration to produce the coronavirus killer.
"We receive requests continually for hand sanitizer, personal protective equipment, and other supplies, and with the hard work by IBRL, we can deliver one of the in-demand products to where it's needed most," says Brian Brauer, IFSI associate director and EOC Center manager.
"It's another example of people stepping up to do what they can to get our communities back to normal as soon as possible. We're honored to play a role."
Back at IBRL, Jacobson's exuberance doesn't stop with those directly helping with production and distribution.
"Even though our 20 student interns and some employees aren't able to work on the production, their efforts before leaving were critical to our ability to quickly support an important project like this," he says.
"They take care of a lot of operational tasks that can be routine and tedious, but it is so important to have those processes correct during periods of change or challenge. They're excited we're doing this, and I'm sure they'll bring some of these lessons with them to their careers."
IBRL's hand sanitizer production draws assistance from many sources, including ethanol and shipping companies. Pacific Ethanol donated 5,000 gallons of ethanol, enough to produce 6,200 gallons of hand sanitizer.
"Pacific Ethanol Inc. is very proud that our history of collaboration with the University of Illinois has opened the door to providing one of the key ingredients in the making of hand sanitizers here in Central Illinois; namely, high-quality alcohol," says Todd Benton, site manager at Pacific Ethanol in Pekin. "Our employees are committed to working around the clock meeting the demands for high-quality alcohol and distributing as quickly as possible. It is our way of helping to combat the threat of COVID-19 not only in our communities but across the United States."
G&D Integrated, Morton, provided transportation of the ethanol from Pekin to Champaign. Other contributions include a loan of brand new flammable storage tanks from Premier Cooperative, discounted packaging from Uline, and donations of needed chemicals from faculty members across the U of I campus.
Susan Martinis, vice chancellor for research and innovation at U of I, says the university greatly appreciates the generous donations.
"IBRL leadership and staff stepped up to quickly and nimbly respond to a crucial need," she says. "While IBRL provides the expertise and facilities, industry sponsors helped make scaling up of the hand sanitizer production possible. This is an excellent example of how university and industry partnerships work to serve our communities in this difficult time."
For more about this IBRL effort, check out recent news reports on WCIA-TV and FOX Illinois.