Illini Fuel gives ACES students hands-on experience in sports dietetics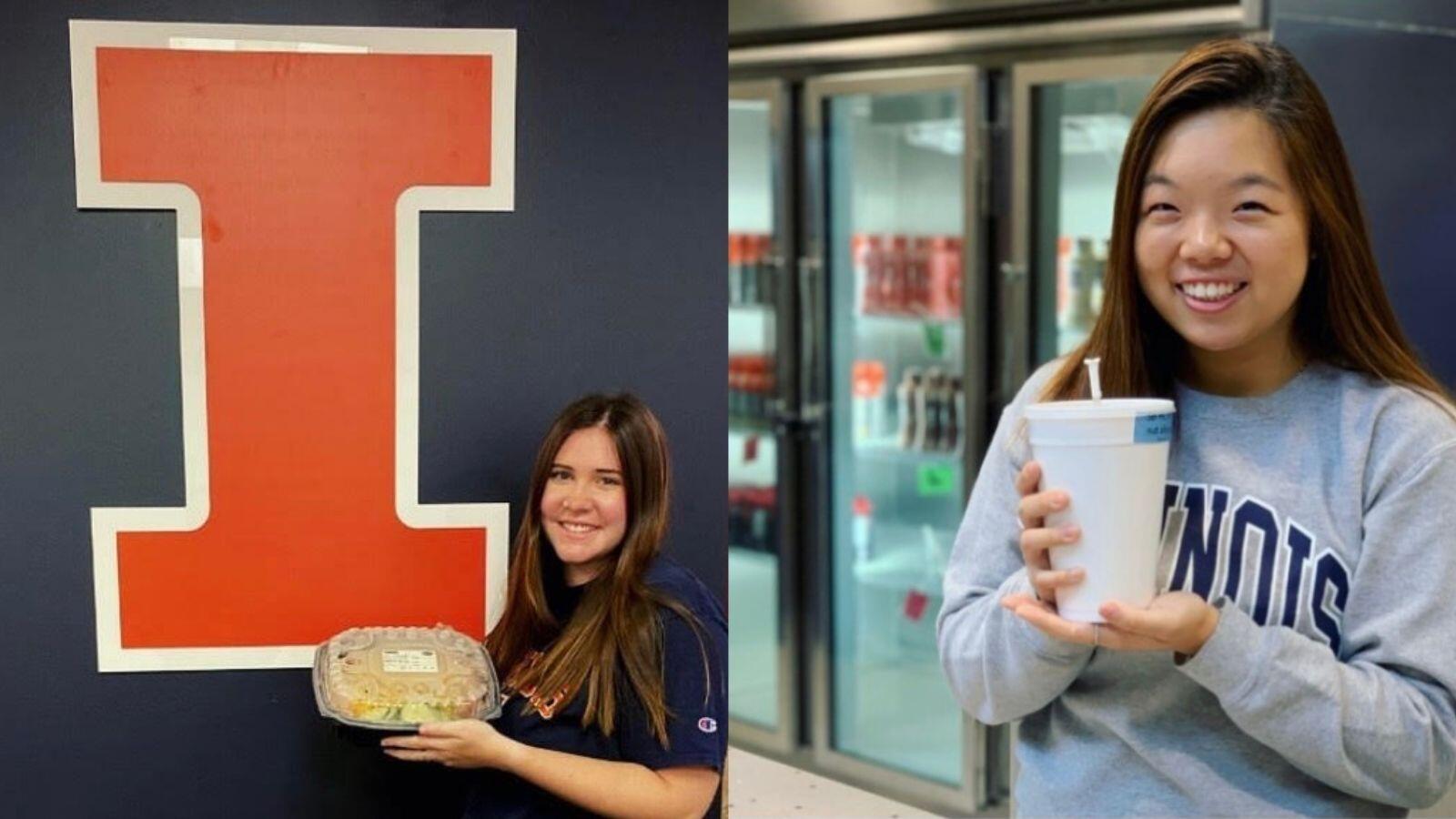 Illini Fuel gives ACES students hands-on experience in sports dietetics
Students at University of Illinois Urbana-Champaign are not lacking in U of I pride, and it's not uncommon to see Memorial Stadium or the State Farm Center packed with students cheering on Illini athletes. What many people might not know, though, is behind the scenes and on the sidelines at U of I sporting events, College of Agricultural, Consumer and Environmental Sciences (ACES) students are working hard to help fuel and hydrate players during games and practices.
These students are a part of Illini Fuel, a unique sports nutrition program where dietetics students from ACES' Department of Food Science and Human Nutrition (FSHN) volunteer to help educate and fuel Illini athletes. Illini Fuel is one of the few collegiate sports nutrition programs in the U.S. and allows dietetics students to gain hands-on experience and get a taste of what a career as a sports dietitian might include.
Sierra Workman, junior in dietetics and Illini Fuel volunteer, heard about Illini Fuel through other dietetics students who had volunteered in the past. She chose to study dietetics after seeing misinformation being spread on social media about how to maintain the perfect diet and be healthy.
"I love working with other people, and I want to help others be the healthiest version of themselves. Coming into U of I, I knew I wanted to go into dietetics, but I really wasn't sure what area," Workman says.
Through Illini Fuel, Workman is exploring sports dietetics, specifically, by working directly with athletes and registered dietitian nutritionists (RDNs). The RDNs answer her questions about sports nutrition, as well as offer advice on different career paths.
"What interested me about the program was that it is such a hands-on experience in sports nutrition, which can be hard to find," Workman notes. "I personally have learned so much more than I would have just sitting in a classroom."
Workman volunteers at fuel stations, which provide athletes food during and after practices. She also gives athletes nutrition advice if they're not sure which food options are best suited for them.
"Through the Illini Fuel program, I have learned so much about sports nutrition and working with athletes," Workman says. "After working at Illini Fuel and through other experiences during the last couple years, I know I want to become a sports dietitian or do research in dietetics after I graduate."
Trisha Yen, senior in dietetics, transferred to U of I and was originally a pre-nursing major. Yen was always interested in dietetics but was worried about a career because dietetics seemed like such a small field.
"Fortunately, dietetics is one of the fastest growing fields among healthcare occupations," Yen explains. "Food is so important in disease prevention, and instead of treating patients with conventional medicine, I can be treating them with food."
After director of Illini Fuel, Brittany Perry spoke about Illini Fuel in one of Yen's classes, Yen knew she wanted to gain more experience in dietetics that wasn't clinical-related and thought Illini Fuel would be a great way to do that.
Because of COVID-19 regulations, Yen's usual jobs at Illini Fuel have varied. Typically, Yen would be restocking fuel stations around campus and creating snack bags for athletes at away games. She has also helped distribute quarantine meal bags, and last year, made smoothies for track and field nutrition talks on the weekends.
Yen says all of this experience including working with RDNs has increased her knowledge and growth in her major and taught her the importance of dietitians' work.
"Illini Fuel has helped me learn how specialized nutrition can be in different fields. [RDNs'] goal is to promote lifelong health and help athletes with their performance," Yen says. "Brittany and the other dietitians consistently inspire me to continue to pursue sports dietetics."
Yen also hopes to see other universities follow in U of I's steps and develop programs like Illini Fuel.
"As people realize how important nutrition is for performance, I'm sure we'll see other colleges creating programs like Illini Fuel," she says. "RDNs are just as important as an athletic trainer or coach."
ACES' dietetics program combines coursework from physical and social-science areas, preparing students to address complex nutrition and health issues. After graduating, completion of an accredited internship, and successful passage of the registration examination for dietitians, graduates qualify for status as an RDN.
Check out more about Illini Fuel on Instagram.
Discover opportunities in the College of ACES and learn about our 13 majors and ACES Undeclared program and join us for a virtual visit.