Internships let women in ACES try conservation agriculture on for size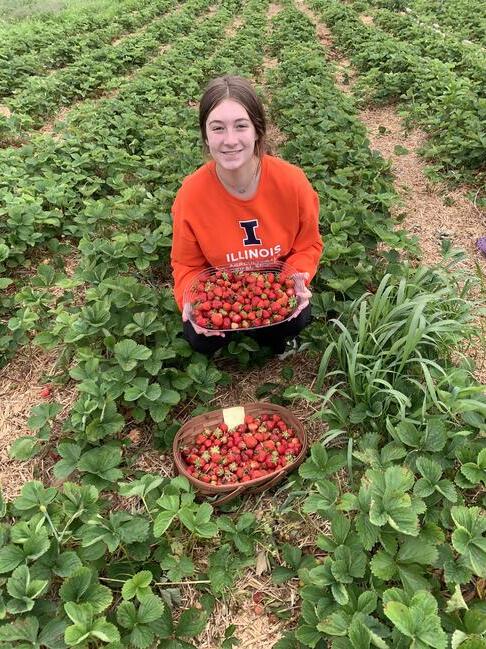 Sam Henry, pictured, spent a summer learning about careers in conservation agriculture through an ACES-USDA NRCS internship
URBANA, Ill. – Sometimes, a summer can change everything. For several undergraduate women in the College of Agricultural, Consumer and Environmental Sciences (ACES) at the University of Illinois, a summer internship with the USDA's Natural Resources Conservation Service revealed new career goals and delivered the skills and experience to get there.
For Micha Marchetti, a senior in Natural Resources and Environmental Sciences, agriculture was never much of a draw. But when she saw an ad for an ag-focused internship geared specifically toward women, she decided it was worth a closer look.
"I'm really passionate about the environment, but I don't have any background in agriculture," Marchetti says. "I was a little hesitant about an agriculture-focused internship, but when I learned it was catered towards women, it made the whole atmosphere really welcoming and inviting."
Apply now for a summer 2023 internship at Illinois NRCS offices.
Marchetti spent the summer of 2022 at NRCS field offices serving Peoria, Woodford, and Tazewell counties in Central Illinois. Shadowing engineers, soil conservationists, and soil technicians, she learned the importance of conservation planning and the value of stewarding agricultural land.
"I learned a lot; it was a great experience. I worked with some really cool people and had a lot of new experiences. It taught me agriculture is something I'm actually interested in. Considering I never saw myself in an agriculture field at the start of the summer, it really helped confirm that I'm on the right track now," she says.
María Villamil, professor in the Department of Crop Sciences, administers the collaborative agreement between ACES and USDA-NRCS. She says, "Increasing representation of women in traditionally male-dominated areas like agriculture is our collective responsibility. The USDA-NRCS is proactively addressing the need of diversification of their taskforce in innovative ways. Our collaborative agreement, for example, is specifically designed for female undergraduates to explore career paths within the USDA so they can consider applying once they graduate from U of I.
"We have excellent undergraduate women in our college, so this internship is a fun, feet-on-the ground way to raise young women's awareness to careers they might not know exist and imagine themselves taking that job in the near future."
Sam Henry, a sophomore in Agricultural and Biological Engineering, was at a crossroads when she found the internship last summer. Interested in food bioprocessing and GMO technologies as a freshman, Henry had become disenchanted with that field by her second semester.
"I wasn't exactly lost after realizing I didn't want to do food engineering, but I had a small crisis. I was interested when I saw the internship and it mentioned conservation, so I applied, but I still wasn't sure it was right for me," Henry says. "I ended up really loving what I was doing for the internship. I officially dropped my food science minor after that summer and started one in natural resource conservation."
While Henry has a couple years to go before she makes career decisions, Marchetti is planning to apply for jobs with NRCS this year.
"My NRCS supervisor still checks in with me from time to time, and we've discussed me applying for the career pathway program with the agency," Marchetti says. "I'm so glad I went after the internship. I wasn't thinking it would be something I wanted to do with the rest of my life. I found out it is, so now I know it's really important to take a leap into the unknown sometimes. You never know what's going to come from it."
Applications for the 2023 internship are being accepted on a rolling basis. Successful applicants will be paid for an 8-week summer appointment and placed within Illinois NRCS field offices to provide conservation planning and technical assistance to farmers, ranchers, and local government officials.
Applicants must identify as women, be enrolled in an ACES major, and carry a GPA of 2.5 or greater. For additional information please contact María Villamil at villamil@illinois.edu. Apply now for summer 2023, or view more USDA internships and career opportunities.