Jewel of the ACES campus: LIAC turns 20 years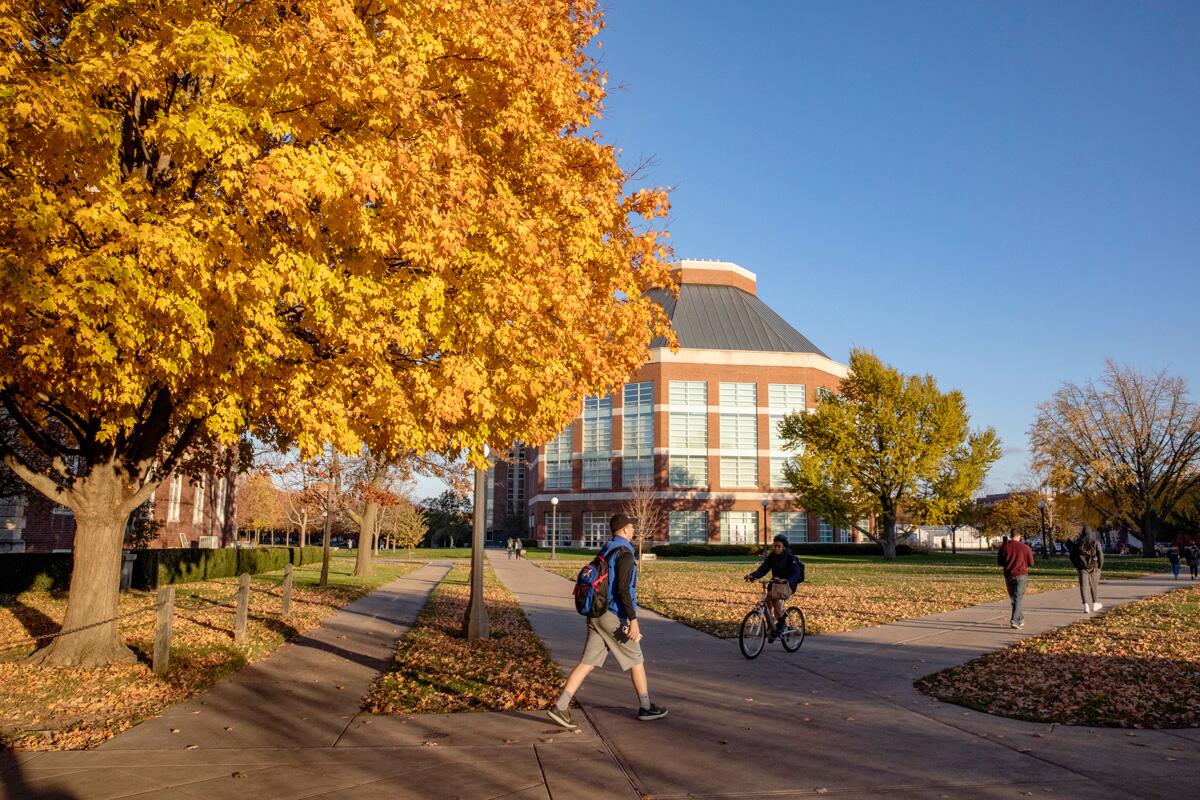 Jewel of the ACES campus: LIAC turns 20 years
URBANA, Ill. – In the center of the College of Agricultural, Consumer and Environmental Sciences (ACES) campus at University of Illinois, look up and you'll see a massive, hexagon-shaped building, recognized for its gorgeous interior and well-loved study spaces with lush, green views of south campus.
That scene of the ACES Library, Information, and Alumni Center (LIAC), against the background of bright blue Midwestern skies, is iconic these days. But just two decades ago, the land LIAC stands on was an empty parking lot.
October marks 20 years since construction of LIAC was completed, and students, alumni, and friends across campus are celebrating the asset the "Jewel of the ACES Campus" has been to the college and beyond. 
LIAC became a reality thanks to hundreds of donors' gifts totaling $10.5 million, combined with $10.5 million in state funding. The vision of ACES alumni and staff for such a center moved the idea forward for nearly a decade before its construction.
Part of U of I's extensive and world-renowned library system, LIAC's top four floors house one of campus' most beloved libraries, the ACES Funk Library, named for the Isaac Funk family, who provided the lead gift.
But LIAC is more than the library. The building serves as a connection center for alumni, students, and visitors with tech-equipped meeting and conference rooms, computer labs, offices, and other gathering spaces.
Marla Todd, ACES director of advancement operations, was a student when LIAC was being built. She remembers the empty lot where the library now stands.
"We watched it go from a giant hole in the ground, to the building that it is," she says. "There was the idea this was going to be a welcoming, vibrant, lively space."
Todd still feels a sense of joy knowing how much work was put into LIAC, which, she says, is now a space that brings students from all parts of campus together.
"I still feel a lot of pride in the fact it was a building that took a lot of people to make it happen. It was certainly a collective effort of our ACES family, and that's still reflected there," she says. "At the same time, I think sometimes we take for granted that we have it. I encourage students to consider how very fortunate we are to have this amazing space."
Lynette Marshall, former associate dean and director of the Office of Advancement for ACES, was involved with the LIAC vision from the very beginning, leading fundraising efforts. She remembers when ACES dean at the time, John Campbell, and alum Jack Rundquist announced the idea of a new ag library at the annual ACES alumni meeting.
Marshall says donations started coming in, including a generous $1 million donation from the Isaac and Cassandra Funk family.
Marshall, who now serves as president and CEO of the University of Iowa Center for Advancement, says fundraising for the library took more than 10 years.
"Over that period of time, the concept of what would be housed in the building shifted and changed," Marshall explains, adding that though LIAC's construction was a collaborative effort, some key people really spearheaded its direction.
Former ACES dean Reg Gomes, for example, developed a specific idea for the scope of the building. And Bill George, former associate dean for academic programs during LIAC's construction, provided leadership from the academic side of ACES on deciding what would be in the building.
Looking back on the construction after 20 years, Marshall can't believe how long it's been.
"I've often said it's my third child because it had such a long gestation, and I worked on it professionally for such a long time," she says. "It's just really gratifying to know that I was part of helping facilitate people's generous philanthropy to help make the building possible."
Along with being an ideal place for students to gather to study or research, LIAC is also a place where ACES alumni meet and hold events. Alan Puzey, current president of the ACES Alumni Association, graduated from ACES in 1974 with a degree in ag communications and ag economics, and remembers feeling ecstatic when he learned ACES students would be getting a new and improved space.
Before the LIAC library, the ag library was located in a small space in Mumford Hall with books stacked in piles, Puzey recounts.
"It was exciting to see because not only did it provide a better spot for the ACES students and the library and the holdings of all the documents, it is a wonderful facility for meeting rooms," Puzey says.
The ACES Alumni Association and many other organizations use LIAC spaces for meetings, activities, events, award functions, and various programs for alumni, and current and prospective students.
Puzey says LIAC is like a home base for ACES alumni to come back to and that it helps foster a close-knit community of alumni who have a big appreciation for ACES. Recently, Puzey notes, the association has been able to hold a few face-to-face meetings at LIAC again.
"It's been nice to get back together and see our family," Puzey says, adding that the current board includes alumni from a wide range of years. For example, there are alumni on the board who graduated before Puzey and alumni who just graduated a few years ago.
"Campus has changed a lot over the years, but ACES—the college, the library—it just makes you feel like you're coming home again," Puzey says.