Montgomery County farmland gift provides opportunities for ACES students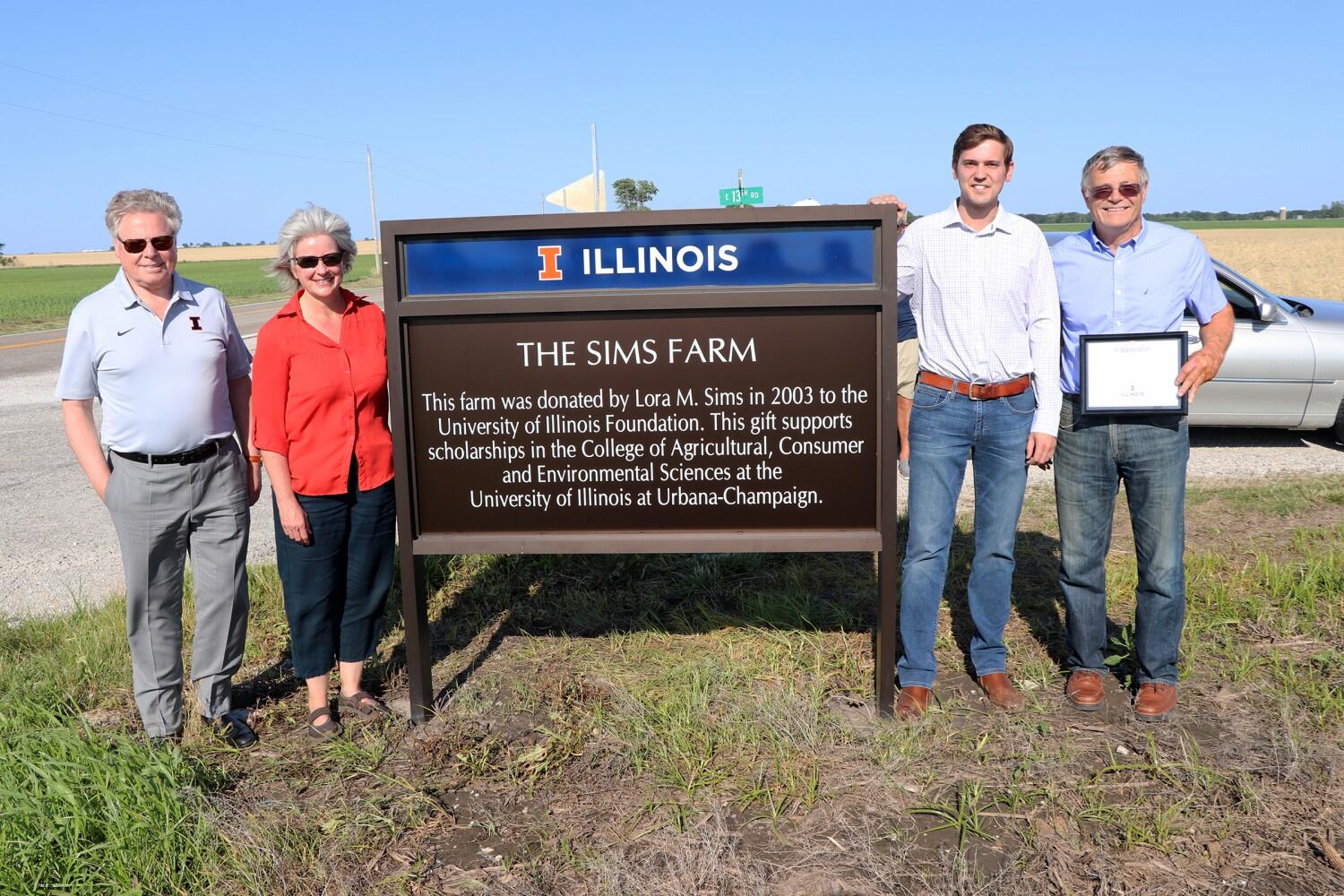 Montgomery County farmland gift provides opportunities for ACES students
URBANA, Ill. – Before gifting her farmland to the University of Illinois in the early 2000s, and long after she had moved from Illinois, Lora Sims recounted that she was once advised to sell off her Montgomery County land.
But Sims didn't want to sell the farm that had been such an important part of her family. Lora's mother, Adelaide "Addie" Colvin Sims, owned the land and then left it to Lora and her siblings. That decision has now positively impacted hundreds of University of Illinois students.
Upon her death in 2002 at the age of 100, Sims gifted 318 acres to the College of Agricultural, Consumer and Environmental Sciences (ACES), continuing a family farm legacy that has since benefited hundreds of ACES students. In her estate plans, Sims requested the name of the farm be recorded as the "Addie Colvin Sims Family Farm," to recognize her mother, who had managed the farm, and her siblings who had all owned the farm, in part, at one time.
Recently, alumni and friends of the College of ACES, along with University of Illinois and Illinois Extension officials gathered at the Nokomis, Illinois, farm to celebrate the legacy of the Sims family and the gift that has supported 261 scholarships for ACES students, totaling nearly $700,000 since 2003.
Under blue skies at the edge of the farm's field, green and lush with soybeans, guests heard remarks from U of I Vice Chancellor for Academic Affairs and Provost Andreas Cangellaris, ACES Dean Kim Kidwell, and ACES alumnus, Lucas Frye, speaking as a former recipient of the Addie Colvin Sims scholarship.
Frye, who graduated from ACES in 2015 in agricultural and consumer economics, is co-founder of Amber Agriculture, an agricultural technology company based in Chicago. Frye described his company's core technology as a kernel-like sensor, "about the size of your thumb," that helps farmers by sensing and collecting analytics on the temperature, humidity, moisture, etc., of grain inside the grain bin.
Being a recipient of a Sims scholarship, Frye said, made it possible to start his company after graduating. "I was really fortunate after graduation to be in a position where I wasn't straddled with student debt and had the ability to build a new enterprise out of the gate because of that. Scholarships are really important for young people to be in that type of position to take risks, to work on new big ideas, and to build businesses."
Frye also mentioned that he, himself, had grown up on a six-generation farm not far from Havana, Illinois, farming corn and soybean.
But it was his experiences in the College of ACES that led him to start Amber Agriculture.
"There was certainly formative experiences [at the University of Illinois] through and through," Frye said. "I met my [Amber Agriculture] co-founder at the University of Illinois, we started it out at the University of Illinois. I was an ag economics student, and I took advantage of a lot of experiential learning opportunities, such as ag econ tours, some international, or out to D.C. or California, and I was involved in the International Business Immersion Program."   
During the celebration, Kidwell was able to thank Kenny Folkerts, the farm's current tenant, for his stewardship of the land.
Folkerts has farmed the Sims land since 1989. As a boy, he had a good friend who lived on the farm, and spent many days playing on the farm. He has remarked that little did he know that 40 years after playing on that farm, he would be farming the same ground.
During the years that Lora Sims lived on the farm, she kept a horse and rode it nearly every day after school. She earned a bachelor's degree from the University of Illinois in the College of Education in 1927. She taught in Detroit for many years. Then, in 1972, she moved to Santa Monica, California, to join her two sisters. Sims passed away on May 9, 2002.
In addition to the farmland gift, Sims provided endowed scholarships for students in the College of Veterinary Medicine.
Cangellaris commented on the importance of gifts to the university, as well as the role the College of ACES will play in the future of agriculture and how important students are to the effort.
"People who give to the university have come to terms with the fact that, in my opinion, there's no better investment than investing in the future. And the best way to invest in the future is to invest in young people. I think that's why people give to the university," Cangellaris said.
"The thing that Illinois stands out for when it comes to agriculture and food production is that we are able to experiment with growing food under any conditions—weather conditions, climate conditions, environmental conditions—by just simulating those conditions in state-of-the-art laboratories," he said. "The way we are going to continue advancing Illinois in the way of food production and agriculture is making sure we continue to innovate and develop these groundbreaking technologies that will enable people to produce food no matter where they are."
Kidwell added, "I think most people settle into a place of wanting to create a sustainable future for agriculture. And the way that we do that is to make sure there's a pipeline of young talent coming up behind us that are going to be good stewards of the land. The legacy piece is really important. If you want to support the development and advancement of agriculture and the perpetuity, providing a gift of land is amazing.
"We see these gifts used for lots of things. Many people will ask us to dedicate it to scholarships. We've also had people give us gifts of land that are used to fund county Extension offices or 4H functions in particular counties," she said.
Throughout its 150-year history, the University of Illinois has been the grateful beneficiary of many gifts of farmland, and the College of ACES currently receives income from 6,100 acres of donated farmland held for its exclusive benefit. Income from the ongoing successful operation of a gifted farm serves as a perpetual funding source for the college's land-grant mission.
For more information about supporting the University of Illinois through gifts of farmland, contact the College of ACES Office of Advancement at 217-333-9355 or acesadvancement@illinois.edu.