Quarantine plant hobby inspires a major change for freshman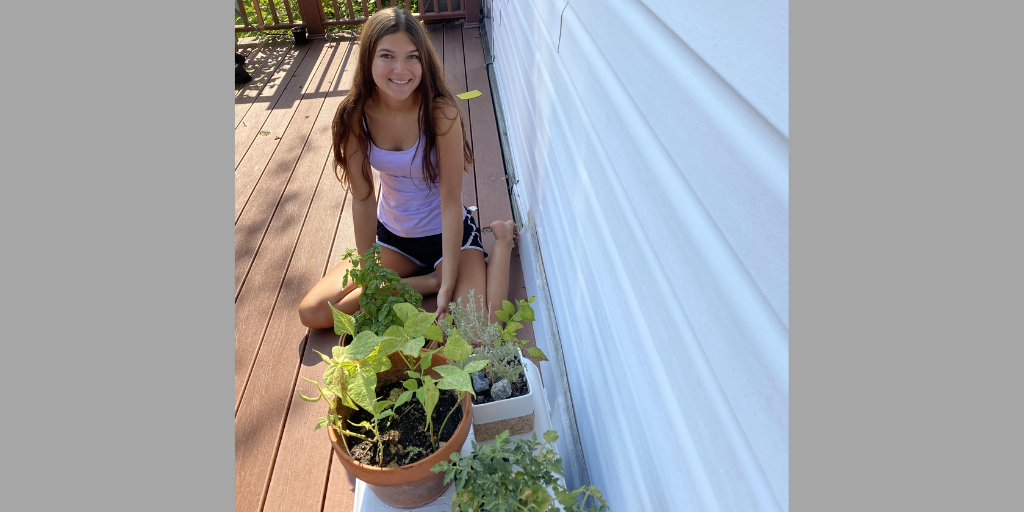 Quarantine plant hobby inspires a major change for freshman
URBANA, Ill. - When her sister came home to finish spring semester online because of COVID-19, Leah Erdmann had no idea the together time they gained would lead to changing her major before she even started college.
Leah's sister was finishing up her senior year at the University of Illinois when she moved back home. She brought a bunch of plants with her and coaxed Leah to take care of some. Leah was finishing up her senior year at Hinsdale South High School in Darien, Illinois.
"My sister Allie loves plants. She told me I should get some, too, but I really wasn't that interested at first. Then we started a garden. I started getting more and more interested in gardening until I was doing more than my sister was," Leah says.
When it was time to choose classes for fall at Illinois, Leah realized she wasn't as interested in biology as she thought she would be. That's when she decided to research other majors and courses and happily stumbled upon crop sciences in the College of Agricultural, Consumer and Environmental Sciences (ACES).
Many students change majors during college. Often signing up for a new class – with a focus on leadership and other life skills – or joining a club sparks a hidden interest.
"I knew I wanted something in the realm of biology, but I wasn't exactly sure what. I wanted to minor in secondary education and maybe become a biology teacher. I was hoping I would take some classes and have it figured out by the end of sophomore year," Leah says.
Scott Bartlett, one of the academic advisors for ACES, helped her and helps others along the way.
"ACES is a smaller college. Students get a more personal experience with faculty because the class sizes are smaller. There are about 15 to 20 students in each class, so they get a lot of one-on-one interactions with professors and instructors," Bartlett says.
Like Leah, you can find helpful information about ACES courses, resources, and faculty online today.
Even a smaller college like ACES presents plenty of opportunities for students to get involved beyond classes and labs.
In ACES, organizations like Horticulture Club, Field and Furrow Agronomy Club, and Small Farm Club are popular, allowing students to foster close relationships. ACES also provides research, internship, and work opportunities at the Research Park where students can get paid and earn class credit, as well hone skills for future careers.
Opportunities during and after students' time at Illinois abound. Ag-related companies provide internship opportunities as well as potential full-time positions.
"During a regular academic year, I'm not kidding, employers are contacting me every week with internships and job opportunities for our students," Bartlett said.
For Leah, knowing many students studying biology are on a pre-med track made her feel out of place. Upon finding the plant biotechnology and molecular biology concentration in crop sciences, she feels she found her perfect fit.
Even though COVID-19 will mean some students return to campus while others continue their studies online, Leah remains optimistic about her freshman year.
"I'm excited to be part of a big school because there are a lot of opportunities as an Illini. Also, I'm excited for the sports that we have and just the overall experience at a Big Ten college," she says.