Serra honored as Hieronymus Distinguished Chair in Futures Markets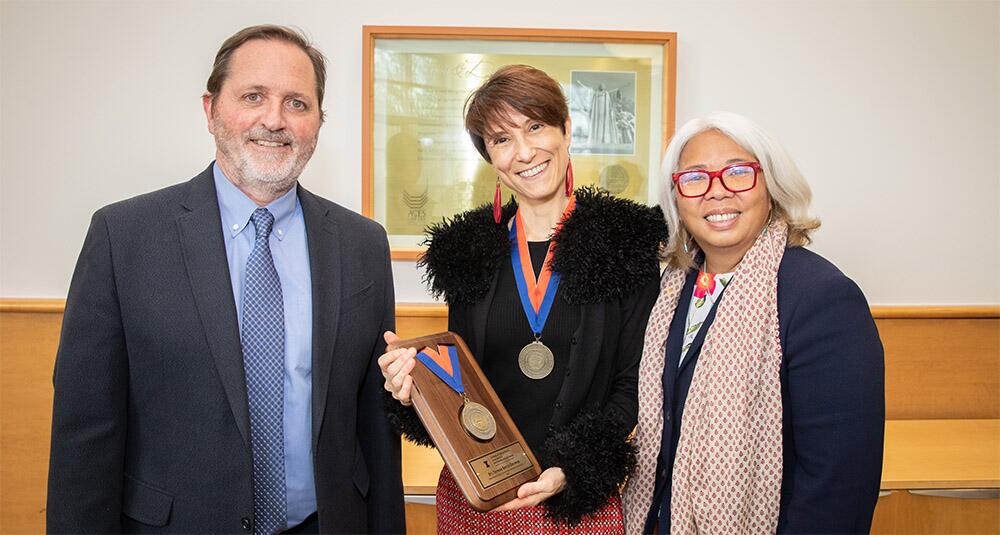 Serra honored as Hieronymus Distinguished Chair in Futures Markets
URBANA, Ill. – The Department of Agricultural and Consumer Economics (ACE) honored Maria Teresa Serra Devesa as Thomas A. Hieronymus Distinguished Chair in Futures Markets during an investiture ceremony at the University of Illinois on April 27.
Serra is a top scholar in the field of applied agricultural economics. She conducts research in agricultural commodity futures and options markets, agricultural production, and policy analysis. Since joining the Department of ACE, she has focused on market microstructure, a branch of finance concerned with how specific trading mechanisms affect price discovery and transactions costs, as well as their implications for market efficiency, market participants, and regulation. She is a renowned expert in understanding econometrics and applying rigorous statistical analysis to the understanding of modern agricultural derivative markets.
Serra has authored more than 72 publications in leading scientific journals and acquired $4.9 million in research funding. She has received invitations to deliver keynotes at prestigious international conferences, write book chapters in her field, and serve on grant reviews and journal editorial boards.
"Professor Serra demonstrates excellence and relevance in her research on the performance of agricultural markets in ACE. I am sure she will continue to make important contributions to understanding the economic role and functioning of agricultural markets that will benefit all market participants," says Sally Thompson, interim department head in ACE.
Thomas A. Hieronymus Distinguished Chair in Futures Markets
The T.A. Hieronymus Distinguished Chair in Futures Markets was established, along with the Office for Futures and Options Research (OFOR), by Gary and Carlotta Bielfeldt and their family through the Bielfeldt Foundation in Peoria. Gary and Carlotta and their three children—Linda, David, and Karen—are all graduates of the University of Illinois at Urbana-Champaign. While at UIUC, Gary studied under Hieronymus, earning both his B.S. in vocational agriculture and an M.S. in agricultural economics. Carlotta holds a B.S. in physical education. The family's leadership in beginning an endowment for OFOR and establishing the professorship builds on Hieronymus' many contributions to the development of the futures market industry and the long history of teaching and research in futures markets at UIUC.
The Department of Agricultural and Consumer Economics is in the College of Agricultural, Consumer and Environmental Sciences at the University of Illinois.