Three faculty honored with endowments in ABE and Grainger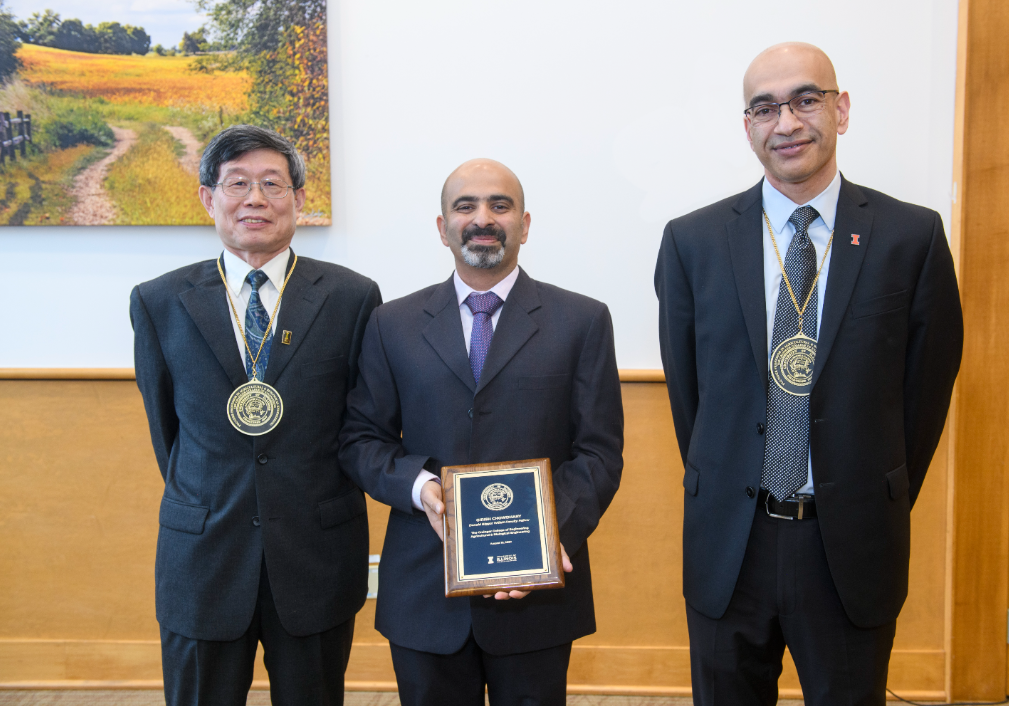 Three faculty honored with endowments in ABE and Grainger
URBANA, Ill. – The Department of Agricultural and Biological Engineering (ABE) and The Grainger College of Engineering honored three faculty with endowed positions during an investiture ceremony at the University of Illinois on March 31.
Girish Chowdhary is the Donald Biggar Willett Faculty Fellow. Vijay Singh and Yuanhui Zhang are Founder Professors in Agricultural and Biological Engineering.
"We are extremely pleased to recognize these exceptional and impactful faculty, who embody our department's commitment to excellence and innovation. We are so grateful to The Grainger College of Engineering and generous donors whose support made these appointments possible," says Ronaldo Maghirang, ABE department head.
Chowdhary is an associate professor in ABE and computer science. He is the director of the Field Robotics Engineering and Science Hub (FRESH) at Illinois and the chief scientist on the Illinois Autonomous Farm. He is a member of the UIUC Coordinated Science Lab and holds affiliate appointments in aerospace engineering and electrical engineering. Chowdhary advances how to design, build, and automate collaborative aerial and ground robotic systems for agriculture, defense, home-land security, and remote environment exploration. He is the co-founder of EarthSense Inc.
Singh is a distinguished professor of bioprocessing in ABE, executive director of the Integrated Bioprocessing Research Laboratory (IBRL), and deputy director of the Center for Advanced Bioenergy and Bioproducts Innovation. His recent research activities are at the nexus of plant biotechnology and bioprocessing, leading the development of new technologies and renewable products in the industrial biotech space. In his role at IBRL, Singh provides leadership in developing industrial partnerships and techno-economic analyses to facilitate commercialization of innovative technologies.
Zhang is a professor in ABE. He is also an affiliate with Bioengineering and Mechanical Science and Engineering. Zhang's research includes conversion of biowaste and algae into biocrude oil via hydrothermal liquefaction (HTL), upgrading HTL biocrude into transportation fuels, and valorising post-HTL wastewater, a process dubbed the environment-enhancing energy paradigm. He also conducts research on indoor air quality including volumetric particle tracking velocimetry, aerodynamic air cleaning, and ventilation equipment testing. 
"It's a great honor to receive the Donald Biggar Willett Fellowship, and it means a lot to be the first one for the ABE department. This continued support from Grainger Engineering is highly encouraging as we continue on our mission of creating new robotics technologies for agriculture," Chowdhary states.
Singh says, "This Founder Professorship will help further foster translational bioprocessing and industrial biotech research in ABE and on our campus." Adds Zhang, "The University of Illinois is such a great academic place filled with the air of freedom, the soil of nurturing, and the nutrients of thriving. The Founder Professorship only enriches such an environment, and enables me to continue to grow."
Donald Biggar Willett Faculty Appointments
The Willett initiative funds faculty appointments and related research activities. It honors the memory of Donald Biggar Willett (1897–1981) who attended the University of Illinois at Urbana-Champaign from 1916 to 1921. In 1994, the fund was established by a gift from the estate of his widow, Elizabeth, and recognizes his admiration for the college. After leaving the university he started his career as a partner in the family business, Suburban Coal and Supply Company located in California. Later, he worked as a self-employed bookkeeper and tax preparer.
Founder Professor in Agricultural & Biological Engineering
Founder Professorships are made possible by the Grainger Engineering Breakthroughs Initiative (GEBI), the result of a $100 million investment in The Grainger College of Engineering by The Grainger Foundation. The GEBI supports multi and inter-disciplinary study and provides a springboard for groundbreaking projects by allowing the college to invest in strategic priorities including faculty chairs and named professorships, undergraduate scholarships, facilities and infrastructure, and research support.
The Department of Agricultural and Biological Engineering is in the College of Agricultural, Consumer and Environmental Sciences and The Grainger College of Engineering, University of Illinois.