Where's the yield? Crop physiology field day explores creative innovations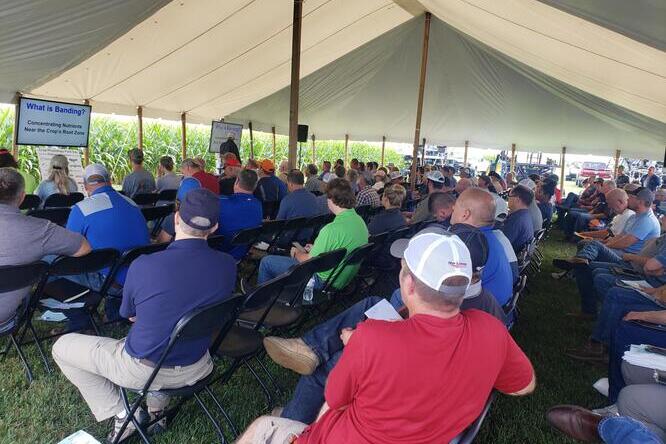 URBANA, Ill. — Farmers can take their pick of engaging events with Agronomy Days at the University of Illinois Urbana-Champaign this season. With events continuing through August and beyond, the College of Agricultural, Consumer and Environmental Sciences (ACES), the Department of Crop Sciences, and Illinois Extension invite those interested in learning about the latest in agriculture research to view the calendar and choose their favorite events to suit their curiosity and interests.
Among other highlights, the month ahead will feature a Crop Physiology Field Day on Aug. 2 to explore yield management for corn and soybeans. All presentations, panels, and activities will occur at the Crop Sciences Research and Education Center at 4202 South First St., Savoy, from 8 a.m. to 1:30 p.m.
The day will begin with coffee, refreshments, and a welcome reception before presentations begin. Speakers will include U. of I. experts Fred Below and Connor Sible as well as previous and current graduate students: Darby Danzl, Jared Fender, Sam Lesksnich, Marcos Loman, and Logan Woodward. They will share current research investigating strategies for crop yield improvement and discuss equipment to enhance crop results; the seven wonders of 300 bushel corn; root architecture; nutrient availability; air as a nitrogen source; carbs and sugars; and residue management strategies. CEU credits for certified crop advisors will also be available.
"ACES' Crop Physiology Field Day is a perfect opportunity for those looking for solutions and practices to better their crop yields sustainably and economically. We all know there is more corn and soybean yield out there, and this program is designed to help growers find it," said Below, professor of crop physiology in the Department of Crop Sciences at the U. of I.
Registration is available online, but participants can also register in person at the event. The College of ACES will provide lunch, a coffee break, and sponsor visits alongside panel discussions. If you have questions about the field day, contact Connor Sible at sible2@illinois.edu.
For more information on upcoming Agronomy Days events like the Hemp Research Open House, Northwestern Illinois Research Day, International Agronomy Day, and Speciality Crops Field Day look no further than the online event calendar.