5 Questions: ACES alum finds motivation in helping students navigate college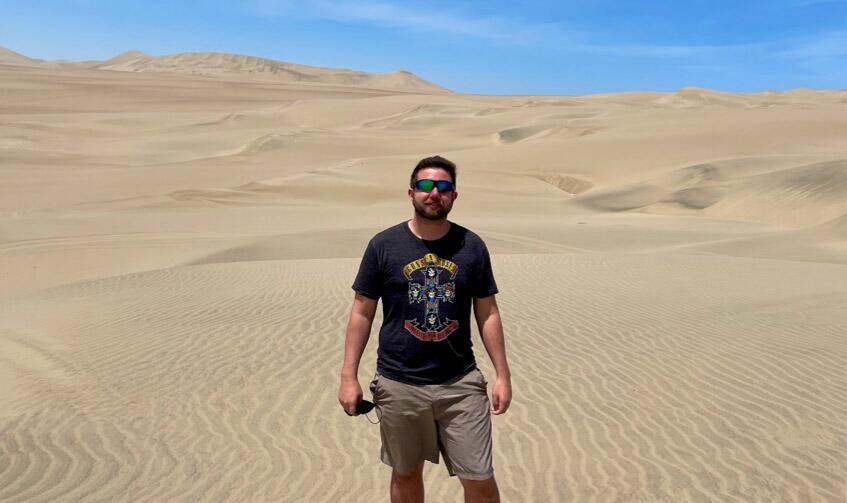 5 Questions: ACES alum finds motivation in helping students navigate college
This week's 5 Questions Friday features Travis Johnson, TSM alum and current academic advisor and instructor for ETMAS and TSM in the Department of Agricultural and Biological Engineering.
What motivates you in your work?
I think helping students in whatever way I can gives me more motivation than anything else. Whether I'm helping someone figure out which courses would be best for them, teaching a hands-on course, or helping students with career advice, it's exciting to see students take what advice and knowledge you give them, make it their own, and apply it to reach their goals. 
Did you have a mentor or someone who had a great influence on you in ACES?  If so, describe.
Dr. Paul Davidson, associate professor in Agricultural and Biological Engineering, has helped me in more ways than I can count!  He has advised me in grad school, helped me create new courses, motivated me to increase my teaching effectiveness, and provided overall career advice which has proven immensely helpful. He has been one of many great mentors I've had in ACES!
What do you like to do when you're not working?
I enjoy playing the guitar and watching all kinds of live music in Champaign-Urbana. CU has a surprisingly vibrant live music scene! I also spend a lot of time with my family in the Smoky Mountains in Tennessee going on hikes, riding mountain bikes, kayaking, and snowboarding. I have raced motocross for over 20 years now, and even though I don't compete at the level I used to, I still compete in 5 or 10 races per year for fun.
What's it like working with students who are finding their way in the world?
This is the best part of my job! No two students are the same, and everyone has a different set of experiences, knowledge, and interests. Watching a student who starts with a vague idea of what they want out of life, takes advantage of opportunities within UIUC to explore, and finds who they are, what they like doing, and in what areas they excel is the coolest thing to watch! I'm always hopeful that I've been able to help them along their path in some way and that they will keep me up-to-date on what they are doing after graduation.
What's your advice to current or prospective ACES students as they plan their career?
Take advantage of every opportunity you can! I know this is something that everyone says, but it's so important to try new things and gain different experiences and perspectives. You never know when something that seems like a small opportunity will turn into something huge. Internships, study abroad programs, undergrad research, student organizations, and student committees can lead to full-time positions or networking opportunities. While employers love seeing a high GPA, in my experience, they care much more about what experiences you've had and how you will leverage those experiences to benefit their organization in the long-run. 
Also, don't be afraid of your path having a few bends, twists, and detours. My path to my current position took me through a community college and university, four different majors, jobs in industry, and graduate school. Though a path like this doesn't sound very appealing at the beginning, all of those experiences help me to be a better advisor and instructor.