ABE doctoral student receives prestigious FFAR fellowship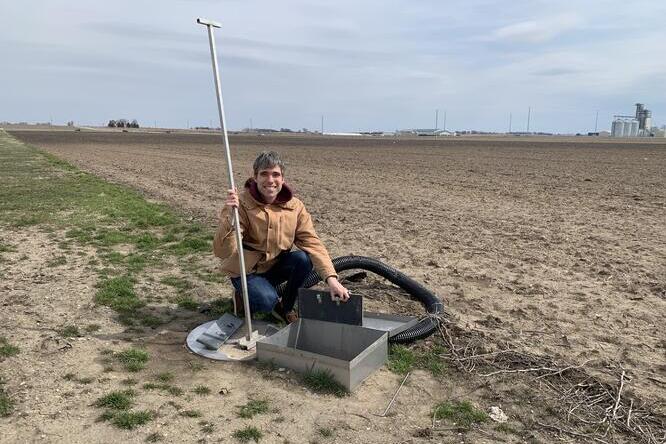 Caleb Bruhn, doctoral student in the Department of Agricultural and Biological Engineering, received a 2023 FFAR fellowship for a project on tile drainage with sub-irrigation.
URBANA, Ill. – Caleb Bruhn, doctoral student in the Department of Agricultural and Biological Engineering (ABE) at the University of Illinois, has been named as a 2023 Foundation for Food and Agriculture Research (FFAR) fellow. The FFAR Fellows Program prepares the next generation of food and agriculture scientists for the workforce by providing hands-on support and mentoring from the industry.
As a FFAR fellow, Bruhn will be working on a project to improve use of tile drainage in agricultural fields.
"The goal is to identify the impact of a particular type of water management on the environment and on farmers' economic bottom line. We are aiming to control nitrogen and phosphorus losses from agricultural runoff to the Gulf of Mexico by managing how the tile drainage system works. We also want to protect crop yields in the predicted increased frequency and intensity of droughts due to climate change," he explains.
The project will investigate how to add irrigation water through tile drain systems, which are already installed in many Illinois fields. "In the spring, the systems are used for drainage when there is too much water. In the summer, producers may be able to use the same tile drainage system to irrigate the crops from the roots up," Bruhn says. "It may be more economical than installing center pivot irrigation, for example, because it only requires modifications to an existing system."
His work will take place at University of Illinois research farms. The sites have installed tile drainage with sub-irrigation, and Bruhn will collect data on water flow, soil properties, and crop yield. Then he will use the data to calibrate a model predicting how the system would operate in other conditions and outlining the optimal design.
Bruhn's faculty advisor is Richard Cooke, professor in ABE. 
"We appreciate FFAR's forward thinking, both in supporting a project that seeks to prepare producers for a potential impact of a changing climate, and in supporting Caleb's professional development," Cooke says.
Bruhn's fellowship includes a three-year stipend award. Half of the stipend is provided by Nutrien, which serves as the project's industry sponsor. Bill Northcott, Computational Science Fellow for Agricultural Systems at Nutrien and adjunct faculty in ABE has been instrumental in facilitating the sponsorship, Bruhn says.
The FFAR Fellows Program offers leadership and professional development training to doctoral students studying food and agriculture-related sciences in the U.S. and Canada. North Carolina State University leads the initiative, which provides Fellows with training, networking opportunities, and peer support.
The Department of Agricultural and Biological Engineering is in the College of Agricultural, Consumer and Environmental Sciences and The Grainger College of Engineering at the University of Illinois.