ACES alum uses farm management for community impact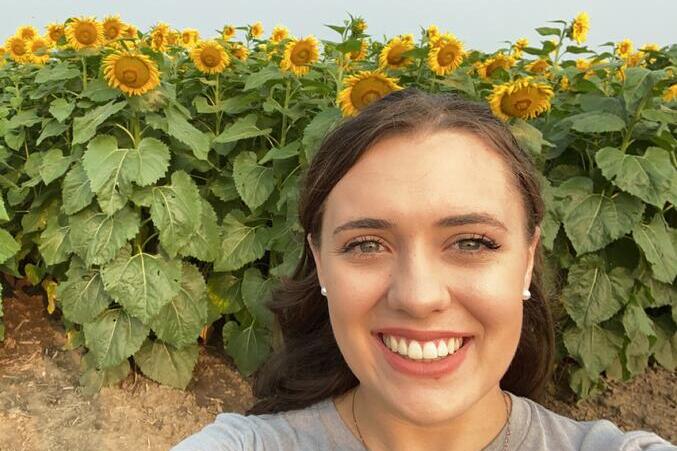 Sophia Hortin
URBANA, Ill. – It did not take long for alum Sophia Hortin (ACES '23) to use her degree from the University of Illinois Urbana-Champaign to make an impact in her role managing Clearview Farm and its popular sunflower fields in Northwest Champaign.
A well-known student leader in the College of Agricultural, Consumer and Environmental Sciences (ACES) during her time on campus — where she double majored in Agricultural Leadership, Education & Communications (ALEC) and farm management in the Department of Agricultural and Consumer Economics (ACE) — she is now creating a new legacy in the local community.
Clearview Farm, owned and operated by The Atkins Group (TAG), became a local phenomenon in 2021. After using a field of sunflowers as a transition crop on Stone Creek Golf Course the previous summer, and seeing the excitement and joy of the community, TAG leaders began creating a vision for Clearview Farm – a place for the community to explore, enjoy, and learn about many agricultural crops, including sunflowers.
Around this same time, Sophia began a year-long internship with TAG. The focus of her internship was to build the Clearview Farm project in its first year. 
That is exactly what she did, and, loving the lived-out values of TAG during her internship, she later accepted a full-time position as a farm manager, with a large part of her role being management of the Clearview Farm Project.
Since 2021 and Sophia's start, TAG has planted sunflowers annually at the Clearview Farm location, each year featuring a walking maze with a uniquely designed shape.
Sophia says that during the sunflowers' two-week bloom, which is typically in late July to early August, "the streets are lined with cars, and the maze hums with visitors."
However, visitors are not just met with sunflowers galore at Clearview Farm.
In addition to offering a visually stunning, photo-ready destination, Clearview Farm also serves as a testing ground for non-native crops, a destination for field trips and educational opportunities, and a commercial space for partnerships that will enrich the local economy.
"The sunflower field rotates fields with other crops, all located consecutively along Legacy Avenue, a semi-circle road that loops through the farm," said Sophia, explaining Clearview's approach to regenerative agriculture and community engagement.
For Sophia, whose love for agriculture was planted growing up on a grain farm in Fisher, Illinois, and nourished through FFA involvement, Clearview Farm provides the perfect space for her passions for agricultural education and farm management to come together.
As the sunflowers continue to grow in popularity, TAG continues to create events and activities that enhance the community's experience and the role of Clearview Farm. This year, Sophia and the sunflower maze sponsor, Hickory Point Bank, decided to expand the impact of the annual sunflower celebration by partnering with Eastern Illinois Foodbank.
The celebration, which included the sunflower maze, live music, food trucks, ice cream, and vendor booths, welcomed over 1,000 visitors to the sunflower fields. With the collection of canned goods and cash, the event provided the equivalent of 8,000 meals to the Eastern Illinois Foodbank.
When reflecting on the success of her efforts and event execution, Sophia marveled, "It is truly special to see the community come together to support such a meaningful cause."
True to TAG's purpose to "exceed expectations that enhance as many lives as possible," Sophia is already ideating for what is next at Clearview Farm.
One thing on the radar is an Illinois-shaped pollinator garden, which was planted this fall, and will open for its first full season in the spring.  
"The site will be an additional attraction to Clearview Farm where visitors can enjoy, experience, and learn about pollinators and Illinois' native plants."
No matter what's next, Sophia will take it on with a readiness to learn and adapt her knowledge, a skill she credits to her time in ACES. "Even when I've never encountered a specific scenario, I lean on what I learned in ACES to think thoroughly, ask the right questions, and apply skills to deliver the desired result."
With that mindset, Sophia is currently enrolled in real estate licensure classes so that starting in 2024 she can add another skill set to her farm management role, working as a farmland real estate broker.