ACES alums and IBRL blend their skills to make heirloom corn whiskey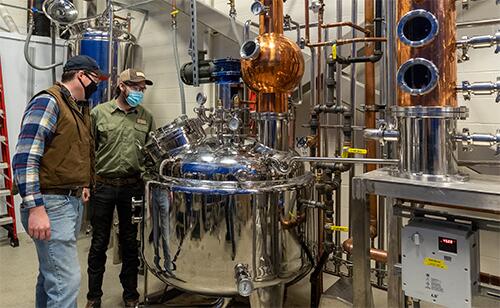 ACES alums and IBRL blend their skills to make heirloom corn whiskey
URBANA, Ill. ­– For Will, Clayton, and Dallas Glazik, making spirits from Illinois-grown heirloom corn is a labor of love. The brothers own and operate Silver Tree Beer & Spirits from their fifth-generation family farm in Paxton.
"We grew up on a certified organic farm, and we wanted to get back into farming and figure out a way that we could bring something of value to the farm," says Will Glazik, the oldest brother and Silver Tree director of sales.
"We were looking into different options, and ultimately settled on spirits because the grains for vodka and whiskey are grown in Illinois. When you think about rye, corn and wheat, those crops grow right here," he adds.
Whiskey needs to age in barrels for four to five years so it's important to start with the right foundation. That's why the brothers turned to the Integrated Bioprocessing Research Laboratory (IBRL) in the College of Agricultural, Consumer and Environmental Sciences (ACES) at the University of Illinois for help. IBRL was a natural fit for the brothers, who all are ACES alums.
Silver Tree Spirits is working with IBRL –  which is eager to welcome back more student workers when the time is right – to distill whiskey from heirloom corn varieties and analyze flavor and other characteristics.
"No. 2 yellow dent is by far the most common corn. But there are lots of other really interesting varieties. Some have different colors like red, white, blue, orange, and green, or a mix of colors. We're hoping they also carry interesting and unique flavors," Glazik says. "There's increasing interest in the craft distilling industry around the different flavors you can get from different varieties of corn."
The Glaziks connected with IBRL through the Artisan Grain Collaborative (AGC), an organization devoted to assist small businesses working within the food grade grain supply chain in the Upper Midwest. AGC frequently partners with IBRL and the Food Science and Human Nutrition Pilot Processing Plant at U of I on various projects, and IBRL manager Brian Jacobson is chair of AGC's Research & Variety Testing Working Group.
Alyssa Hartman, AGC executive director, says the organization helped Silver Tree Spirits obtain a North Central Region Sustainable Agriculture Research and Education (SARE) grant for their project.
"We helped put together a proposal for this grant to distill five different varieties of heritage and open-pollinated corn, as well as common yellow dent corn as a control," she says. "IBRL will run the distillation and perform chemical analysis. They will also measure the conversion yield, testing if you get more alcohol out of some varieties than others."
Phil Manning, pilot plant specialist at IBRL, explains, "We're going to be making white whiskey using heirloom legacy corn varieties. Our role is to produce the distilled spirits and look at what flavors work best. We aim to control the processing as carefully as we can, using similar grinding, conversion, fermentation methods, and yeast."
Manning and Jacobson have considerable experience in distillation and fermentation, primarily with alternative fuels, chemical components, protein, and amino acids, but also with alcoholic beverages.
Glazik says the cooperation with IBRL staff is very productive. "We're really excited about this, and they are phenomenal to work with," he says. "They're meticulous and that's been good for developing protocols of how to run this experiment. They've been very helpful on the analytical side."
IBRL obtained a new state-of-the-art still to process the whiskey, and the staff are learning to run the equipment as a craft distiller would, Glazik says.
They also enlisted the help of Keith Cadwallader, professor of food chemistry in the Department of Food Science and Human Nutrition in ACES, and an expert in characteristics and flavor of distilled spirits.
"We can do a sensory guided instrumental analysis to identify flavor-active components. We can objectively measure things you can smell and taste," Cadwallader says. "So if someone wants to know if the distillation process is achieving the goal they want­ – for example, ensuring they will recover certain flavor compounds in the final spirit – we can help with that. We can measure aroma compounds that are either positive or detrimental to the flavor."
Because lab analytics alone cannot capture the full experience of whiskey flavor, the project will also include a panel of trained whiskey specialists who will taste and characterize the different whiskies, as well as an untrained tasting panel representing average consumers.
The Glaziks have put their ACES degrees to good use in their business. Will holds a bachelor's degree from Crop Sciences, which has helped him obtain the expertise to grow heirloom corn. Dallas, the company's CEO, obtained a bachelor's degree from the Department of Natural Resources and Environmental Sciences (NRES), and has focused on creating natural habitats around the farm. Clayton was an agricultural communications major, and he now manages advertising and marketing for Silver Tree Spirits.
The brothers are dedicated to their homegrown business and strive to keep all production local. Even their barrels are made locally from trees grown in Illinois and processed at the Glaziks' sawmill.
"We take a lot of pride in being a part of every step of the process from planting the seed, tending it through the year, harvest, storage in the bin, distilling it into alcohol, and then selling that direct to the consumer," Will explains. Their products are available in grocery stores, liquor stores, bars, and restaurants throughout Central Illinois.
"Sometimes raising corn and soybean conventionally can get mundane. This is a way we can bring a new life, a new spark into row crop production," he adds.
AGC's Hartman adds this project fits well with the collaborative's goal of increasing farm viability and rural economic development. 
"It's a benefit to everybody who lives in the region to have more agricultural diversity. Making it economically viable for farmers to produce different varieties of crops is essential for achieving that diversity. Supporting market development for uncommon or unusual types of crops has environmental benefits for everybody," she concludes.
Will Glazik was the inaugural recipient of the Glen "GB" Brandt Prize for Ag Entrepreneurism, an award that honors an individual who exemplifies an entrepreneurial spirit and advances innovation through their business practices. Glazik received the award at the 2021 AgTech Innovation Summit, hosted by the University of Illinois Research Park.