ACES expert: Viral evolution and the new BA.2.86 COVID variant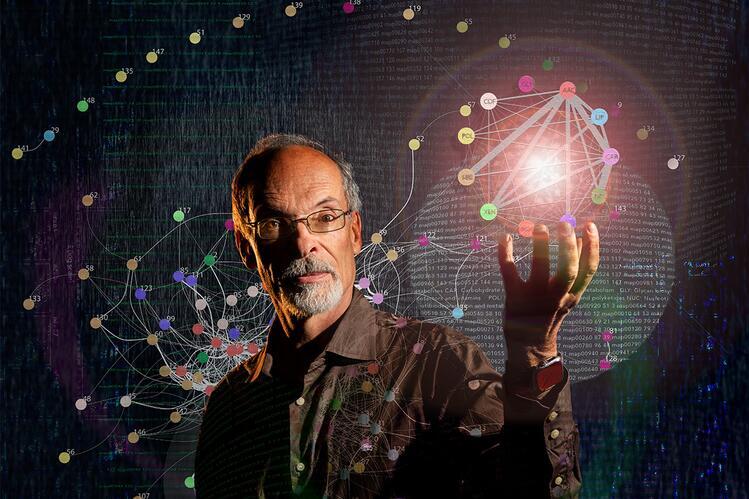 Gustavo Caetano-Anollés provides expertise on viral evolution amid a changing COVID landscape. Image by Fred Zwicky, University of Illinois.
URBANA, Ill. — Last week's classification of BA.2.86 as a COVID "variant under monitoring" by the World Health Organization raises many epidemiological and public health questions. Among the unknowns is how the virus evolved to acquire 36 to 38 mutations on its spike protein, relative to other circulating variants. Gustavo Caetano-Anollés from the University of Illinois Urbana-Champaign studies evolution in the SARS-CoV-2 virus, and is available to comment on the strain spreading rapidly around the world. 
"The new variant likely emerged through accumulation of multiple mutations in an immunocompromised individual or through recombination events capable of stitching genomic pieces together," said Caetano-Anollés, professor of bioinformatics in the Department of Crop Sciences in the College of Agricultural, Consumer and Environmental Sciences (ACES), and health innovation professor in the Carle Illinois College of Medicine at U. of I. Caetano-Anollés is also affiliated with the Carl R. Woese Institute for Genomic Biology. 
Caetano-Anollés' group has tracked the evolution of SARS-CoV-2 since the start of the pandemic, analyzing millions of SARS-CoV-2 genomes across the globe. In 2021, his team identified a strong seasonal signal as well as protein regions likely to drive seasonal patterns. More recently, he completed a time-series analysis of the entire pandemic to understand how some 180,000 mutations appeared, coalesced, persisted, and/or died away across three major variants of concern (VOCs), Alpha, Delta, and Omicron. 
"In our genomic studies, a large pool of variants with disparate mutation repertoires already appeared at low prevalence during the early pandemic," Caetano-Anollés said. "These variants are probably being actively recruited into new circulating variants, including those with the genomic makeup of the BA.2.68 type."
He added, "The new variant is causing concern due to its rapid community-level transmission, potential immune escape, and uncertainty regarding its severity and transmissibility. Careful monitoring and research will be required to understand its impact and evolutionary trajectory."