ACES Global Academy connects with three Brazilian universities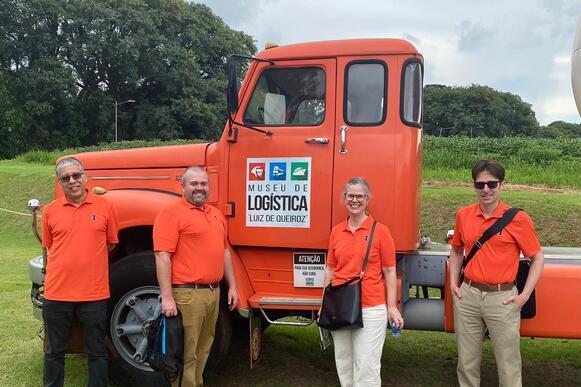 Representatives of the longstanding Global Academy program visited three Brazilian universities this spring to establish and renew connections towards research collaborations and exchange programs.  
With a 15-year history in the College of Agricultural, Consumer and Environmental Sciences (ACES), the Academy for Global Engagement (or Global Academy) is a unique training program for junior and mid-career faculty facilitated by the ACES Office of International Programs. Admitted faculty participate in a series of scholarly and experiential activities to prepare them for academic engagement in the global arena. The program concludes with an immersion trip to the year's chosen focus country.
This recent immersion trip to Brazil, initially set for summer of 2020, had been delayed due to the pandemic, though programming continued in a virtual format.
Faculty and staff representing ACES in Brazil included:
Mary Arends-Kuenning, acting associate dean, International Programs

Talon Becker, commercial agricultural educator, University of Illinois Extension

Jorge Guzman, research assistant professor, Department of Agricultural and Biological Engineering

Alex Lipka, associate professor, Department of Crop Sciences

Ali Freter, director of Study Abroad
The group visited with colleagues and presented their own work at three universities, the Federal University of Lavras (UFLA), the Federal University of Vicosa (UFV), and Luiz de Queiroz College of Agriculture (ESAQL) of the University of São Paulo.
The outcomes from the trip will be far reaching for all involved.  
"As my first time in South America, this experience helped me to better understand this part of the world and has increased my desire to travel internationally. I have always been interested in different regions and cultures throughout the world, but there is only so much that can be learned from a distance. There are certain things about a place that can only be learned through hands-on experiences and getting to know the people. Professionally speaking, I hope to continue to pursue opportunities for international partnerships in both research and outreach," says Talon Becker.
Deepening Brazilian connections
During visits to the three partner universities, the ACES representatives met with colleagues who have similar research interests and potential future students.
ACES faculty members gave presentations to Brazilian audiences on topics including agricultural extension in Illinois, addressing key challenges of crop sciences through qualitative genetics, and food security.
"I now have direct lines of communication with researchers at Lavras and Viçosa (I already had contact with researchers at ESALQ prior to this visit)," says Lipka, who is also exploring the possibility of hosting one of his new colleagues for a sabbatical.
Guzman, who already has plans to host one Brazilian colleague on sabbatical and is developing a proposal for another says, "I am excited to develop collaborations in teaching and research with other Brazilian researchers. I will also explore student mobility with Brazilian partners."
"On all three campuses I saw the eagerness to collaborate with ACES and the opportunities to make connections. Specifically, I have a list of faculty members from UFLA who are eager to find collaborators at Illinois, so I plan to find them research partners. Additionally, all three campuses are eager to have ACES graduate students spend time on their campuses. The path from Brazil to ACES is well trod, but it would be great to send students from ACES to our partners. To do this, we need to start early developing students' interest in Brazil so they can study Portuguese," says Arends-Kuenning.  
Building Inter-ACES relationships
Another value of the ACES Global Academy is the relationships that are built between departments and among faculty who otherwise may not have interacted.
"I learned from Talon last week that he and Jorge are working together on grant proposals. Although these proposals do not involve Brazil, Talon told me that because of the Global Academy, he got to know Jorge and to develop research ideas with him," Arends-Kuenning says.