ACES International announces 2020 Undergraduate Global Food Security Scholars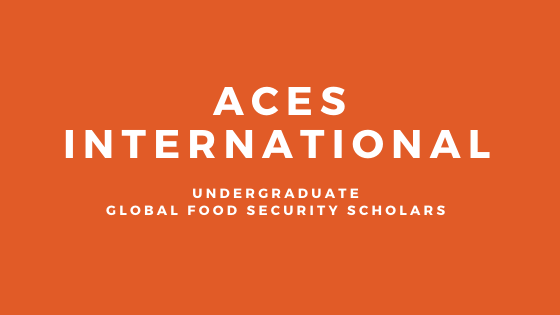 ACES International announces 2020 Undergraduate Global Food Security Scholars
To encourage and support ACES undergraduate students to pursue work related to food and nutritional security in low and middle income countries, the ACES Office of International Programs has launched the Global Food Security Scholars internship program.
Five talented and motivated ACES undergraduate students have been selected to receive salary support for an approved on-campus internship during spring semester 2020. Selected scholars will also receive up to $1500 to support the costs of participating in an international travel experience that is associated with the internship.
The students were nominated by ACES faculty members who will supervise their internship and international travel experiences.
The 2020 spring Global Food Security Scholar interns are:
Anneli Cers will be studying the role of women in ensuring food security in Indian forest communities. She plans to share her results with the International Food Policy Research Institute (IFPRI) in New Delhi this summer. She is a student in the Department of Natural Resources and Environmental Sciences supervised by Dan Miller.
Fina Healy and Katie Koprowski will be researching ways to inhibit bacterial growth in water that causes disease in developing countries. Both are students in the Department of Agricultural and Biological Engineering supervised by Paul Davidson.
Allison Place and Rachel Pu will work with the Soybean Innovation Lab's Pan-African Soybean Variety Trial program. They will travel to a SIL site in Africa to assist with data collection. Allison is a student in the Department of Crop Sciences. Rachel is a student in the Department of Agricultural and Biological Engineering. Both will be supervised by Peter Goldsmith.
All of the interns will be submitting posts to the Voices of ACES blog to document their experiences.