Animal welfare judging team provides unique experiential learning for students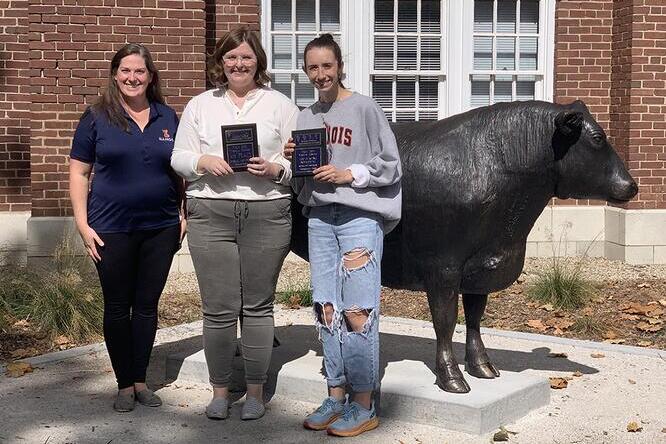 Angela Green-Miller, faculty advisor to the Animal Welfare Judging Team, presented contest awards to team members Tawni Williams and Zoey Witruk
URBANA, Ill. – From zebrafish to chickens to boars, students on the University of Illinois animal welfare judging team learn to evaluate living conditions for a wide range of animal species. That gives them a unique opportunity to put their skills to practice while networking and having fun.
Team members Tawni Williams and Zoey Witruk both received top placements at the 2021 Animal Welfare Judging and Assessment Contest (AWJAC).
"This is a really cool opportunity to take what you learn in your animal health, or biology, or environmental management classes and apply it to real-life situations. And maybe someday, if we work in the industry, we can use that knowledge to our advantage," says Williams, a master's student in the Department of Animal Sciences.
Adds Witruk, an animal sciences junior, "There are not many classes about animal welfare. So it's cool to be able to apply what I know, but also to learn new things. It's very different from anything else that we do in school. I think it's really enjoyable."
Angela Green-Miller, associate professor in agricultural and biological engineering (ABE), is the team's advisor. She teaches a class on animal welfare but taking it is not a prerequisite for joining the team. Green-Miller and the team are currently recruiting members for the next competition, held in November at North Carolina State University.
The team welcomes students from a variety of majors, including ABE, engineering technology and management for agricultural systems (ETMAS), animal sciences, zoology, and veterinary medicine.
"The first time the University of Illinois took a formal team to the contest was in 2019 at Colorado State University. The next two years were virtual, so this will be our team's second time in person," Green-Miller says.
"We've had students place every year, and I'm very impressed with them. We don't have an animal welfare program at the U of I. They're competing against students who can get a degree in animal welfare, and they're holding their own really well. So I think it shows the quality of our students and their willingness to learn how to apply what they know in new ways," she notes.  
In the competition, students evaluate two different scenarios for each species.
"We compare virtual scenarios and we rank items based on how they affect the animals' overall welfare. We have to say which location we think gave the best welfare, and we're ranked based on our reasonings and whether we chose the right facility," Williams explains.    
The students also evaluate an applied scenario where they physically walk through a staged setting at a facility.
"You are looking for things that are done well, things that could be done better, and things that are of critical importance that have to be changed," Green-Miller notes. "Welfare is on a continuum, and you're often making tradeoffs when you make a management decision for animals. This process is offering some structure for how you can make a comparison while considering many different factors that play into welfare status."
To prepare for the contest, students learn about care standards for different species and go through practice scenarios, which Green-Miller creates.
This year's species include octopus in an aquarium, dairy beef cattle (primarily the males that don't go into the milking herd), and chickens bred for showing (not meat or eggs). The live scenario is an animal shelter, which will involve a mixture of different species.
"The contest always includes at least one exotic, one agricultural, and one companion animal," Green-Miller says. "They do pick species where there is enough scientific exploration to build science-based reasons for evaluating welfare principles."
The AWJAC was created to bring together people with a common interest in animal welfare. The annual event also includes workshops and guest speakers.
"There's more than just the students coming together to compete against one another. They have a lot of opportunities to get to know each other and to share ideas and to facilitate conversations around really difficult topics. Welfare is a subject that has an emotional component to it, as well as a science component. We talk a lot about how to blend those things together in order to do complex problem solving," Green-Miller notes.   
The competition is open to every level of education, from first-year to post-graduate students.
"There are even a number of slots for practicing veterinarians," Green-Miller says. "They evaluate everyone at their level, but then they mix everybody together in the conversation. So there is a lot of mentoring and a lot of idea sharing."
The team is seeking financial support to assist with the travel expenses to this year's contest. 
"We are looking for alums or corporate sponsors with a passion for student development, who would like to support our team and help our students gain more well-rounded training and experience," Green-Miller says.
For more information about joining the team contact Angela Green-Miller at angelag@illinois.edu. To explore opportunities to sponsor the team's travel, contact the ACES Office of Advancement at acesadvancement@illinois.edu or 217-333-9355.
The Department of Animal Sciences is in is in the College of Agricultural, Consumer and Environmental Sciences  (ACES). The Department of Agricultural and Biological Engineering is in the College of ACES and The Grainger College of Engineering at the University of Illinois.