College of ACES partners with Jackie Joyner-Kersee Foundation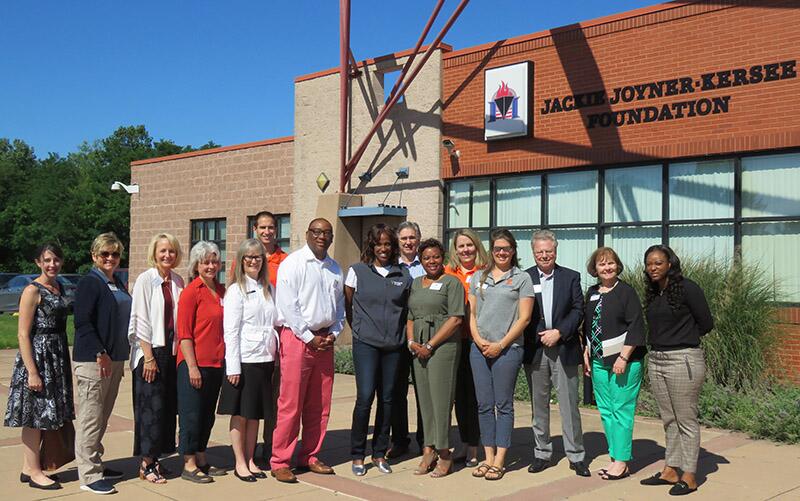 College of ACES partners with Jackie Joyner-Kersee Foundation
URBANA, Ill. – The Jackie Joyner-Kersee Center has been transforming lives in East St. Louis since 2000, fulfilling its mission to instill area youth with the dream, drive, and determination to succeed in academics, athletics, and leadership. Now, having entered a formal partnership with the College of Agricultural, Consumer and Environmental Sciences at the University of Illinois, the center can expose kids to a whole new world.
"This partnership with ACES helps what we're doing with the youth, not only introducing them to the agriculture space, but also exposing our kids to U of I," says Joyner-Kersee, six-time Olympic medalist and founder and CEO of the Jackie Joyner-Kersee Foundation.
On a grand scale, the partnership aims to introduce the kids to concepts and opportunities around metropolitan food systems, agriculture, STEM, entrepreneurship, leadership, and college readiness. It might sound like a tall order, but both the JJK center and ACES have been in the business of changing lives for decades.
The partnership will capitalize on existing resources and infrastructure within University of Illinois Extension, part of the College of ACES. For example, personnel from the East St. Louis Extension office will run youth-centered agriculture and leadership programs on site at the JJK Center. Further, ACES and Extension staff, faculty, and students will work with JJK center youth and staff to build a community garden, a vertical farming site, a test kitchen for food innovation, and small-business opportunities related to community-supported agriculture.
"The emerging partnership between the Jackie Joyner-Kersee Foundation Center, University of Illinois Extension, and the College of ACES is a great representation of our process of identifying local needs, discussing concerns, developing realistic strategies for problem-solving, and bringing together individuals, community leaders, Illinois Extension field staff, and others to solve local issues," says Shelly Nickols-Richardson, associate dean of Illinois Extension. "Each entity is bringing their unique strengths to the table to build from the platform of positive youth development in food and agriculture entrepreneurship to set a new course forward."
The College of ACES also plans to develop relevant curriculum in its pending Metropolitan Food and Environmental Systems (MetroFESt) major, allowing enrolled students to experience first-hand the challenges inherent to urban food systems, and to work with area youth, JJK center staff, and Extension staff to innovate solutions.
"I see it as a training center for urban youth to learn about ag and how it relates to them as the consuming public and as an opportunity for careers. Also to help foster a commercial drive, to bring a beauty and a greatness to their communities, and to see a whole different world," says Mark Scholl, JJK Foundation board member, former chairman of the board of the Farm Foundation, and ACES alum.
Importantly, College of ACES dean Kim Kidwell sees the partnership as a model that could be replicated in other locations around the state, as well as nationwide.
"It's remarkable what our Extension enterprise could do for metropolitan food production, inner-city youth development, and economic development in an area. If we really capitalize on that, this model could work everywhere," she says. "But the JJK center is truly special, and we are grateful to have the opportunity to create this shared vision with them."
Over 2,200 kids from East St. Louis attend programs at the JJK center each year. They won't all choose traditional careers in agriculture as a result of the new programs, but the concepts they will be exposed to will open doors.
"Even though we will be introducing our kids to agriculture, they can leverage that knowledge and the science behind it to become entrepreneurs or advance in careers they didn't even know existed," says Joyner-Kersee. "And if we can build a pipeline of young people from this area wanting to go to the College of ACES, that's what success looks like to me."