Entrepreneur and ABE alum Bianca Bailey receives U.S. Bank Cleantech award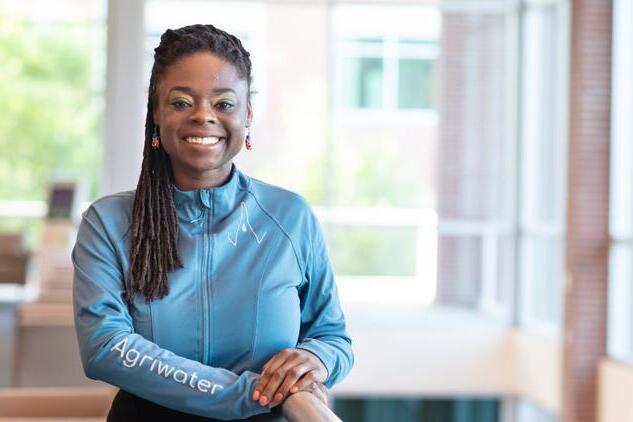 Bianca Bailey, founder and CEO of Agriwater. Photo: Oak Ridge National Laboratory, U.S. Department of Energy.
URBANA, Ill. — Bianca Bailey, founder and CEO of Agriwater Corp., received the 2023 U.S. Bank Foundation Cleantech Inclusion Award. Bailey holds a doctoral degree from the Department of Agricultural and Biological Engineering and a master's degree in environmental engineering from the University of Illinois Urbana–Champaign.
Agriwater, which Bailey started in 2021 while finishing her doctorate, is developing electrolysis-based technology to treat animal wastewater, which often is stored in hazardous lagoons that can pollute nearby natural water sources and create strong fumes throughout nearby towns and farming communities.
"It becomes a social justice issue when it relates to people who live around these areas who can't have clean air," Bailey said.
Her innovative technology removes contaminants from wastewater, decreasing the likelihood of pollution in rural areas, reducing greenhouse gasses and even creating clean water for reuse and recycling.
In 2022, Agriwater secured a spot in the Innovations Crossroads Program sponsored by the U.S. Department of Energy's Lab-Embedded Entrepreneurship Program (LEEP). This two-year program will allow Agriwater to work toward commercializing its technology in collaboration with lab space and mentorship from Oak Ridge Laboratory in Tennessee.
As an engineer and business owner, Bailey welcomes the guidance she'll receive through the Cleantech Inclusion Award program and encourages others building businesses in similar fields to broaden their knowledge beyond science and technology.
"Being a smart entrepreneur when it comes to technology is knowing that you can't just focus on the technology, but you also need to focus on the intellectual property and business implementation of the technology," she said. "You can have great technology, but if the business model and everything else doesn't work out, then it's simply just a good idea."
The U.S. Bank Foundation Cleantech Inclusion Award supports female and minority entrepreneurs who are building innovative companies that benefit the environment, create jobs, and drive economic development. The U.S. Bank Foundation works with Evergreen Climate Innovations to present the award, which includes a $25,000 grant and a year of mentorship. The funding will help Agriwater facilitate its first industrial-size pilot with farms.
"Entrepreneurs like Bailey, who tackle big challenges with such drive and passion, are working to build a more sustainable future for all of us," said Reba Dominski, chief social responsibility officer at U.S. Bank and president of the U.S. Bank Foundation. "We are proud to support Agriwater as it continues to refine its technology and expand the scale of its business." 
Read more from U.S. Bank.