The Fault Lines of Farm Policy: New book traces political history of the farm bill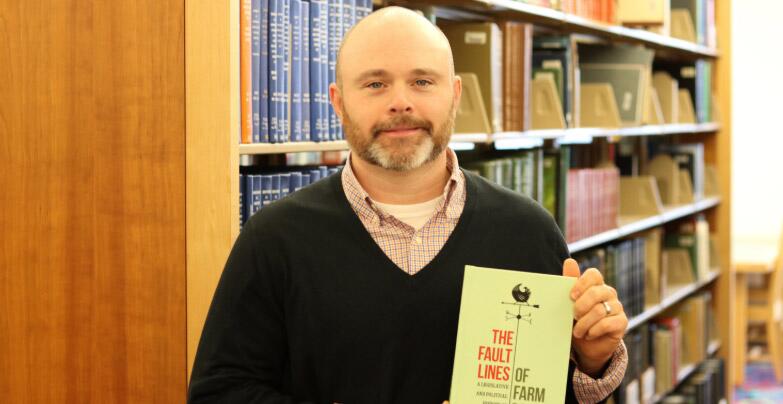 The Fault Lines of Farm Policy: New book traces political history of the farm bill
URBANA, Ill. – Just as a new farm bill sailed its way through the U.S. Senate and House last week, a newly released book by a University of Illinois law and policy expert explores the 100-year history of the farm bill, tracing the political evolution of American farm and food legislation.
In "The Fault Lines of Farm Policy," published by University of Nebraska Press, author Jonathan Coppess, clinical assistant professor in the Department of Agricultural and Consumer Economics, offers a narrative history of how the very first farm bill came together, what led to the need for such a bill throughout the 1920s, and the political journey our country has been on since the first farm bill was passed in 1933. He also highlights lessons to be learned from how past bills have come together in a changing society over the years and how those lessons can help inform future farm bills.
Coppess has spent much of his career working on farm bills, starting with the 2008 bill when he worked in the U.S. Senate. For over eight years in Washington D.C., he worked on policies and legislation, negotiating provisions, and eventually implementing a farm bill with the USDA Farm Service Agency.
"While working on the Hill on the last farm bill in 2014, a lot of questions started coming up for me. You might get in a fight over a policy, and then you question why a group even wanted what they wanted in the bill. Of course, there's always the issue about the Supplemental Nutrition Assistance Program [SNAP] and why food assistance is in the bill. So I started to do some digging into some of these questions," Coppess says.
When Coppess began teaching a class on the farm bill in 2015 in the College of Agricultural, Consumer and Environmental Sciences at U of I, he started pulling that research together in order to present some of the information in his class. Eventually, that's how the book came together.
And in the telling of the history of the farm bill, Coppess says the book provides an even greater look at how Congress gets legislation passed, in general, in a partisan society.
"The book really goes through the legislative history of all farm bills, and if you think about how policies are put together, it could almost be one big case study of how Congress works. This current farm bill will be the 23rd time we have written a farm bill and pushed it through Congress—at least one that is somewhat omnibus, somewhat comprehensive—over the last 85 years. There's a lot of history and policymaking that goes into it. I hope it has some value for that."
For that, Coppess says he can see interest in the book both from farmers and from those working on policy in Washington D.C.
"Because of the way the farm bill has been put together over time, it's really a window into Congress and government. When you step back, you see, historically, how regional interests came into play. For example, maybe the South and the Midwest had to agree to something, and they fought to a stalemate on an issue. And then all of the sudden the urban interests get involved. Seeing that form out over time is when it hit me, the amount of perspective this history provides on Congressional procedure and process.
Coppess has described the farm bill as a "food security bill" that authorizes a variety of programs that support farmers, conserve natural resources, help rural communities, invest in agricultural and food research, and help lower-income families put food on the table through food-assistance programs like SNAP.
The intersection of where each of those pieces must come together in order to get the bill passed every five years is the origin of the book's title: fault lines, as Coppess calls it. He highlights the importance of coalitions and the intricacies of how, often, competing interests must come together to keep a bill moving forward. 
"It feels like a fairly standard metaphor that we use in political discussions, but one of the things I found over and over going through this, is that part of the process to pass a bill is needing enough votes to get through the House and the Senate and on to the president. To do this, you need a coalition. We know that corn, cotton, and wheat [interests] came together in the 1920s and started trying to come up with ways to help their farmers. Over time, though, there are these conflicts among the interests. So when the coalition comes together, there are these fault lines where they meet on policy.
"You can see points of time in history—the 1950s and 1960s—when they were fighting and tearing each other apart, the bills get more and more difficult. You see those big pieces moving, those interests moving, colliding, and pushing. There's just a lot of pressure."
While the starting point of the farm bill is 1933 with FDR's New Deal and the Great Depression, in the book Coppess looks back at the period before and after World War I. "We had closed the frontier out west, and we settled that land in the Great Plains and were giving away free farm land. They were plowing it to produce wheat; we had to produce a lot of wheat for the WWI fight."
Coppess adds, as the war ended and prices collapsed, the country hit a farm depression that lasted most of the 1920s before the Great Depression. "It's at that point that you start to see these regional interests—starting with wheat, then corn and cotton—come together and they could not get a bill together. They had four or five attempts at running legislation in the 1920s that either lost in Congress or was vetoed by the president. And then it was the Great Depression that got it all through. So it's over a hundred years, the history of this bill."
What does a historical look back at farm policy have to say about the new bill just passed?
"Looking back really raises questions as we look ahead," Coppess says. "What do we take from history in order to think about what may be coming up or what some of these policy debates may look like? I don't have those answers, but there is food for thought in that. We are coming into multiple years of lower food prices, as we saw in the 1980s, so what went on then? This partisan fight over SNAP? What have we seen in the past and how has this bill survived various attempts to end it? It has survived a lot of that, so how does it continue?
"I hope that there are lessons in there that help us think through what's next."
"The Fault Lines of Farm Policy" is now available from University of Nebraska press.
Coppess is a clinical assistant professor of law and policy in the Department of Agricultural and Consumer Economics in the College of Agricultural, Consumer and Environmental Sciences at the University of Illinois at Urbana-Champaign. He previously served as chief counsel for the U.S. Senate Committee on Agriculture, Nutrition, and Forestry, under Sen. Debbie Stabenow (Michigan), working on the 2014 farm bill.  Prior to that he was appointed to the USDA Farm Service Agency, eventually as administrator, implementing the 2008 farm bill, which he worked on as a legislative assistant to Sen. Ben Nelson (Nebraska).