Illinois pride in a cookie: Vegan, pumpkin treat just in time for baking season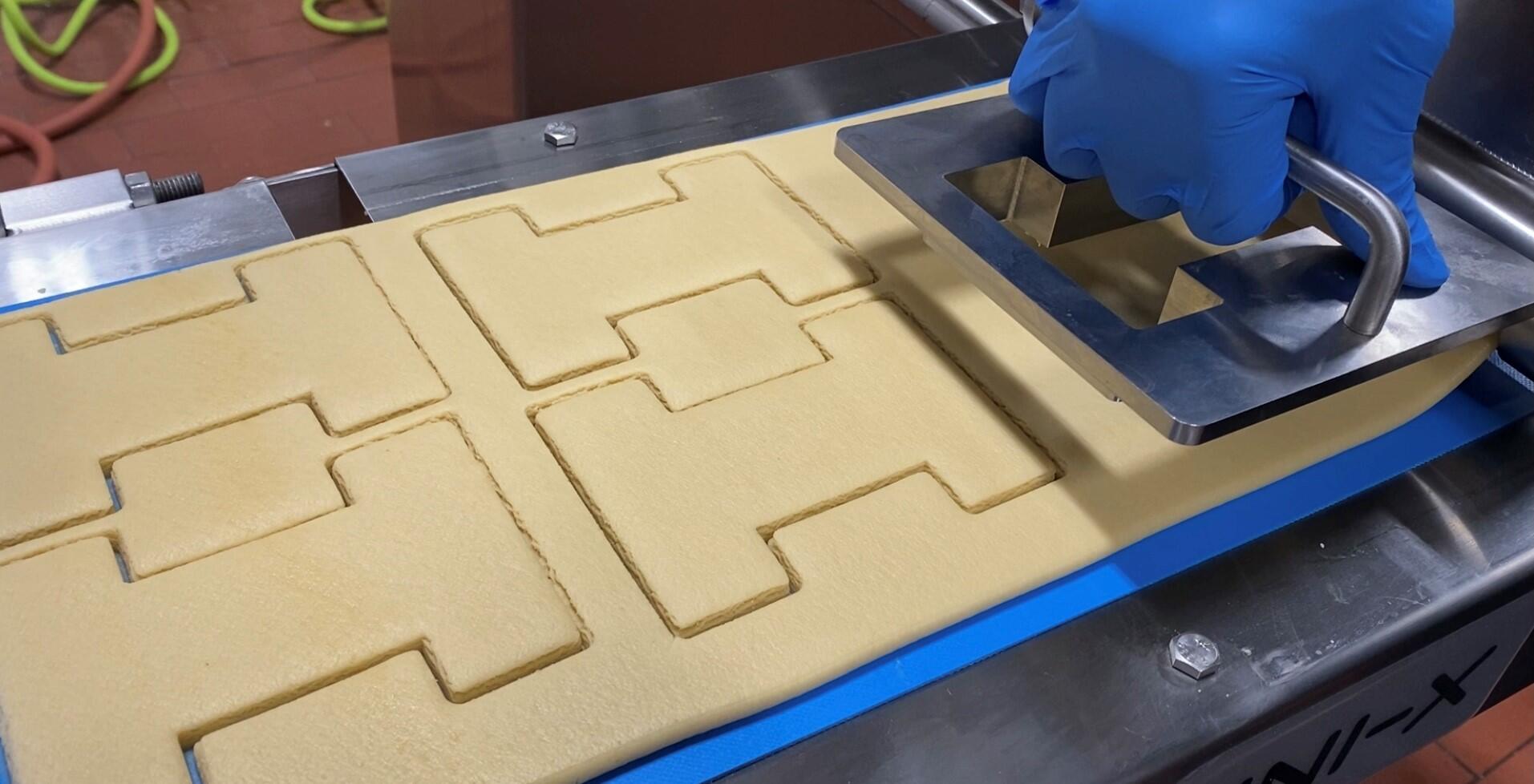 Illinois pride in a cookie: Vegan, pumpkin treat just in time for baking season
URBANA, Ill. – It's officially cookie-baking season, and University of Illinois food scientists and chefs are showing their Illinois pride with a new cookie recipe, fully vegan, baked in the shape of the beloved Illinois "Block I."
And as an even-bigger nod to Illinois, the cookie's featured ingredient is pumpkin. After all, Illinois is the highest pumpkin-producing state in the nation. 
The idea for the cookie first came about a few semesters back as part of a recipe development week at the Department of Food Science and Human Nutrition (FSHN) Pilot Processing Plant in the College of Agricultural, Consumer and Environmental Sciences at U of I. Students and staff at the pilot plant were joined by chefs from U of I's Housing Dining Services to find ways to use produce and grain from the college's Student Sustainable Farm (SSF) and grain breeding programs. The goal was to produce items dining services regularly uses in the university's dining halls.
Chef Crystol Smith, head production chef for U of I Housing Dining Services, says some of those recipes included kale pesto, chimichurri marinade, marinara sauce, and breadsticks.
But it was one FSHN student's idea for a vegan pumpkin cookie that stood out for Smith.
"The students were working on recipes to utilize the flour that was being processed. Additionally, there was a lot of pumpkin puree available. Jedi [Brown] came to me with a recipe for pumpkin cookies that was in development. We had recently lost our source for vegan cookies and wanted to know how to make it vegan. I have been working on plant-based desserts for a few years now, so it was natural for me," Smith says.
Jedi Brown, pilot plant specialist, was working with student interns and employees that summer who were tasked with processing flour—from campus-grown wheat—and developing recipes using the flour.
"It was a great opportunity to have the chefs come over because they were able to work with us on developing these different products to utilize what we get from the farms here on campus. And just as [dining services] was having some supply issues and no longer had a vegan cookie, we had a really talented student who loves baking and she had made some pumpkin cookies," Brown says.
That's how then FSHN student Isabella Velasco introduced her pumpkin cookie. At the time she was following a vegan diet.
"The pumpkin plus chickpeas is a base for the cookies, and we don't use butter, we use margarine," Velasco explains. "It was amazing working with Chef Crystol. I learned a lot from her. She was like a mentor. I really got to mix my scientific knowledge with her cooking skills."
Not a fan of pumpkin's flavor? Brown says you'll never notice it's in there.
"People love pumpkin in the fall, but we're looking for ways to utilize it throughout the year. People don't know the pumpkin is even in the cookies because pumpkin doesn't really have a taste," he says. "The tastes people associate with pumpkins actually are the spices that usually accompany them. So it's great in the cookie base."
Even better news, Velasco's cookie includes chocolate chips.
To get the recipe just right, Velasco says they tried different variations of the pumpkin, chocolate chip cookie recipe. They then did sensory testing with the cookies—both vegan and non-vegan versions—in university dining halls. "People actually liked the vegan cookies over the regular chocolate chip cookies," she says. 
And now, thanks to the recent edition of updated extrusion equipment in the pilot plant, staff and students can begin mass producing the cookies. In the future, as COVID-19 restrictions are lifted and as the pilot plant and other outlets on campus return to normal operations, they will produce the cookie dough cutouts, freeze, and send to campus dining halls and the Bevier Cafe to be baked fresh.
The new Unifiller Uni-X extruder can process up to 790 lbs. an hour and 60 cookies a minute. "It's a versatile machine able to produce all types of products, from cookies, pie sheeting, dough ropes, sports bars, pastes, ground meat, and more," Brown says.
The equipment was purchased using funds from the Student Sustainability Committee, as it will process pumpkins from the SSF and grain from ACES' wheat breeding programs into a variety of products including cookies and bars.
Visit ACES future students page to learn more about ACES programs of study or to apply by Jan. 5.
Much of the work done in FSHN's Pilot Processing Plant is part of the Illinois Sustainable Food Project bringing together FSHN, the Department of Crop Sciences, and University Housing Dining Services. Grain and produce grown as part of research and teaching programs, student initiatives, and local collaborations are processed by students in the pilot plant into finished products that are served in the university dining halls. The finished products typically travel less than five miles from field to fork, and create innovative student learning and research opportunities.