John Deere donates combine to support career-focused student experiences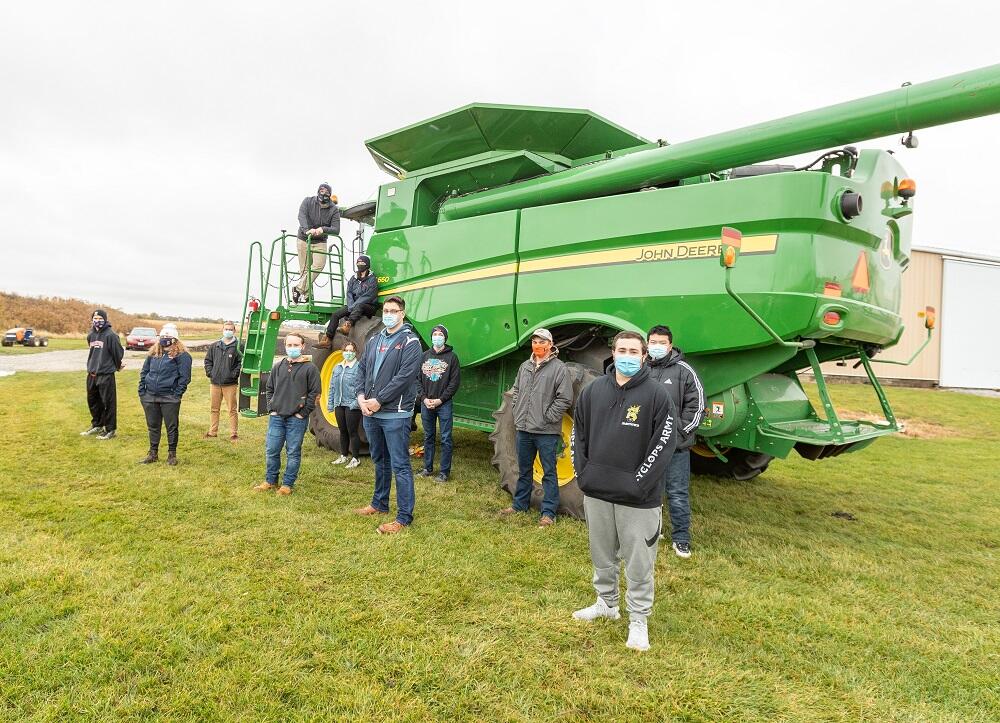 John Deere donates combine to support career-focused student experiences
New graduates are usually full of excitement, relief, and maybe also a bit of nervousness thinking about entering the adult world. As they progress in their careers and get busier with life, staying connected to their university might not always be at the top of their to-do lists.
For Jason Abbott, however, a strong relationship with the University of Illinois has always been important. As an agricultural and biological engineering (ABE) student, Abbott specialized in power and machinery. He now works in design and verification on John Deere's harvester engineering team. As part of maintaining the company's relationship with the College of Agricultural, Consumer and Environmental Sciences (ACES) and Department of ABE, Abbott recently helped make possible the donation of a S660 combine and corn head. Designed for easier and faster harvesting, the S660 allows staff and students to harvest corn and soybean research plots more efficiently.
"It's important to provide that opportunity for students to have hands-on experience and actually see, touch, and work with products," Abbott says.
"Not every student is great on theory. So opportunities like this enhance the education and experience because you have machinery on hand to do research with and even to just see and visualize the concepts behind the theory of operation."
Like Abbott did, students interested in a host of hands-on careers discover More Than Meets the I in ACES. The college offers courses, research opportunities, and career paths related to the whole food spectrum – including crop and animal sciences, human development, natural resources, and economics. Learn more on the ACES Welcome, Future Students page.
Tim Lecher, agricultural sciences facilities manager in ABE, originally reached out to John Deere about a loaner combine that was already at ABE and had been used as part of the ABE469 Senior Design class.
John Deere offered a new machine instead.
"With this combine, ABE can perform harvesting activities on our timeline using a machine relevant to today's technology, which is vital in providing the best possible learning experience to our students," Lechers says. "Getting students to the field to see this equipment in action during a lab or as part of a research project is invaluable."
Projects often require students to harvest corn and soybeans with Lecher. They will see the donated combine in action and even be able to operate the machinery.
"But it's not all about just planting something, watching it grow, and harvesting it. It really helps open their eyes to what agriculture is," Lecher says.
ABE and John Deere continue to foster a mutually beneficial decades-long relationship.
"We value John Deere's commitment to work with us on student engagement, faculty research, technological advances, and projects at the John Deere Technology Innovation Center in the Research Park," says Ronaldo Maghirang, ABE department head. "This year, the combine donation enhances our partnership on student talent pipeline activities. This piece of machinery shortens the gap in the type of technology commercially available.
"From engineering to information technology, students can have a meaningful learning experience using current equipment, which provides them a seamless transition to potential job opportunities."
Assisting with equipment donations is just one way Abbott stays connected to Illinois. John Deere often works with seniors on capstone design projects and offers internships for students to experience what working at John Deere would involve.
"It gives students an opportunity to engage with John Deere in preparation for future employment, and it gives that insight in both directions, from the student perspective and also from John Deere's," Abbott says.
When he was a student in ABE at Illinois, Abbott worked on a John Deere design project with his professors, which, he says, gave him a glimpse of his future career.
"Thinking back on that experience, that really did kind of shape my expectation and my desire to go work for a big ag company," Abbott says. "Having that experience certainly drove additional engagement with the university, which I'm certain will continue."
Alumni and others who wish to support ACES can learn more and give online.
The Department of ABE is in the College of ACES and The Grainger College of Engineering at the University of Illinois.