Lean body mass, age linked with alcohol elimination rates in women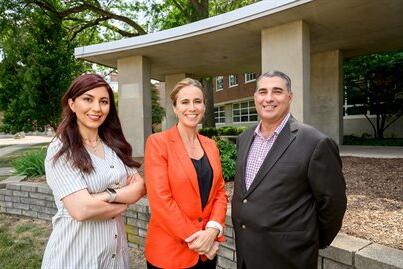 The research team included, from left, Neda Seyedsadjadi, M. Yanina Pepino, and Dr. Blair Rowitz.
CHAMPAIGN, Ill. — The rate at which women eliminate alcohol from their bloodstream is largely predicted by their lean body mass, although age plays a role, too, scientists found in a new study. Women with obesity – and those who are older – clear alcohol from their systems 52% faster than women of healthy weights and those who are younger, the study found.
Lean body mass is defined in the study – published in the journal Alcohol Clinical and Experimental Research – as one's total body weight minus fat. 
"We believe the strong relationship we found between participants' lean body mass and their alcohol elimination rate is due to the association that exists between lean body mass and lean liver tissue – the part of the liver responsible for metabolizing alcohol," said research group leader and Carle Illinois College of Medicine Health Innovation Professor M. Yanina Pepino. She is a professor of food science and human nutrition at the University of Illinois Urbana-Champaign.
Read more from the Illinois News Bureau.