Metropolitan farming offers surprise opportunities for U of I junior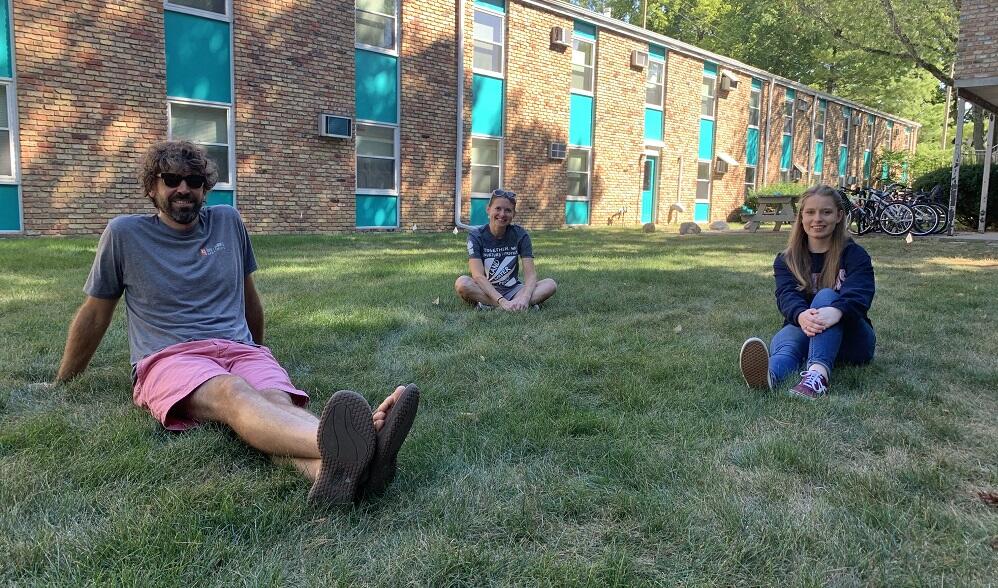 Metropolitan farming offers surprise opportunities for U of I junior
URBANA, Ill. - Where and how we grow up influence what we decide to do for a living. Maggie Furr grew up in the rural community of Shelbyville, Illinois. Her parents farm corn and soybeans. Furr, a junior in crop sciences in the College of Agricultural, Consumer and Environmental Sciences (ACES), expanded on her interests and upbringing by exploring another side of agriculture: metropolitan farming.
With University of Illinois Extension and a Champaign-Urbana family business, Furr is designing community gardens for tenants of Royse + Brinkmeyer Apartments. She's helping create a sense of community while also providing city residents a unique and useful amenity. Plus, the goal is to have enough produce left over to donate it to local food distribution streams.
"We're excited to be working with the U of I and Extension on this project. One of our goals is to help our residents feel more a part of our community at large," says Amanda Royse, marketing manager. "We think it's important for us to model this by being involved ourselves.
"Community partnerships like this provide an opportunity to combine resources and increase quality of life for our residents and provide opportunities for students to get involved with the Champaign-Urbana community," she adds.
This kind of project scratches the surface of what a new ACES undergraduate major – the first of its kind – offers. Metropolitan Food & Environmental Systems (MFST) provides curious students of all kinds with the skills, experience, and inspiration to create healthier, more affordable, and more sustainable food systems. Learn about courses and how to apply today. To learn more about crop sciences and the many other world-changing areas of ACES you could get involved with, visit the ACES future students page. Crop science prepares students to address grand challenges in agriculture and the environment by enriching their studies with experiences that help them to develop an active, relevant toolbox.
"Designing something a community can come together and use, and introducing people to a small aspect of farming is really cool," Furr says. "Farming in a city is different than what I first wanted to do, but it's a great fit for me. I enjoy researching what to plant and figuring out what the best options are for healthy food apartment residents will eat and love."
Originally, Furr wanted to do genetic plant research.
"Instead of exploring how I can make plants grow in more efficient ways, I'm looking into how we can all make use of the land more efficiently where you might not even expect it," Furr says.
Fulfilling a longtime goal, Royse + Brinkmeyer is providing space and supplies for the gardens.
"We were blown away when we saw the College of ACES announcement about MFST. It seemed like the program's goals in curriculum were perfectly in line with our goals for this project and partnership. We really want to see more projects like this happen in our community, whether we get to be a part of them or not," Royse says.
The business cares about its tenants' health and wellbeing.
"We're interested in providing our tenants with healthy food sources, opportunities to live more sustainably, as well as possibly growing this program to address food scarcity issues within our community," Royse says.
Enter Illinois Extension, which offers educational programs and workshops statewide as an essential part of many communities and the College of ACES.
Extension's Erin Harper, local food systems and small farms educator, joined the project to provide information and support for growing vegetables in an urban setting. This project is in line with the work she loves – teaching people how to garden.
"If you live in an apartment, you might not have the space to grow fresh food. You might have to rent a community plot on the other side of town," Harper says, adding the project gives tenants an easy and efficient way to grow good food close to home.
Harper oversees the work Furr and other undergraduates do for the garden, like considering composting options and planning how to plant, tend, and harvest.
"They've done really good research," Harper says. "I'm continually amazed by how much work they can get done in a short amount of time. They just have the energy to keep going and going."
That energy stems from gaining hands-on experience that prepares them for their careers.
"Being part of this project from the start will help show future employers what I'm capable of doing," Furr says.
Furr hopes her experience shows other students – those who grew up like she did and those who did not – opportunities in the changing world of agriculture.
"Since joining this project, I've seen a lot more articles about different types of urban farms and a lot more opportunities in this area than I ever imagined," she says.