Prestigious NSF CAREER award goes to Illinois researcher to study long-term sustainability in the US Corn Belt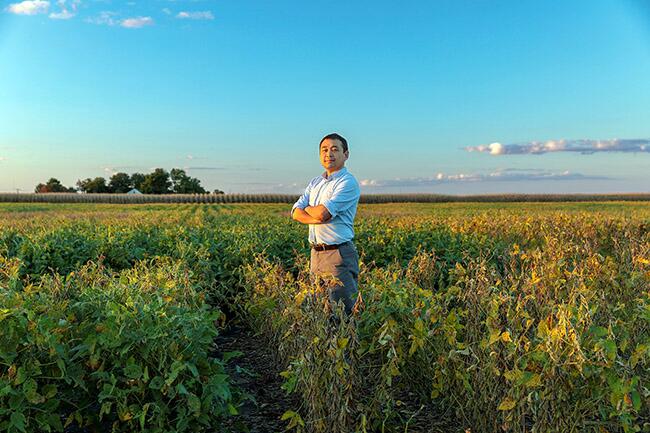 Prestigious NSF CAREER award goes to Illinois researcher to study long-term sustainability in the US Corn Belt
URBANA, Ill. – The U.S. Corn Belt produces about a third of the world's corn and soybean supply, but with further intensification and a changing climate, it's not clear whether the Corn Belt can remain environmentally sustainable over the long term. With a new five-year project, funded by the National Science Foundation's flagship CAREER award, Illinois scientist Kaiyu Guan aims to find out.
"Currently, the Corn Belt is the biggest food basket on the planet, but will that be the case in 100 years? My project looks at how we can maintain the productivity of this landscape into the future, while continuing to be environmentally sustainable," says Guan, assistant professor in the Department of Natural Resources and Environmental Sciences  and Blue Waters Professor at the National Center for Supercomputing Applications at the University of Illinois.
Guan plans to monitor individual fields in the U.S. Midwest through satellite remote sensing to build agroecosystem simulations under future climate and management scenarios. He will be able to simulate crop growth, water movement, and nutrient flow at field scale and the scale of the entire region. He notes that his integrated approaches, which examine all of these components collectively, are unique and novel.
"In the U.S. Midwest agroecosystem, carbon [e.g., crop growth], hydrology [both water quantity and quality], and nutrient cycles are all closely intertwined across scales, from the field/headwater scale to the whole river [greater Mississippi river basin] network and continental scales," Guan says. "Human activities and practices do not just affect one component, rather the complete set of interconnections. Thus, a new 'systems' analysis of the complex feedbacks and interactions is required to assess potential adaptations in the Midwest agroecosystem."
Using supercomputers like Blue Waters to simulate crop growth and field management practices, such as cover cropping, fertilizer application, or drainage management, Guan will be able to assess the collective impact of these practices across the landscape. The results, he says, can be used to inform policymakers and farmers about practices that best address the need for co-sustainability of food production and environmental quality.
Guan's research proposal earned him $510,000 through NSF's CAREER program. "The Faculty Early Career Development (CAREER) Program is a Foundation-wide activity that offers the National Science Foundation's most prestigious awards in support of early-career faculty who have the potential to serve as academic role models in research and education and to lead advances in the mission of their department or organization. Activities pursued by early-career faculty should build a firm foundation for a lifetime of leadership in integrating education and research," according to the program website.