Recent ACES alum who led development of first hemp creamer returns to inspire fellow food scientists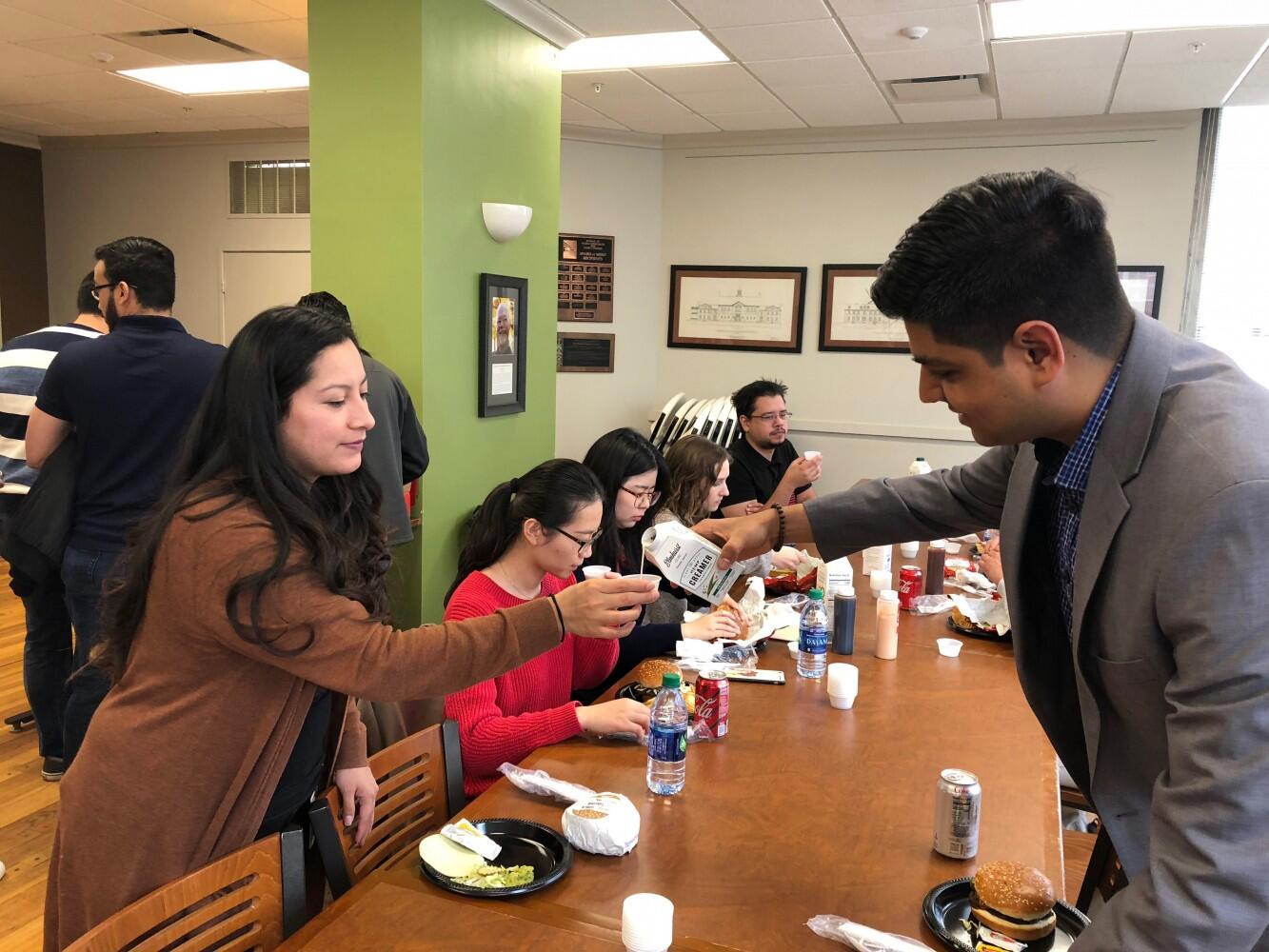 Recent ACES alum who led development of first hemp creamer returns to inspire fellow food scientists
Article submitted by Emely Lopez, doctoral student and research assistant, Department of Food Science and Human Nutrition
A recent ACES alumnus and former International Graduate Grant recipient recently returned to campus to share his experiences with aspiring food scientists, specifically how he led his team to create the world's very first hemp coffee creamer.
Dr. Shashank Gaur graduated in 2017 from the Department of Food Science and Human Nutrition after focusing his award-winning dissertation, advised by Dr. Juan Andrade, on crafting lipid-based nutrient supplements to reduce moderate-acute malnutrition and parasitic infections in Indian children. He had previously worked at Nestle and PespsiCo before his studies at Illinois, and after graduation, Gaur rejoined industry right away, with no doubts from his former advisor and lab mates that he would continue to collaborate with ACES and Illinois.   
Dr. Gaur has an outstanding trajectory as a scientist, business man, and mentor for many of his former lab mates who remember him as a role model and an excellent colleague in our department. He currently serves as the vice-president of research and development and product introduction at Elmhurst 1925 & Steuben Foods, located in Elma, NY.
In a world were food trends are changing rapidly towards sustainable plant-based products, the food industry has a responsibility to adapt to consumer demands by producing innovative, clean-label, natural, and nutritious foods. Dr. Guar has done his part to meet these demands by leading the team that created the world's very first hemp creamer.
On April 5, 2019, Gaur was invited by his former department to share his recent experiences and successes in a seminar.
"Elmhurst Original Unsweetened Hemp Creamer is crafted with just four ingredients and no added sugar, gums or oils. The product has a healthy 3:1 ratio of Omega-6 to Omega-3 fatty acids, including 350mg Omega-3 ALA per serving. In addition to the original unsweetened variety, we will be debuting more on-trend varieties this year for pouring and stirring into hot and iced coffee," explained Gaur.
Current students were inspired by Gaur's ability to be a pioneer in his field and make an immediate impact in the food industry.
While a grad student in ACES, Gaur received support from the Office of International Programs for his project, "Development of a 'Sagar Poshan,' a lipid-based nutrient supplement to address malnutrition in India." He used the funds to conduct applied research in India at one of the largest dairy cooperatives in the world.
To learn more about the plant-based beverages at Elmhurst 1925, visit www.elmhurst1925.com.