Soybean 360: A virtual international symposium on agro-processing in Sub-Saharan Africa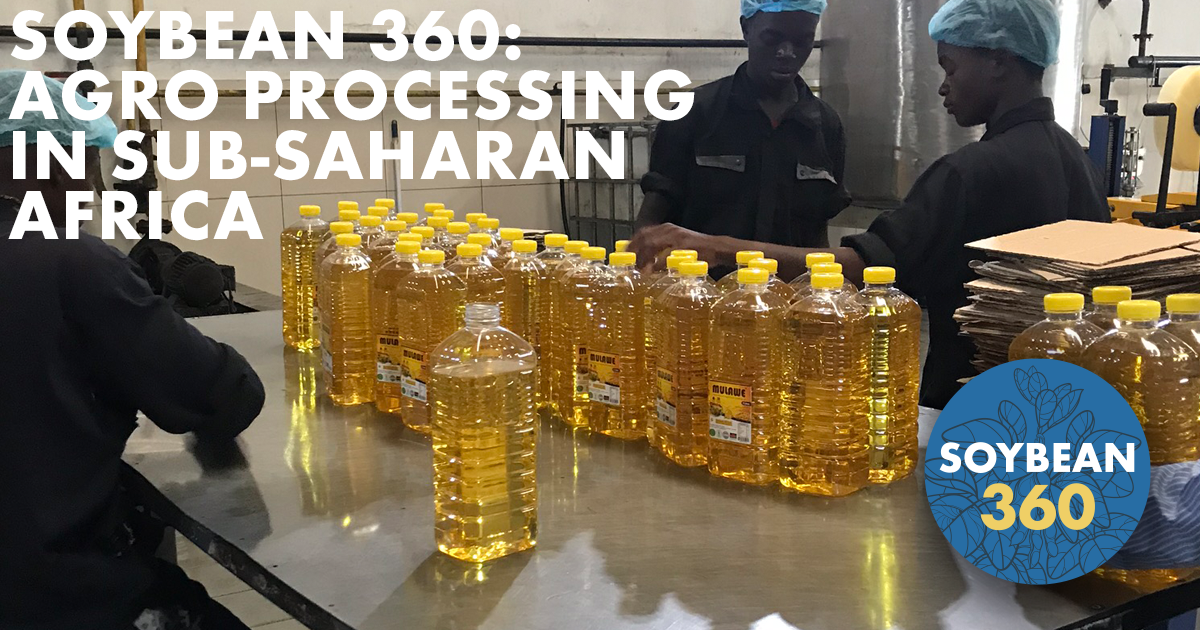 Soybean 360: A virtual international symposium on agro-processing in Sub-Saharan Africa
URBANA, Ill. – The Soybean Innovation Lab (SIL) and the American Oil Chemists' Society (AOCS) will be hosting a virtual international symposium on soybean processing in collaboration with the Institute of Food Technologists (IFT), the International Institute of Tropical Agriculture (IITA), Makerere University, and the National Agricultural Research Organization (NARO). Soybean 360: Agro Processing in Sub-Saharan Africa will offer live and pre-recorded presentations from 8-11 a.m. CST from Nov. 30 through Dec. 11.
Each session will focus on the following key topics affecting the soybean value chain:
Soybean in the Value Chain – Production from Field to Food Processor

Processing Techniques and Technology

Future Trends, Opportunities to Improve Nutrition and Marketing
Addressing AOCS's involvement in the upcoming symposium, AOCS CEO Patrick Donnelly says, "AOCS is committed to improving the well-being of the global population by driving advancements in health and nutrition, hygiene, safety, and environmental sustainability. We are honored to partner with SIL in the development of this symposium."
Baljit Ghotra, vice president of food research for Archer Daniels Midland (ADM) will give the symposium's keynote address. Ghotra, an innovator in food and nutrition science, leads ADM's strategic efforts in research and development — exploring new ways to make food delicious and nutritious.
"The agri-food technology sector is undergoing an unprecedented technological revolution. More and more consumers are turning towards foods that are good for the environment and their personal health and nutrition. This is a great opportunity in front of us as we think about the future of agriculture and food industry to feed the growing needs of the planet, not only humans but animals," Ghotra states.
The symposium will feature over 30 presentations from researchers and industry partners around the world, followed by live, interactive question and answer sessions. Each day of the symposium will conclude with a 30-minute panel discussion including that day's speakers and moderated by the session chairperson.
SIL's lead nutrition researcher Juan Andrade, associate professor of global nutrition at the University of Florida, says, "Scaling up nutrition solutions will not be possible without the active participation of the private sector along with government support with evidence-based, functional policies. Agro-processors in Sub-Saharan Africa stand ready for the challenge. Soybean is a multifaceted legume that can play a role in scaling up nutrition solutions, especially bringing quality protein for the general public or for targeted food interventions such as complementary feeding, institutional feeding and for relief programs."
Registration for the Soybean 360: Agro Processing in Sub-Saharan Africa symposium is required. Agro-processors involved in cereal, snack, and pet food manufacturing, oil extractors, food scientists and engineers working in the R&D sector, and nutrition experts are encouraged to register and attend the upcoming symposium.
###
About Soybean Innovation Lab
The Feed the Future Soybean Innovation Lab (SIL) works to improve food security and nutrition around the world. SIL is a team of technical soybean experts that provide evidence-based innovations, tools, and technologies across the value chain to enable sustainable livelihoods through profitable soybean production and utilization across Sub-Saharan Africa. SIL is housed in the College of Agricultural, Consumer and Environmental Sciences, University of Illinois.
About the American Oil Chemist's Society (AOCS)
Founded in 1909, AOCS is an international scientific society dedicated to advancing the science and technology of oils, fats, proteins, surfactants and related materials, enriching the lives of people everywhere. The members of AOCS include the leading experts in oilseed processing around the world.