USDA internships help young women see themselves in science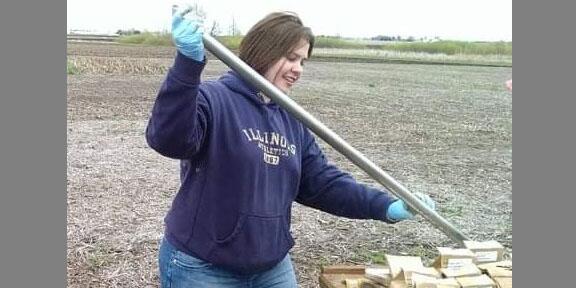 USDA internships help young women see themselves in science
URBANA, Ill. – Every one of Stacy Zuber's career goals centered on science. That doesn't mean she took a direct path.
"In middle school, I was certain I wanted to be a veterinarian. I learned quickly that I didn't like the sight of blood, so I tried biochemistry," she says. "If had done an internship instead of working on the family farm during the summer, I would have seen what was really out there and made up my mind earlier."
Female college students interested in science can now explore new paid internships made possible by some of the biggest names in conservation and sustainability. The University of Illinois College of Agricultural, Consumer and Environmental Sciences (ACES) is partnering with the U.S. Department of Agriculture's (USDA) Natural Resources Conservation Service (NRCS) to provide hands-on experiences related to soil health, wildlife biology, environmental engineering, and more.
Apply by January 14 for summer 2022 internships. The program promotes diversity and features a win-win goal: future NRCS employees positioned for success.
"This is an amazing way to open young women's eyes to careers they might not know exist," says Maria B. Villamil, agronomy and soil health professor in the Department of Crop Sciences at ACES.
Zuber fostered her love of science at ACES with Villamil.
"I didn't have a soils background at that time. It was a leap into the unknown," says Zuber, who helped with research around making corn-based cropping systems more resilient to climate change and weather variability. "It was a great experience, a combination of agriculture and the environment in action."
Zuber graduated from ACES with her master's in 2013 and her PhD in 2017, both in crop sciences. After working in academia and teaching high school, she is now a soil health specialist with Illinois NRCS. She stands ready to help young women learn about science, the working world, and themselves.
"It's just hard to decide on a career when you're 17. Some things available now simply didn't exist when I was that age," she says. "Internships help you see different perspectives and meet different people."
She's proud to be part of an organization focused on giving young women and other underrepresented populations opportunities.
"Sometimes it's easier for women to bounce ideas off each other, to share their experiences," she says. "I've always had positive women advisors and supervisors. We made great connections. I heard their stories."
She encourages young women to apply for the NRCS internships.
"They will find so much potential to truly see how their work makes a difference," she says.
Villamil couldn't agree more.
"Women are underrepresented in science. Those in the next generation need to see themselves doing important conservation work in classrooms, labs, and out in the world," she says.