The Climate Corporation invests in combined computer and crop sciences major at Illinois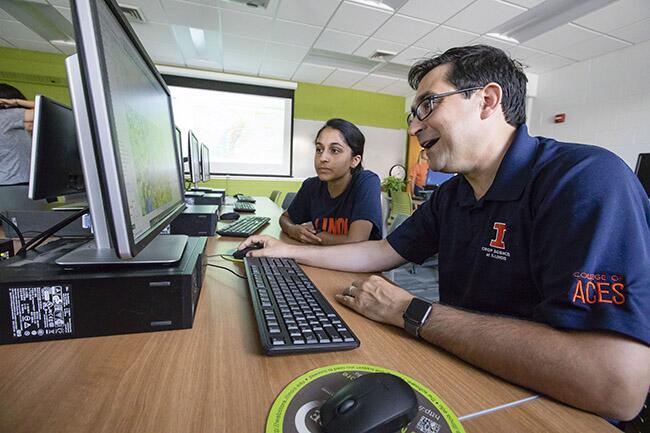 The Climate Corporation invests in combined computer and crop sciences major at Illinois
URBANA, Ill. – Technology in the agricultural industry continues to expand, and with it, the demand for employees prepared to work for agricultural companies. In an effort to build a talent pipeline, The Climate Corporation (Climate), a subsidiary of Bayer, made a $500,000 investment in a new major at the University of Illinois. Leading the digital agriculture revolution, the university launched a first-of-its-kind major combining computer sciences and crop sciences, which the Climate gift benefits.
Climate's gift, which will provide scholarships to students in the new program, stretches over a five-year period and specifically aims to help grow the program.
"The Climate Corporation is thrilled to partner with the University of Illinois, a leading institution with world-class strength in crop and plant sciences, data science, and engineering," says Sam Eathington, chief science officer for The Climate Corporation. "We view the new major as an important mechanism through which the next generation will be trained. With our partnership, we aim to help accelerate growth at the interface of these disciplines because that's where transformational breakthroughs occur." 
The undergraduate major, known as CS + CPSC and housed in the Department of Crop Sciences, admitted its first class of students in the fall. Over the next several years, the program is set to meet its capacity of 60 to 80 full-time students. It is one of several interdisciplinary computer science majors at Illinois, but CS+CPSC is the first to receive a significant investment from a private donor.
"This investment proves that graduates of CS + CPSC will be well prepared and highly sought-after by seed, machinery, and technology companies in addition to large farming organizations, startups, and academia," says Rashid Bashir, dean of the College of Engineering at Illinois.  
The new major and Climate's investment comes at a crucial moment in agriculture, given the industry's growing reliance on technology and data in applications such as quantitative genetics, statistical programming, data science, study of weather and climate, GIS-based data gathering, and remote sensing.
"CS + CPSC graduates will leverage their excellent analytical training to help secure the world's food supply in the face of a changing climate and a growing population," says Kim Kidwell, dean of the College of Agricultural, Consumer and Environmental Sciences at Illinois. "Climate's investment signals their recognition of the importance of technology in production agriculture and builds the human capital needed to tackle the challenge."
Students can learn more about the CS+CPSC program by requesting information or scheduling a personalized visit at https://go.illinois.edu/CS_CPSC_info.