College of ACES promotes seven faculty; two receive distinguished promotion awards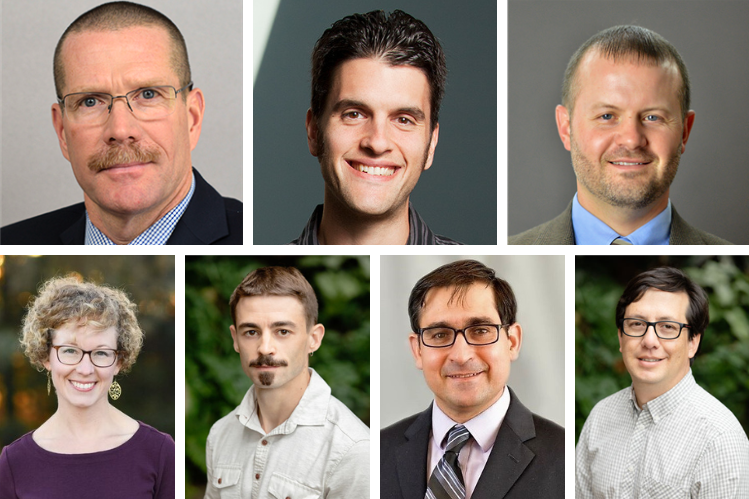 Top from left to right: professors Aaron Hager, Brian Ogolsky, and Daniel Shike; bottom from left to right: professors Sarah Janzen, Andrew Margenot, Nicolas Federico Martin, and Santiago Mideros.
Seven faculty members from the College of Agricultural, Consumer and Environmental Sciences (ACES) will be promoted on August 16. Two were recognized for exceptional achievements with a Campus Distinguished Promotion Award from the University of Illinois Urbana-Champaign.
"We are very appreciative of the dedication these hard-won titles represent," said College of ACES Dean Germán Bollero. "Further, for two of our faculty to receive distinguished promotion awards speaks to the excellence of teaching and scholarship within our college." 
Faculty promoted to the rank of professor:
Aaron Hager

, Department of Crop Sciences and Illinois Extension Specialist, aims to improve crop production through the development and implementation of integrated weed management programs.

Brian Ogolsky

, Department of Human Development and Family Studies, examines how relational partners maintain healthy romantic relationships and how law and policy influence daily family life.

Daniel Shike

, Department of Animal Sciences, identifies management and nutritional strategies to improve the reproduction and longevity of beef cows. 
Faculty promoted to the rank of associate professor:
Ogolsky and Margenot both received a 2023 Campus Distinguished Promotion Award for their exceptional contributions to scholarship, teaching, service, and engagement. They are among nine faculty campus-wide to receive this honor, which includes a discretionary fund to support the recipients' scholarly activities.