Community college ag tech programs get boost from Illinois-led USDA grant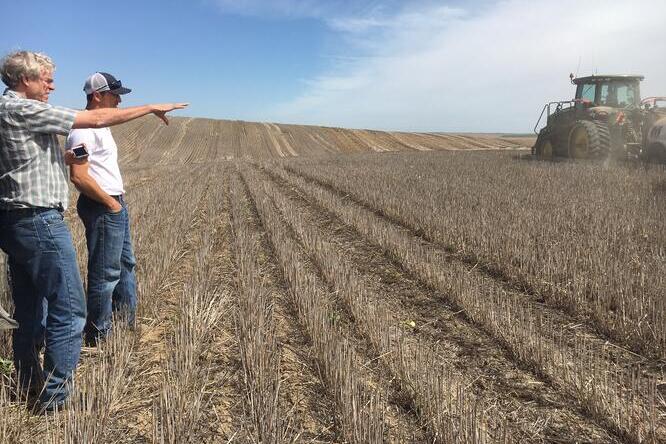 David Bullock (left) discusses an on-farm precision experiment with a farmer in the Palouse area of Washington State.
URBANA, Ill. — David Bullock, professor of agricultural and consumer economics and principal investigator of the Data-Intensive Farm Management Project (DIFM) in the College of Agricultural, Consumer and Environmental Sciences (ACES) at the University of Illinois Urbana-Champaign, is part of a multi-institutional team that received a $646,000 grant from the USDA-NIFA Agriculture and Food Research Initiative.
The U. of I. will collaborate with six community college agricultural technology programs to design and conduct a course and internship program teaching students to use DIFM's cloud-based cyber-infrastructure to practice on-farm precision experimentation (OFPE).
"OFPEs are agronomic field trials that look at things like fertilization rates or seed rates and how changes in those rates might affect yields. Many people are familiar with such trials conducted by university researchers on small plots of land. What OFPE does differently is that it uses precision agriculture technology and GPS to design and run very large plot trials on whole fields in many locations," Bullock explained.
"We envision a world where farmers are doing experiments all the time, on their own fields, in a solid, scientific way. We're creating a user-friendly platform where a crop consultant or farmer with a little training can design their own experiments, generate data on their own fields, and use those to make profitable, data-based management decisions. We believe that OFPE is revolutionary, moving agronomic science from university and corporate-owned fields into farmers' own fields, so data come from the same fields for which decisions must be made."
DIFM is partnering with Blue Mountain Community College in Oregon, Kirkwood Community College and Hawkeye Community College in Iowa, Parkland College in Illinois, Rhodes State College in Ohio, and Mitchell Technical Institute in South Dakota to develop the course, which will be taught virtually by instructors from the participating institutions. Students will learn to design, implement, and analyze OFPEs, preparing them for crop consulting and farm management jobs. It will be coupled with a paid internship program, where students will gain experience working with farmers and providing data-based management advice. Students will be able to obtain stackable certificates that allow them to step directly into the crop consulting industry's technical frontier. 
Other community colleges, farmers, or agribusinesses that are interested in learning about OFPE and participating in the program can contact David Bullock at dsbulloc@illinois.edu for more information.