Incoming FSHN student goes all out with blue-on-blue recipe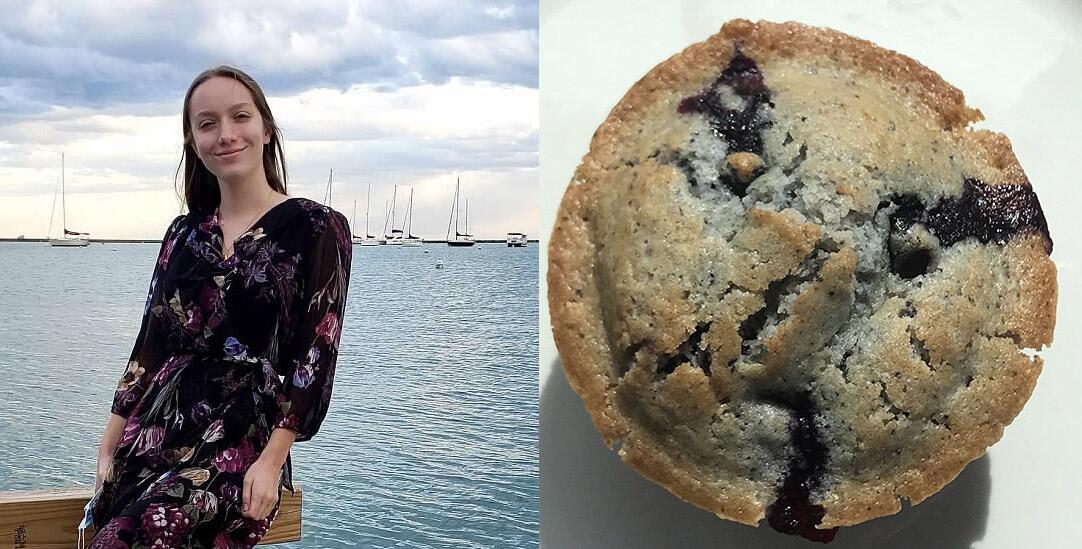 Incoming FSHN student goes all out with blue-on-blue recipe
URBANA, Ill. – "I'm interested in studying hospitality management because I want to go into a career in food and restaurant management as well as owning my own bakery. I expect to learn the ins and outs of how the restaurant industry operates," says Megan Darga, a first-year student this fall in food science and human nutrition (FSHN).
Darga showcased her baking skills for the 2021 FSHN Food Challenge with her winning "blue blueberry muffins."
FSHN invites students accepted into the program to participate in the challenge for the chance to win a scholarship, says FSHN department head Nicki Engeseth.
Students can get creative with a box with three kinds of flour­ – white long grain fancy rice, Illinois blue corn, and soft red winter wheat, milled at the FSHN pilot processing plant on the U of I campus. They must prepare food using at least one kind of flour. They submit a photo of the food, a recipe, and a description.
Contest criteria are specific to each of FSHN's four concentrations: hospitality management, food science, human nutrition, and dietetics. To learn more about the concentrations, visit the FSHN website.
As an incoming hospitality management student, Darga's task was to create a styled photo and describe how she styled the food.
"I was inspired by the blue corn flour to make something that appeared blue once baked. I liked the play on words with the name, with the muffin actually being blue and having the blueberries in it," Darga says.
"It was fun and exciting, baking something with ingredients I've never used before. It was also a little nerve-racking because I didn't know if the flour would actually make the muffin batter blue when it was baked."
Darga, who received a $500 scholarship for her muffins, says she was already committed to FSHN, but the food challenge was a fun thing to do.
The Department of Food Science and Human Nutrition is in the College of Agricultural, Consumer and Environmental Sciences (ACES) at the University of Illinois.
The FSHN Food Challenge and other students-focused projects like this are funded through donations to the College of ACES. To learn more, or to contribute, please contact the College of ACES Office of Advancement.