Professionals credit robust online master's work with ag career successes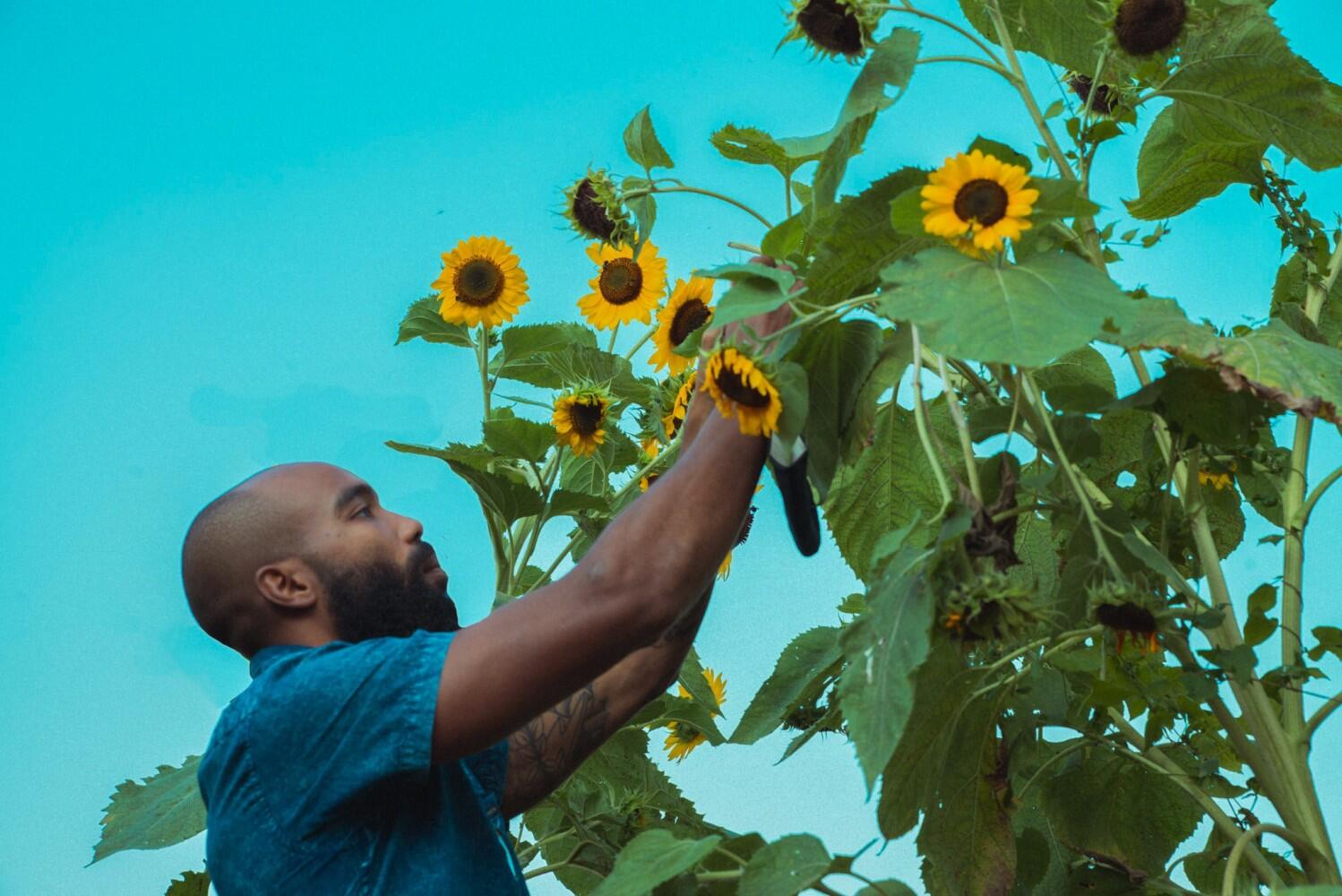 Professionals credit robust online master's work with ag career successes
URBANA, Ill. – Alex Pate is on a mission to make sure fellow Chicagoans have access to healthy, locally grown foods. As a farm manager with City Farm, the oldest sustainable urban farm in the city, Pate collaborates with mutual aid organizations to get free produce in the hands of those who need it.
"We're solidifying innovative ways of producing food that can bring people together and allow them to appreciate and enjoy urban farming, horticulture, and agronomy. It's obviously a fulfilling mission," he says.
Pate double-majored in English education and history, but, after a couple years teaching in the Chicago Public Schools system, he began to feel pulled toward the local foods movement. In preparing to make the jump, he enrolled in the online master's program in crop sciences from the University of Illinois.
"That skill set of growing crops is essential to changing and healing our society. I was able to get some of those skills from hands-on experience on the farm, but the academic knowledge I got from the master's program was absolutely crucial and allowed me to come into the practice with insight into techniques that aid the overall operations of the farm," he says.
The Department of Crop Sciences at Illinois has offered master's degrees since the university's earliest days. But, recognizing the unique needs of professionals wishing to advance their careers, it wasn't until the mid-1980s that the department started offering its first distance-learning option. Back then, the program primarily targeted professionals in traditional agricultural careers: seed salespeople, crop advisors, and the like. But agriculture has made some seismic shifts in the past 40 years. Today's program reflects those changes while staying relevant to those in traditional ag roles.
Busy professionals can apply to begin when the program best fits their schedules, with start dates in summer, fall, or spring.
The program, in the College of Agricultural, Consumer and Environmental Sciences (ACES), offers about 25 courses – from field crop production advising to urban food production to children and nature – to meet the needs of every ag-focused professional. All the courses are taught by world-class faculty, and most are offered in a synchronous format to foster meaningful interactions between faculty and students.
Those interactions made all the difference for Sarah Strutner of Salem, Illinois. Strutner is a sales effectiveness manager with Pioneer and 2020 graduate of the online master's program in crop sciences.
"I did my undergraduate degree at U of I, so initially I thought I'd try a different school for the master's. But, after two and a half years in another program, I didn't feel like I was getting the education I expected. It was all self-paced, basically do-it-yourself. There was no collaboration," Strutner says. "I really needed interaction with my professors and peer students in ag industries, and I got that from the U of I."
Faculty interactions also made the program for Todd Steinacher, of Springfield, Illinois. Steinacher is an agronomist with AgriGold, 2021 International Certified Crop Advisor of the year, and 2017 graduate of the online master's program in crop sciences.
"The faculty were there to teach a topic, but they would actually try to learn from us as well. For example, they knew I was a working agronomist, so they'd ask how I and my peers were using the concepts in our work life," Steinacher says. "They do the research, but they might not always get to see how their discoveries are utilized in the industry, for farmers. I thought it was a really cool way for them to engage with the industry."
Steinacher also noted the faculty's respect for students as professionals; setting high standards, but without piling on unnecessary homework.
Current student Sneha Bera, who lives in Lincoln, Nebraska, appreciates their restraint, especially because she's also parenting a young child through the pandemic.  
When Bera immigrated to the U.S. from India, she already had three agriculture degrees, including a doctorate, from her home country. But while waiting for her husband to finish his studies, moving cross-country multiple times, and starting a family, Bera decided to pursue yet another advanced degree.
"I knew I wanted to go back to graduate school to learn more about U.S. agriculture because the Indian perspective on agriculture is totally different. I was looking for a program that could be remote, and at the same time, meet my goals and open up better opportunities after graduating," Bera says. "As I was looking into what type of program I wanted, I realized Illinois has a very good reputation and is one of the top graduate schools in agriculture. So, I thought, why not try this and see?"
She has one more course to take before graduating, but she's still not done racking up the degrees; this spring, Bera was admitted to a doctoral program in education at Kansas State University.     
Bera's path is exceptional, but for the majority of students in the online master's program, it only takes the one degree to advance in their career. For example, while she was in the program, Strutner was able to leverage what she was learning to better advise her sales team and customers, tailoring her advice to each farm operation. And with the degree in hand, she was able to move up from territory manager to her current role at Pioneer.
D.K. Lee, an instructor in the program as well as the online programs coordinator for crop sciences, says the program has something for everyone.
"Most of the students who enroll are looking to advance in their career or find new jobs in agriculture. That can mean anything from urban food production to programming agricultural robots for large commercial-scale row crop production. The opportunities are endless – it just takes a passion for helping people and feeding the world," he says.