State-of-the-art extruder amps up companion animal research, education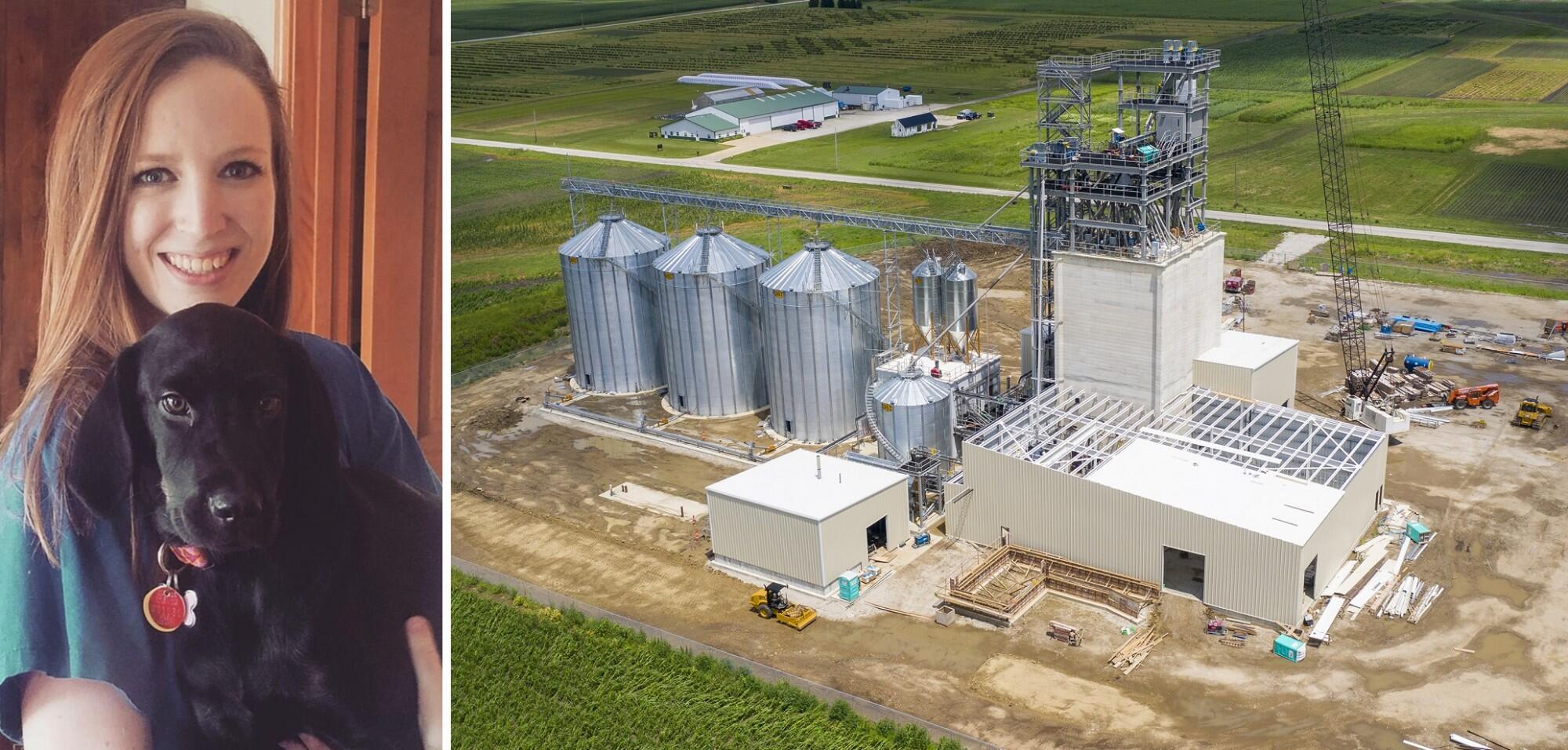 State-of-the-art extruder amps up companion animal research, education
Unless you're a companion animal lover, a vegan foodie, or a science geek, the word "extrusion" might not hold much meaning. However, extrusion is an everyday term that describes a process crucial to the food and feed industries.
"Extrusion is a versatile process that can make large amounts of products by applying thermal and mechanical energy that then leads to chemical and physical changes of the original product," says Maria R. C. de Godoy, assistant professor in the Department of Animal Sciences (ANSC) and Division of Nutritional Sciences. "Plus, extrusion provides a killing step through cooking that is critical to control foodborne pathogens and improve food safety."
For a long time, extrusion has been used to make a variety of food products, including texturized vegetable proteins, breakfast cereals, and pasta. Since the 1950s, extrusion has also been widely applied in the manufacturing of dry and semi-moist pet foods. The essential cooking step is vital for increasing nutrients and eliminating antinutritional factors. The process transform coproducts – that before would be wasted and discarded – into valuable resources in the feed and pet food industries, Godoy says.
Soon, experts will install a state-of-the-art extruder at the new Feed Technology Center at the University of Illinois. This will allow for an enhanced educational experience that will not only benefit College of Agricultural, Consumer and Environmental Sciences (ACES) students, but the whole student body and future Illinois students. This high-tech piece of machinery more accurately represents the current pet food and animal feed industries, allowing students and professors to take teaching and research to the next level.
"The Feed Technology Center is a gamechanger for us," Godoy says. "It will allow us to develop a robust research, teaching, and outreach experience for our students and communities that otherwise we couldn't offer. The Illinois Companion Animal Nutrition (I-CAN) program is one of the nation's top programs. Completion of the center with extrusion capability is paramount to maintaining the excellence of our program.
"This also expands this area of my research and brings a new dimension to teaching and outreach activities."
The Feed Technology Center can collect real-time data that provides researchers with results rapidly, which Godoy says is crucial as the feed industry evolves. The hands-on experience will better prepare students for their careers.
For Lauren Reilly, third-year doctoral student studying proteins and extruded diets, a new extruder is exciting because it will allow her and future students to learn more about the process and its limitations, complementing their background in nutrition.
"I want to go into product development in the pet food industry, so having a more hands-on experience with extrusion would be very beneficial as not a lot of students have exposure to that," Reilly says.
The extruder could benefit students from colleges outside of ACES, Godoy says. Students in engineering or computer science, for example, could study data generated by the extruder. The data also will be a valuable tool in training new cohorts of students enrolled in the Computer Science (CS)+ANSC and CS+CPSC (Crop Sciences) programs, and in advancing precision animal agriculture, a critical ACES area that aims to address local and global challenges related to food and agriculture, families and communities, and the environment.
Students from all colleges can learn more generally about food safety and manufacturing and about why researchers such as Godoy and Reilly do what they do.
"As we continue to evolve in this project, there will be a lot of opportunities for advancement of the field but also for general education of our students and community," Godoy says. "It is important to continue to share information about how food processing can be used to manufacture safe and nutritional diets for companion animals, aqua and livestock species, and to support their health, welfare, and optimize animal performance.
"The center and its extrusion capability will allow us to continue this dialogue with local and global communities and also to demonstrate how feeds and pet foods are made."
The Feed Technology Center is on time and on budget for completion in October, says Jonathon Mosley, Animal Sciences research specialist. He said on-site tours of the facility probably won't be until spring, but he envisions other sneak peeks at this leading-edge facility sooner.
ACES is seeking a Feed Technology Center manager experienced in research and education as well as in milling from a livestock perspective. The manager will oversee extrusion and other processes, and will lead the team responsible for Feed Technology Center daily operations.
Alltech donated the Wenger extruder, and other industry organizations supplied financial support.
To learn more about the $20 million Feed Technology Center and join others in contributing to its development, please contact the ACES Office of Advancement at acesadvancement@illinois.edu or 217-333-9355.