Summer of research at U of I boosts success of community college students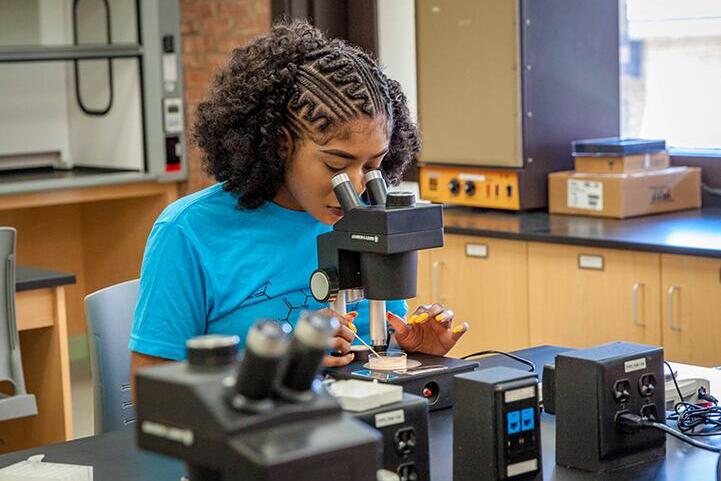 Amber Toussaint, a past PRECS participant
URBANA, Ill. – Harrison Hall spends a lot of time staring at fungus. A senior in Crop Sciences at the University of Illinois, Hall has worked for two years in a research lab studying the fungus responsible for a devastating wheat disease. For the former IT professional, it's perhaps an odd passion, but it came naturally after Hall entered the PRECS program through Parkland College and U of I.
PRECS stands for Phenotypic Plasticity Research Experience for Community College Students. It's a National Science Foundation-funded program offering community college students from across the U.S. a 10-week, hands-on research experience on the U of I's Urbana-Champaign campus. Students choose among 20 labs, working directly with professors, postdocs, and graduate students to learn lab basics and contribute to new or ongoing research projects loosely related to the topic of phenotypic plasticity, the ability for organisms to adjust their appearance or behavior in response to the environment.
Interested community college students should apply by March 1.
Students finish the program well-equipped to jump into undergraduate research when they transfer to four-year schools.
"Community colleges just don't have research infrastructure; the faculty there are focused on teaching. A lot of students want to transfer to research-focused universities like U of I, but by the time they transfer, they're a couple of years behind their peers in terms of research exposure. The goal here was to give them that experience early on, so they could be very confident moving to a four-year institution," says Nathan Schroeder, co-leader of the PRECS program and associate professor in the Department of Crop Sciences, part of the College of Agricultural, Consumer and Environmental Sciences at U of I.
Schroeder says since the program's inception in 2017, a majority of PRECS students have successfully transferred to four-year schools and several are finishing graduate degrees or have already entered the STEM workforce.
When Hall transferred to U of I, he immediately got a job working in the lab where he did his PRECS project the summer before. Not only did it cement his interest in research, knowing a few people from the lab helped ease his transition to campus.
"PRECS was such huge change for me because I very much just wanted to get in and get out at the university, get my degree, and go to work," he says. "I've always had this small interest in plant diseases, so actually working with a plant pathogen in a lab was like getting a taste to see if I actually liked it. And it was like, okay, yes, this is what I'm interested in."
Hall likes it so much, in fact, that he plans to apply for a master's degree at U of I.
Unlike Hall, Parkland student Stephanie Thomas spends most of her time staring at microscopic worms, or nematodes. She works in Schroeder's lab when she's not attending classes across town at Parkland. Thomas hopes to transfer to U of I or another research institution next fall, but regardless of where she completes her undergraduate degree, she's got big plans.
"Originally, I wanted to become a physician, but going through the PRECS program made me gain a real passion for the research. So now, I am planning to go for an M.D.-Ph.D.," Thomas says. "Ideally, I want to help translate neuroscience research into medical practices. I'd also like to teach at a medical school someday, to have a positive impact on future physicians."
Thomas didn't expect to be selected for the PRECS program in her first summer at Parkland, but she applied anyway.
"I thought to myself, if I'm serious about going back to school and building my career, I need to get more involved. I figured the worst that could happen is I don't get in, but I'll just keep going and keep trying," she says. "I applied at the start of last spring semester and got an email pretty quickly. I thought, 'Oh, that's quick for a rejection letter,' but it wasn't a rejection letter."
Thomas and Hall were both encouraged to apply by Britt Carlson, the co-leader of PRECS and professor of chemistry at Parkland College.
"Undergraduate research provides students with real-life applied experiences and exposes students to the wide range of possibilities within STEM careers," Carlson says. "For community college students who often don't have research opportunities at their home institutions and who often are students from underrepresented backgrounds, including first-generation college students, students from minoritized groups, students with disabilities, or returning students, programs like PRECS can provide transformative experiences."
Again, students enrolled in any community college in the U.S. can apply by March 1. The 2023 session will begin with a one-week research boot camp at Parkland College in Champaign on May 24, with the remaining 9 weeks conducting research on the U of I campus in Urbana. PRECS provides each participant with a housing and food allowance, as well as a travel allowance, as needed. More information is available at the PRECS website or by contacting Nathan Schroeder [nes@illinois.edu] or Britt Carlson [ccarlson@parkland.edu].