U of I ASMC extends research projects in four developing countries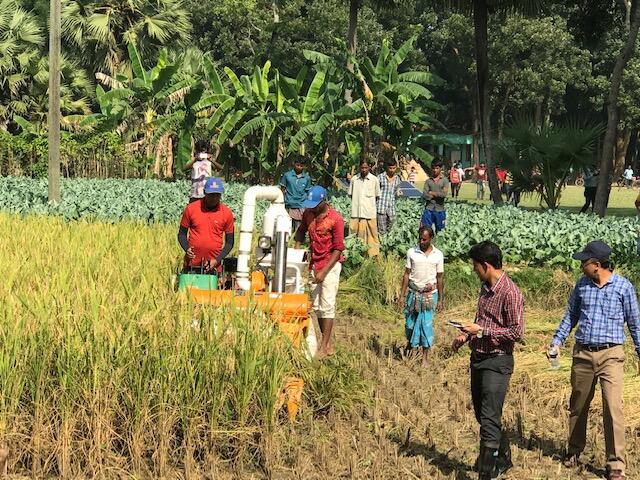 U of I ASMC extends research projects in four developing countries
URBANA, Ill. ­– The Appropriate Scale Mechanization Consortium (ASMC) at the University of Illinois received a $2.25 million grant from the United States Agency for International Development (USAID) to continue work on empowering smallholder farmers in West Africa and Asia through sustainable mechanization solutions.
The ASMC, hosted in the Department of Agricultural and Biological Engineering in the College of Agricultural, Consumer and Environmental Sciences (ACES) and The Grainger College of Engineering, is a multi-university effort with collaborators at U of I, Michigan State, Kansas State and North Carolina A&T State.
It is one of six subcontractors under the Feed the Future Innovation Lab for Sustainable Intensification (SIIL), which was established at Kansas State University by USAID to discover and develop innovations that will support smallholder farmers across the globe in becoming food and nutritionally secure.
"USAID's continued funding recognizes the importance of ASMC's contributions, which demonstrate the power of collaboration across disciplines to solve the world's greatest problems," says College of ACES Dean Kim Kidwell. "The SIIL consortium provides ASMC with a platform to leverage expertise in information technologies, policy development, and agricultural practices. Their work focuses on translating research and innovation to practical applications that directly benefit the lives and livelihoods of farmers, women, and youth in developing countries.
"When the College of ACES, university partners, government agencies, and local organizations sit in a place of confluence, we make the most progress and the biggest difference in our world," she adds.
Prasanta Kalita, professor of soil and water resources engineering at U of I and director of ASMC, says the first phase of the research projects focused on identifying key transformational technologies to increase crop and labor productivity while enabling sustainable practices.
"We are currently working on completing a technology readiness assessment to determine which technologies would work for each country. Then we work with universities, private organizations, farmer associations, women's groups, youth groups, and government agencies and policymakers to implement and scale up those technologies," he explains.
"We have worked for years developing relationship and cultivating trust and mutual respect with local partners. Now we are in a very good position to move forward to make a real difference," he adds.
The second, three-year phase will focus on facilitating the evaluation and scaling up of selected transformational technologies for smallholder farmers in Bangladesh, Cambodia, Burkina Faso and Senegal.
ASMC also helps smallholder farmers develop business plans that enable them to make decisions about crops and technologies. They work with women's groups on overcoming gender-specific barriers to using agricultural technologies, and with youth groups to create opportunities in rural areas to stem migration to cities.
Being part of the larger SIIL initiative provides ASMC with resources and collaborations that strengthen their efforts, Kalita says.
"Working under the SIIL project umbrella allows for coordination of resources rather than individual efforts, and makes it possible to make a bigger impact," he notes.
Vara Prasad, university distinguished professor at Kansas State and director of the SIIL, says  "The [USAID] supported projects will help us continue our efforts through innovations in sustainable intensification practices that enhance access to safe and nutritious food, protect our natural resources, and build capacity of host country scholars and institutions. The SIIL will utilize what we have learned in our research thus far to determine innovations that will enhance resilience and improve the livelihoods of people."
The SIIL takes a holistic and systems approach to addressing the problems of global hunger, poverty and nutrition, and continues to work toward creating enabling conditions for the adoption of innovations that focus on the livelihoods and well-being of people in the target countries and beyond.