U of I researchers adapt robots to fight against COVID-19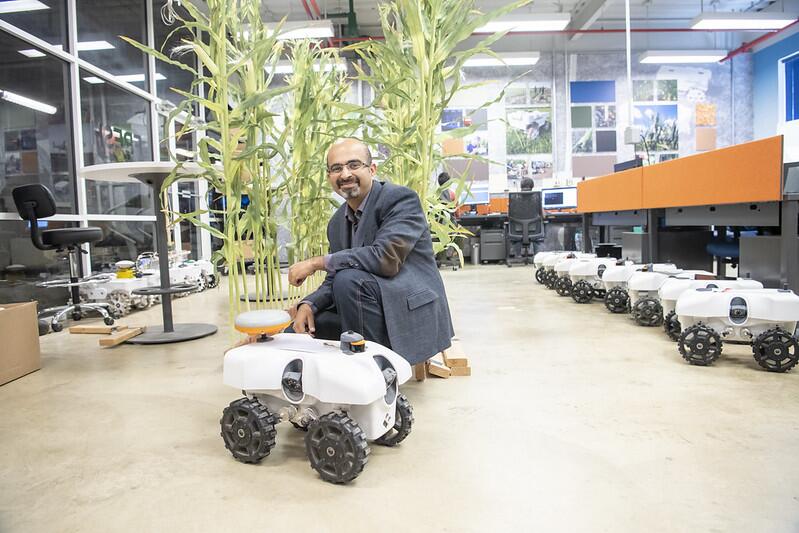 U of I researchers adapt robots to fight against COVID-19
URBANA, Ill. – Where coronavirus puts human workers at risk, robots can step in to do the job. Girish Chowdhary and his research team at the University of Illinois already have developed the robot, and they are now adapting it to current needs.
TerraSentia is a small, semi-autonomous robot that moves nimbly on the ground. A team of these robots work together, combining the speed and power of technology with the attention to detail of human labor.
"We made a good robotic platform. It has wheels, but it didn't have any arms; it was just moving around," says Chowdhary, assistant professor of agricultural and biological engineering in the College of Agricultural, Consumer and Environmental Sciences (ACES) and The Grainger College of Engineering at U of I.
So Chowdhary strengthened his collaboration with Kris Hauser and Girish Krishnan, both professors in Grainger Engineering. 
"Essentially, with the COVID-19 crisis, two things happened. One is the urgent need to keep healthcare workers safe from sick patients," Chowdhary says. "The second, medium-term need is enabling more diversity in our food systems to accommodate social distancing and disrupted food chains. In some places, fruit is rotting on farms because they're not able to get people to do the work. And Illinois, while being a top agricultural state, still has very limited fruit and vegetable growing capacity"
Chowdhary's team accelerated the work to make a robot that can perform tasks in the field or in the hospital, keeping people out of harm's way and filling labor gaps. They partnered with Krishnan, assistant professor in industrial and enterprise systems engineering and a leading expert on soft robotic arms and manipulators, to design a hybrid soft arm for field robots. Together, the team plans to test a prototype on picking cherry tomatoes and blueberries this summer at the Center for Digital Agriculture's autonomous farm, and they expect to have the robots ready for farm work next year.
"That's an aggressive plan," Chowdhary says. "But we need to move fast."
Chowdhary and his collaborators also saw a clear need in the healthcare industry.
"Healthcare professionals who work with COVID-19 patients have a higher risk of being exposed to infection. Those individuals are our first line of defense. If they start getting sick, it's difficult," he says.
One way to limit exposure to the coronavirus is to disinfect rooms and surfaces. Robots already exist that can disinfect a room by filling it with UV light for 20 minutes. But the light is harmful to human skin, so people have to leave while the robot works.
Chowdhary teamed up with Hauser, associate professor in the Department of Computer Science and the Department of Electrical and Computer Engineering at U of I, to develop technologies that use UV lights, wiping, or other mechanisms for disinfection. Hauser is a renowned expert in health-care robotics and was already working on wiping and disinfection robots.
The researchers partnered with EarthSense, a start-up company in U of I Research Park that Chowdhary co-founded, to manufacture the robots and scale up the technology for production.
"The technology that works is the one that scales. It doesn't have to be optimal or perfect," Chowdhary says. "Sometimes we forget this as scientists; we focus on the perfect solution. Because of the urgent need, we now have to focus on scaling up."
Chowdhary's group will work on localization and mapping technology for enabling the robots to work close to humans as they move around in a hospital environment. A cloud-based system will make the robots traceable, showing which areas have been disinfected.
"At Carle Health we welcome advancements like this that help us stay firmly focused on caring for our patients while keeping healthcare providers and our environmental services staff safe," says Lynne Barnes, Carle senior vice president of facilities. "Times like this, especially, require openness to new ideas, and this idea certainly would have helpful applications in a healthcare setting."
The robots are not limited to hospitals; they could work at schools, universities, offices, restaurants, airports, or any high-traffic places that need constant disinfection.
Chowdhary always envisioned that TerraSentia would move beyond agricultural applications, perhaps five or six years in the future. But with the COVID-19 crisis, he and his colleagues felt compelled to bring the technology forward as quickly as possible.
"COVID-19 isn't looking like it's going to disappear any time soon, and there will be other diseases in the future, so the need for these robots will continue," he points out.
Expanding TerraSentia applications is possible because of cross-campus collaborations among U of I experts from ACES, Grainger, and the Carle Illinois College of Medicine, Chowdhary notes.
"We are able to do this work because this great institution brings all these different experts together so we can team up and safely step out of our comfort zone," he concludes.
The United States Department of Agriculture and the National Science Foundation funded the research.