Faculty-led program allows students to discover ecology of the Yucatan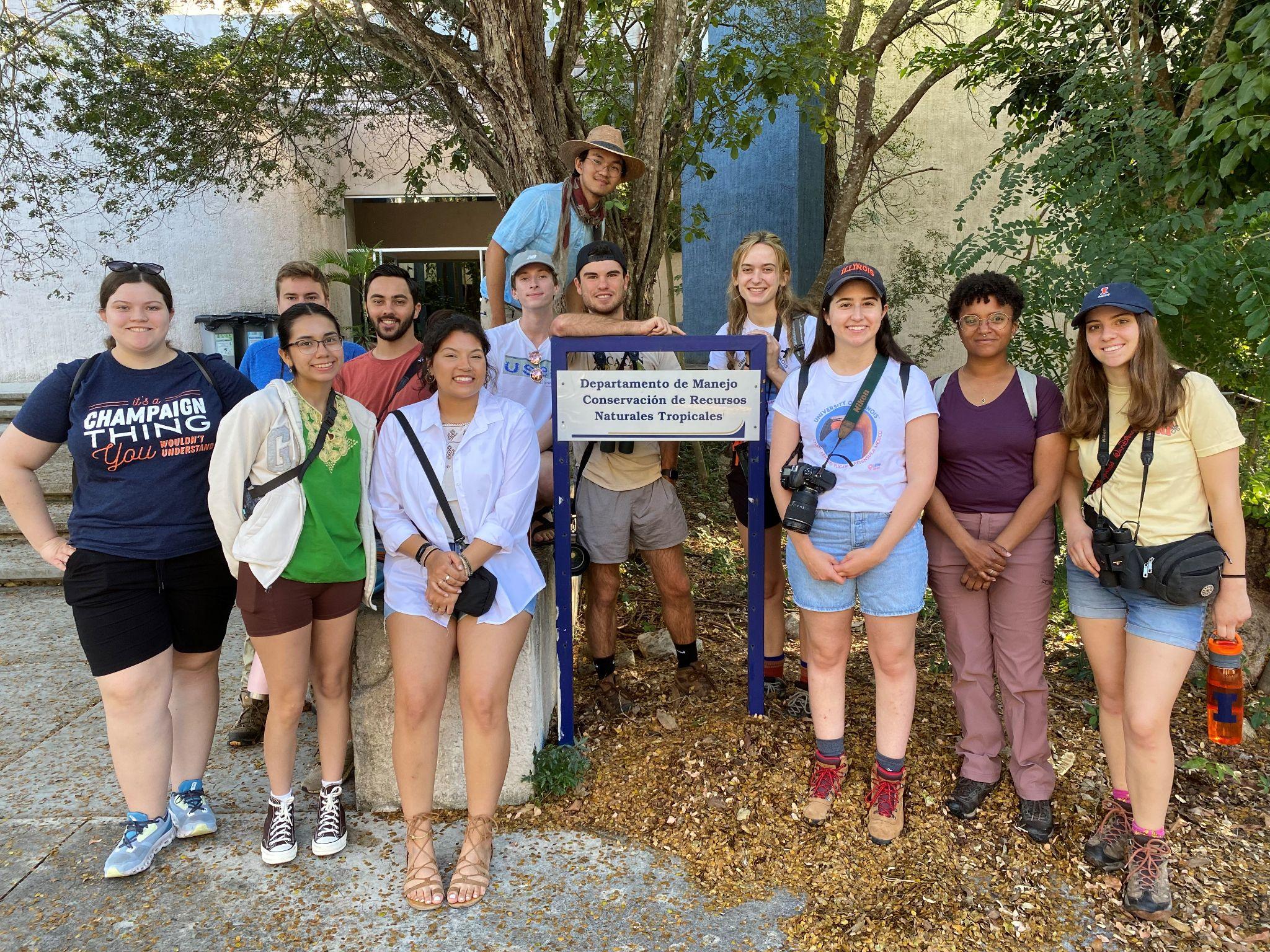 This past winter break I had the opportunity to explore the Yucatan peninsula with my fellow peers, my professor Dr. Michael Ward, his lab manager Mike Avara, and Tony and Melgar from Latam study abroad. The goal of the trip was to discover and explore the ecology of the peninsula and how intertwined it is with Mayan culture. I was able to discover environmental sustainability applied to rural and historic areas compared to the more urban adaptations I am used to in the United States.
Every day on this trip was incredibly jam-packed and I couldn't get enough. We were able to traverse the Yucatan Peninsula in 12 days, making a full circle throughout our travels. Watching as the topography, vegetation, livestock, weather, and environment as a whole changed with just a few hours of driving.
Our first day was mainly spent traveling. From Chicago to the Cancun airport, to driving a few hours to reach El Cuyo. Our second day was spent visiting the UMA San Manuel, a biosphere reserve where I had the chance to kayak through mangroves and hike throughout. I was able to see and hear endemic bird species and what the mangrove ecosystem looks like. On the third day, we visited Rio Lagartos and had a boat ride through mangroves where we witnessed wild crocodiles in their natural habitat and different avian species. After lunch, we drove to Las Coloradas to see the pink sea salt flats. We had workers explain to us the process and main driving factor behind the pink appearance of the salt flats. The next day we visited coastal dunes and then ate traditional Mayan food at a locals' home. Here we had introductions to her way of living off the land, and how every plant on her property served a purpose. We were even taught how to properly shape and cook tortillas. Stopping at this point to reflect. I myself am Mexican, but my family resides in a different area, far from the Yucatan. Because of this, I was able to explore and see a completely different side of Mexico than I was used to. From the difference in food, the immense prevalence of Mayan culture, and the overall environment.
My favorite day was when we visited a Crocodile conservation property. We had workers guide us throughout the property and explain to us what they do, how they do it, any obstacles they have come across, and patiently and wonderfully bear with all of us and our constant questions. I was able to see crocodiles in a completely new light and have them become one of my favorite animals. The work and progress of everyone here introduced me to possible pathways and opportunities.
Later in the trip, we visited a campus of the University of Merida, where we received a tour of the facilities and saw what environmental science looks like for students attending. We participated in a talk where we learned more about agriculture practices, history, and the need for more soil scientists throughout the area. Upon leaving we traveled to the San Antonio Mulix cenotes where as a group we swam in two different cenotes or sinkholes. It was an amazing experience and one that could be considered as once in a lifetime.
Toward the end of the trip, we stayed in Akumal. Here we went snorkeling, which was my first time ever doing anything of the sort. It was one of the most beautiful and unique experiences I have ever done. I saw with my own eyes the prolific number of fish, schools, and scenery.
As a whole, I believe this trip was one of the best decisions I have ever made in my life. Not only did I see it as a personal chance to branch out and visit different places in a country I consider to be a big part of who I am. I was able to explore and blend together my own personal background, my field of study, and my area of passion.
This trip solidified how much more I have to learn in my field, but also how badly I want to grow, expand, and be in this field.