Become a citizen scientist for pollinators with University of Illinois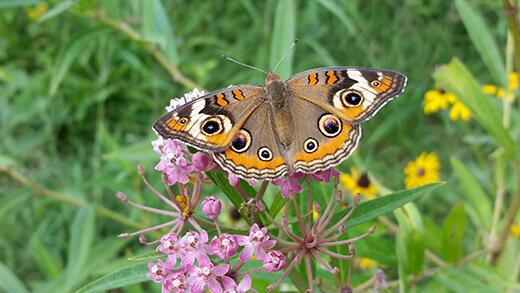 Become a citizen scientist for pollinators with University of Illinois
URBANA, Ill. — University of Illinois Extension is calling all lovers of bees, butterflies, and other pollinators that keep our crops and gardens growing to join scientists in tracking their distribution and habitat use across the state, from the comfort of your home, school, or community garden.
I-Pollinate is a citizen-science research initiative through the University of Illinois, Urbana-Champaign, designed to collect state-wide pollinator data. Volunteers can join up to three research projects and collect data on monarch butterfly egg and caterpillar abundance, pollinator visitation to ornamental flowers, and state bee distributions.
David Zaya, a plant ecologist with the Illinois Natural History Survey, is leading the monarch butterfly portion of the project. Zaya has been involved in state efforts to help the monarchs as they are considered for listing under the Endangered Species Act.
"Older landowners across Illinois have told me anecdotes of how many more bees, butterflies, and other pollinating insects they used to see," says Zaya. "Scientific data has started to show evidence of these declines, too. Our hope is that I-Pollinate will help us understand and use gardens to contribute to pollinator conservation and resurgence."
Zaya has worked with Alexandra Harmon-Threatt from the U of I Department of Entomology to design a study anyone can join by planting a simple 4x6-foot "pollinator pocket" as their personal study site for the summer. Instructions for the garden are provided on the project website linked below.
I-Pollinate volunteers can also join a decade-long project called BeeSpotter, led by entomologist May Berenbaum. The project uses photos submitted by volunteers across the Midwest to collect baseline information on the population status of honey bees and bumble bees. In addition to providing crucial information on where different bees occur, BeeSpotter volunteers have discovered two rare species in Illinois.
To learn more about becoming a citizen scientist with I-Pollinate and sign up to join, visit the project website at publish.illinois.edu/pollinatorproject.
Extension will offer a live webinar training with the scientists on April 3 at 3 p.m. for volunteers to learn about the projects and ask questions. To register for the training, visit go.illinois.edu/IPollinateTraining. A recording of the training will be shared on the project website.