Brawn honored as inaugural Levenick Chair in Sustainability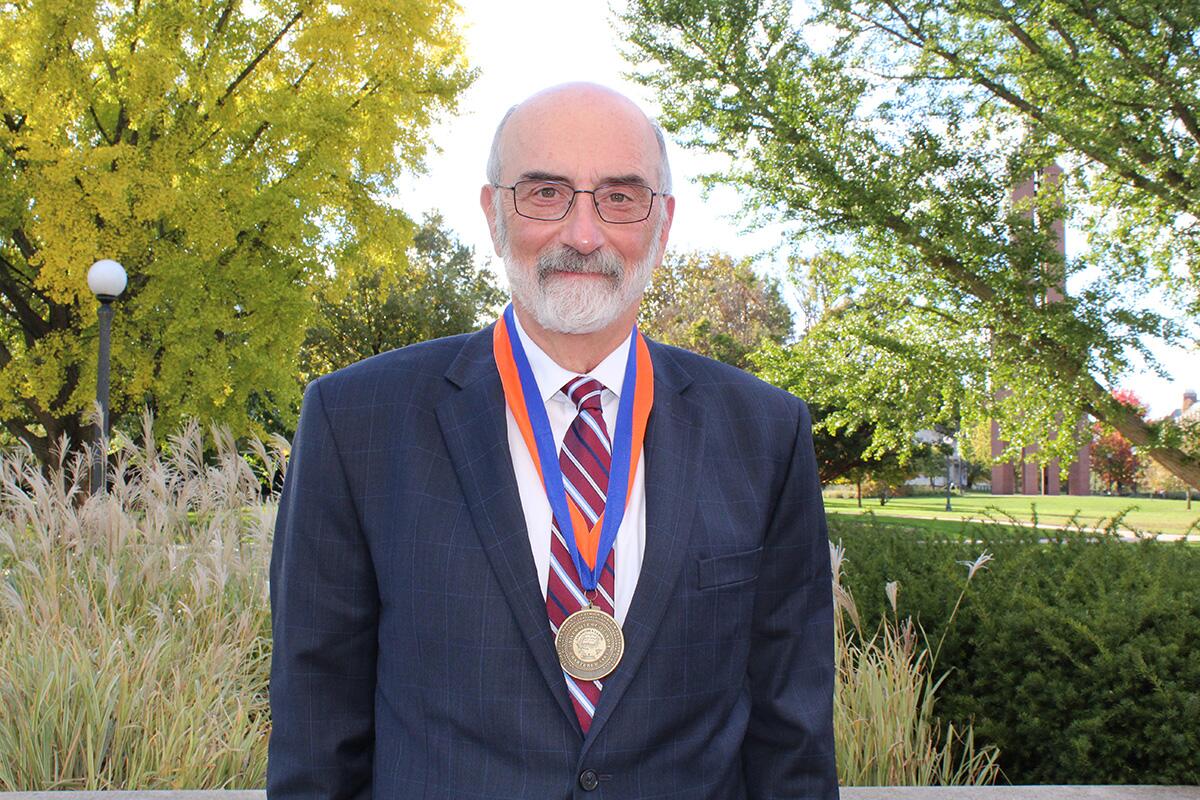 Brawn honored as inaugural Levenick Chair in Sustainability
URBANA, Ill. – In January 2020, professor Jeffrey Brawn was named the inaugural Stuart L. and Nancy J. Levenick Chair in Sustainability, the first endowed chair in the Department of Natural Resources and Environmental Sciences (NRES) at the University of Illinois. A pandemic-belated ceremony happened yesterday on the Urbana campus.
Brawn investigates how climate change and land use affect biodiversity. With an emphasis on birds in Illinois and tropical ecosystems, his research advances wildlife conservation around the world. Research highlights include studies of inbreeding in remnant populations of wildlife, the role of birds in the spread of West Nile Virus in Illinois, and analyses of long-term trends in the abundances of tropical birds.
"Dr. Brawn's research program has had a major impact on conservation science and practice, especially in threatened tropical ecosystems," says Robert Schooley, head and professor in NRES. "And with the Levenick Chair, he has helped expand the capacity of NRES faculty to conduct innovative and transformative research in sustainability science and promote its many applications. We are fortunate to have him as a leader within our department."
Stuart and Nancy Levenick of Naples, Florida, signaled their commitment to environmental sustainability with a 2019 gift supporting the endowed chair in NRES and a resident scholar's program in the Institute for Sustainability, Energy and Environment (iSEE). An alumnus of the College of Agricultural, Consumer and Environmental Sciences (ACES), Stu Levenick earned a degree in forestry.
Brawn has authored more than 130 scholarly articles and presented his research in countless professional conferences during his career. Moreover, Brawn values making his research accessible and applicable to lay audiences, participating in Reddit "ask me anything" forums and appearing in multiple popular science programs over the years. 
Brawn served as professor and head in NRES for more than a decade, driving initiatives to hire faculty with expertise in natural resource management, agroecology, and human dimensions of the environment. For seven years, he also served as the director of the campus-wide Program in Ecology, Evolution, and Conservation Biology (PEEC).
As Levenick Chair in Sustainability, Brawn organizes and manages the iSEE resident scholars program. Brawn has invited three scholars to campus since 2019: bioethicist Natalie Kofler, environmental activist and MacArthur "genius" Catherine Coleman Flowers, and nuclear engineering and nuclear policy expert Denia Djokić.
"Faculty and students from a diverse suite of disciplines have learned much from their interactions with these scholars," Brawn says.
Germán Bollero, interim dean for the College of ACES, says, "We are incredibly grateful to Stuart and Nancy Levenick for their generous endowment toward both the NRES chair and the resident scholars fund. Their visionary support elevates the College of Agricultural, Consumer and Environmental Sciences, iSEE, and the University of Illinois as global leaders in the interdisciplinary science and practice of sustainability."