Buy tickets now for Celebrate Food & Ag Day 2023 at Illini vs. Nebraska game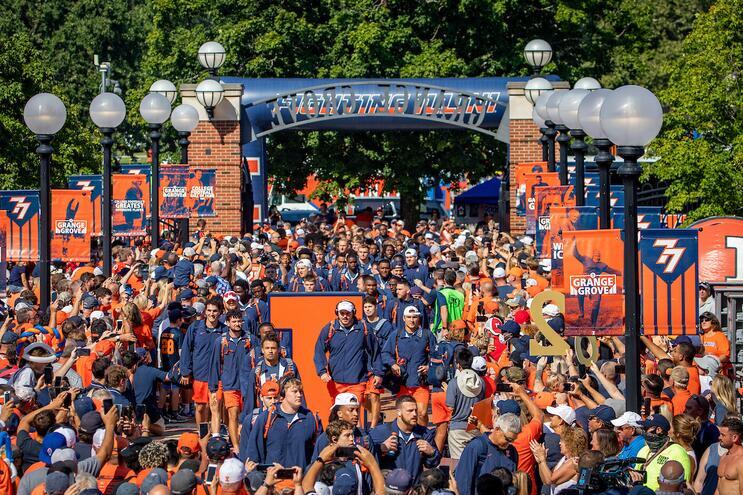 URBANA, Ill. — The College of Agricultural, Consumer and Environmental Sciences (ACES) at the University of Illinois Urbana-Champaign will host its annual Celebrate Food & Ag Day before the Illini Football game against Nebraska on Friday, Oct. 6. Organizers of the tailgate celebration invite current ACES students, faculty and staff, alumni, and friends of the college to enjoy great company, food and drinks, interactive activities, and appearances by special guests.
"We are excited to welcome our ACES family back to campus to cheer on the Fighting Illini and unite around our shared commitment to improve, promote, and celebrate food and agriculture. We also look forward to hosting winners from the State Fair's Sale of Champions, who represent the future of our industry," said ACES dean Germán Bollero. "This year's event will be better than ever — we hope to see you there!" 
The event will be held from 4:30 to 6:30 p.m. in Lot 31 — a new location this year — but ACES' presence will extend into Grange Grove, where interactive activities for all ages will be hosted by current ACES students, faculty, and staff and representatives from Illinois Extension. Fans will also be able to meet farm animals up close at a mini petting zoo provided by the Unit 7 Unity FFA Chapter.
Tailgate attendees can expect visits from the Illinois cheerleaders and the Marching Illini, as well as a surprise appearance from an Illini coach. As always, games and a full buffet will keep tailgate-goers entertained and satisfied. 
ACES is also giving away rally towels to the first 20,000 fans entering the stadium for the game. 
"Celebrate Food & Ag Day is a favorite annual event for our ACES family. It's a great opportunity to gather and showcase how the food and ag business affects our entire community. And the Illini spirit felt at the event is palpable," said Kim Bishop, ACES assistant dean for advancement. "If our ACES community members haven't attended this event before, I hope they plan to join us this year and experience the exciting changes to this favorite event."
Tickets, which include the buffet and an alcoholic beverage for adults over 21, are $30. Purchase yours today. In addition, the event is offering discounted tickets to the game, which kicks off at 7 p.m.
For more information, contact aces@illinois.edu.