Illinois champions digital accessibility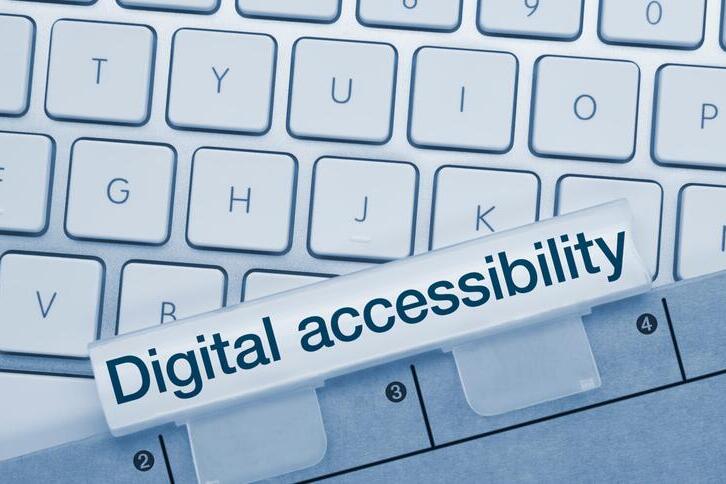 This year, May 18 is more than just a warm, quiet Thursday after the end-of-the-semester festivities. It's also the 12th annual Global Accessibility Awareness Day (GAAD). 
GAAD is (as its name suggests) a global event that strives to bring awareness to the necessity of ensuring digital content is accessible to those with and without disabilities. 
According to WebAIM in 2020, 98.1% of the one million home pages studied had at least one violation of the WCAG 2.0 digital accessibility standards. For the estimated one billion people worldwide with visual, hearing, motor, or cognitive disabilities, even one violation can act as a roadblock to valuable information. 
"[Digital accessibility] is the law, it's inclusive, and just the right thing to do," says Melissa Waller, College of Agricultural, Consumer and Environmental Sciences (ACES) Director of Web Development and Co-Chair of the Web Implementation Guidelines Group (WIGG)–a cross-campus group of web experts that are building an accessible theme and guidelines for digital content across campus. 
In her roles, Melissa is committed to helping spread awareness of the need for digital accessibility. She has given presentations on designing for digital accessibility and plans to give more this summer.  
"It's important to learn more about digital accessibility. It's not just for the permanent physical disabilities you can see." Melissa explains that advocating for digital accessibility includes those with permanent physical disabilities, but also a group of others whose disabilities may be temporary or not visible.  
Also Director of Web Development at ACES, Melissa strongly urges her ACES faculty and researchers to use the publish.Illinois.edu (PIE) service with the Illinois WordPress template to ensure that the college's web and digital content is accessible. PIE is a free service to all U of I faculty and staff that allows you to host and create a site that is on-brand and accessible—all in the span of 30 seconds. She also encourages people to use the Illinois web themes created by WIGG, which also help ensure websites meet accessibility standards.  
While campus today makes large strides towards a more accessible digital space, this wasn't always the case. Many of campus's efforts today are deeply rooted in the powerful history of leadership that the Division of Disability Resources and Educational Services (DRES) has shown in its work. Today, DRES continues to lead the campus's accessibility efforts.  
The result of DRES's early accessibility work seeps into other parts of campus as well. Cordelia Geiken, Manager of Tech Services's Quality Assurance & Assessment and Web Hosting, discusses campus's growing awareness of the need for digital accessibility. "The fact that we have a policy and some groups on campus that actively work to make sure software is accessible is a step in the right direction. Awareness that accessibility is important is much better than it was even five years ago." 
Cordelia co-founded WIGG and currently co-chairs its steering committee. Additionally, as Manager of Tech Services's Quality Assurance & Assessment team, Cordelia leads the effort to ensure that all software and services deployed or purchased by Tech Services meet the Campus Accessibility Standards. 
"It's vital that all software is evaluated before it is purchased or implemented to make sure that the standards of the Campus Accessibility Policy are met." But Cordelia isn't the only one who shares this commitment to taking a proactive approach. Melissa agrees: "we need an accessibility-first mindset, not retroactive fixes to a challenge." 
As campus continues to grow in its awareness and implementation of digital accessibility, both Cordelia and Melissa share some practical steps to take.  
Cordelia recommends that individuals join the IT Accessibility Liaison Program. This program helps people grow in awareness and knowledge about digital accessibility and creates a space to bring back knowledge and guidelines to other departments.  
Melissa suggests another way to get involved on campus. "Join WIGG in Microsoft Teams. We are always including accessibility in our discussions, testing, and development. Everyone is welcome in WIGG."  
Smaller steps can help, too. Melissa suggests, "Talk about accessibility with your coworkers. Use the Tab key on your keyboard to navigate through a webpage, try using a screen reader software like NVDA, Jaws, or Apple VoiceOver; or watch a video of someone using assistive technology." 
Global Accessibility Awareness Day is in its 12th year of helping people learn more and prioritize digital accessibility across the world. 
University Resources:  
Learn more about digital accessibility: