Media attending Illinois State Fair: Speak with Illinois 4-H, Illinois Extension, and ACES leadership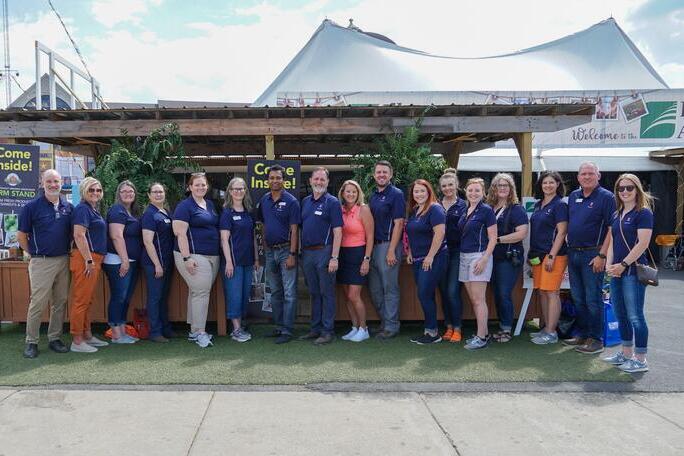 Illinois 4-H, Illinois Extension, and ACES staff at the 2022 State Fair
MEDIA ADVISORY
What: Media attending the Illinois State Fair on Aug. 11 are invited to meet with leadership from the University of Illinois Urbana-Champaign representing Illinois 4-H, Illinois Extension, and the College of Agricultural, Consumer and Environmental Sciences (ACES) to discuss how these three organizations are providing lifelong learning and enrichment opportunities for Illinois citizens: 
Illinois 4-H

, part of Illinois Extension, is the largest out-of-school youth organization in Illinois, where youth "learn by doing" with fun, hands-on activities that teach skills youth can use now and in the future.


 

Illinois Extension

, part of the College of ACES, is a state-wide network of educators, specialists, and program leaders who help equip farmers, consumers, and families with evidence-based research and resources to strengthen relationships, build prosperity, ignite economic development, nurture health, and safeguard natural resources. Extension educators provide expertise on a

wide range of topics

from local food systems and small farms to crops, livestock, gardening, local government, and weather.


 

College of ACES

is the University of Illinois epicenter for applied research, education, and outreach to support abundant food and energy supplies, thriving families and communities, and sustainable resources and environments across the state of Illinois and beyond. Mission-driven initiatives pioneered by ACES include the

Center for Digital Agriculture

,

Illinois Regenerative Agriculture Initiative

,

Integrated Bioprocessing Research Laboratory

, and the

Family Resiliency Center

. ACES prepares a highly skilled workforce through its diverse

undergraduate

and

graduate programs

as well as a growing portfolio of credit and non-credit

online programs

and

certificates

for professionals looking to upskill, retrain, and grow their careers. 
Who: College of ACES Dean Germán Bollero, Associate Dean and Director of Extension Shelly Nickols-Richardson, and 4-H Assistant Dean and Director Lisa Bouillion Diaz
When: 1:30 - 2 p.m. on Aug. 11, 2023
Where: Media tent in the auditorium of the 30 Building (old Extension Area) along 8th Street at the Illinois State Fairgrounds, Springfield, IL 62702
Media Contacts: Bridget Lee-Calfas, 217-333-6282, bklee@illinois.edu (Illinois 4-H and Illinois Extension); Claire Benjamin, 217-244-0941, claire@illinois.edu (College of ACES)