Professors Kaiyu Guan and Brian Ogolsky named University Scholars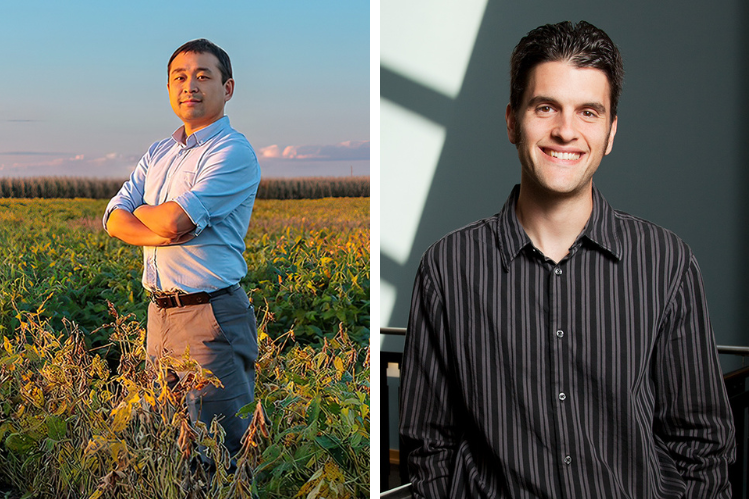 Professors Kaiyu Guan (left) and Brian Ogolsky (right)
Five University of Illinois Urbana-Champaign professors have been named University Scholars in recognition of their excellence in teaching, scholarship, and service. Among this year's cohort are Kaiyu Guan and Brian Ogolosky, both professors in the College of Agricultural, Consumer and Environmental Sciences.
This program recognizes faculty excellence and provides $15,000 to each scholar for each of three years to enhance their academic career. The money may be used for travel, equipment, research assistants, books, or other purposes.
"Faculty excellence is truly the University of Illinois System's foundation, and unquestionably the basis for the exceptional academic experience of the nearly 95,000 students who enrolled in our three universities last fall," said Nicholas Jones, the system's executive vice president and vice president for academic affairs. 
"The University Scholars program spotlights outstanding individuals and provides resources for them to expand their academic horizons. They so richly deserve the accolades that come with this recognition, and their accomplishments also represent the standards to which we aspire as we actively recruit educators and researchers of the highest caliber."
Kaiyu Guan
A professor of natural resources and environmental studies, Guan has advanced sensing and modeling technologies for monitoring and assessing agricultural productivity and ecosystem services. 
Guan initiated and founded the Agroecosystem Sustainability Center to bring together multidisciplinary teams to address key challenges in measuring, modeling and quantifying the sustainability of agriculture.
His academic achievements have fostered more than 140 journal articles. Guan is committed to training undergraduate students, especially underrepresented students. 
His recent work on agricultural carbon emission has gained national attention, and he has provided scientific advice related to agricultural carbon emission reduction to the White House's Office of Science and Technology Policy and the U.S. Senate Committee on Agriculture. 
Brian Ogolsky
A professor of human development and family studies, Ogolsky is an internationally recognized leading scholar in the field of relationship science, an award-winning teacher and director of Graduate Programs, and a generous contributor to faculty governance. 
Ogolsky has made major theoretical and empirical contributions to the field of relationship science, with a specific emphasis on romantic partners' relationship functioning. His publication record includes two internationally awarded books (with a third in press), nine chapters in edited volumes and 47 peer-reviewed journal articles. 
He has been named to the List of Teachers Rated as Excellent by their Students every semester he has taught. Ogolsky excels as a mentor for students, and he has received the Faculty Mentor Award and the Provost Award for Excellence in Graduate Student Mentoring. 
He has served on the board of directors for the National Council on Family Relations and the International Association for Relationship Research. He has served on grant reviews for the National Science Foundation, Robert Wood Johnson Foundation, and the Social Sciences and Humanities Research Council of Canada.  
Read more from the Illinois News Bureau.
---