Spring 2020 FTC Construction Update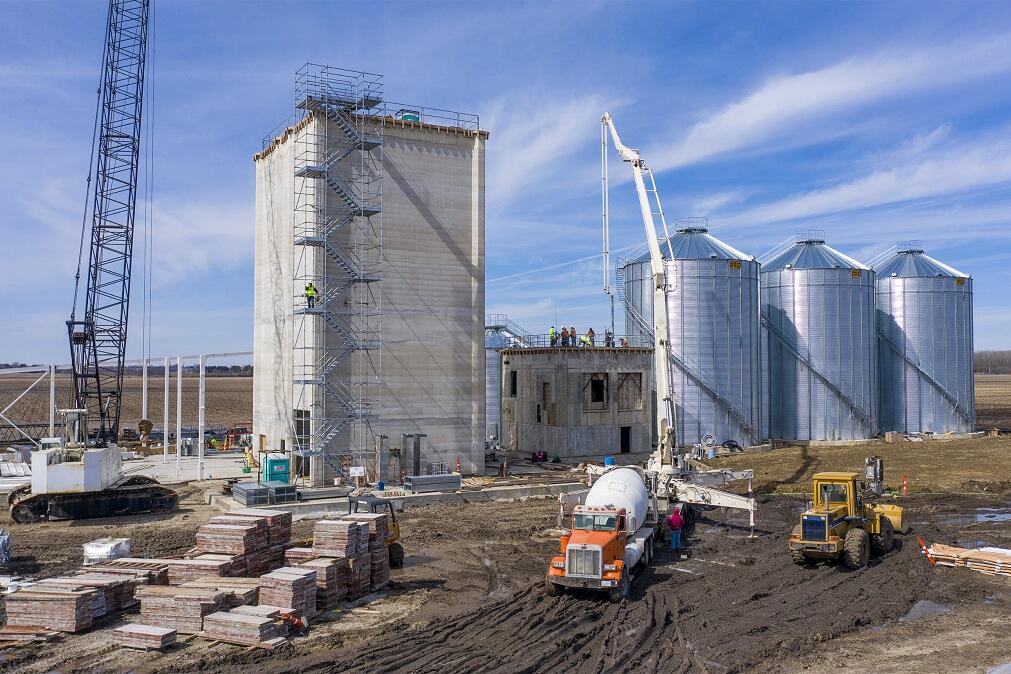 On time and on budget: that's the latest construction update for the new Feed Technology Center, even in the midst of the COVID-19 pandemic.
With the concrete work completed, three donated GSI grain bins fully installed, and much of the major equipment delivered, the project is on track to turn on motors mid-July. Testing and calibrating, will take place throughout the summer. The project is set to wrap up by early October, with a ribbon-cutting event to be scheduled thereafter.
"We wouldn't be where we are today without the generous support of our donors and industry partners. And we are grateful for construction firm ASI's creative protocols to ensure worker safety while keeping the project on track," says Rodney Johnson, head of the Department of Animal Sciences at Illinois.
To accommodate best practices for social distancing, the construction crew will be limited to 15 health-checked workers in each of two daily shifts. Although milling equipment from China and Europe may be delayed, the crew will forge ahead to construct the building that will house the equipment with one exception, the roof. When the equipment arrives, ASI will lower it into place via a crane and then add the roof to complete the building. 
Once operational, the Feed Technology Center will represent a regional innovation hub in the area of animal nutrition, with ripple effects that could influence the livestock, poultry, and pet feed industries worldwide. The center will also provide novel educational opportunities for students across the College of Agricultural, Consumer and Environmental Sciences (ACES), offering new courses and degree options rich in opportunities for hands-on learning and career development.
"It is thrilling to know that we will soon have an opportunity to live into the potential of this long-awaited facility, and we are so grateful to the donors that are helping us make this dream a reality," says ACES Dean Kim Kidwell. "Our students and faculty already shine in the animal nutrition space, but the Feed Technology Center will elevate our ability to lead in this space on a global scale and I couldn't be more excited about what the future for holds for feed technology at Illinois."