ACES Undeclared allows students to explore interests before selecting a major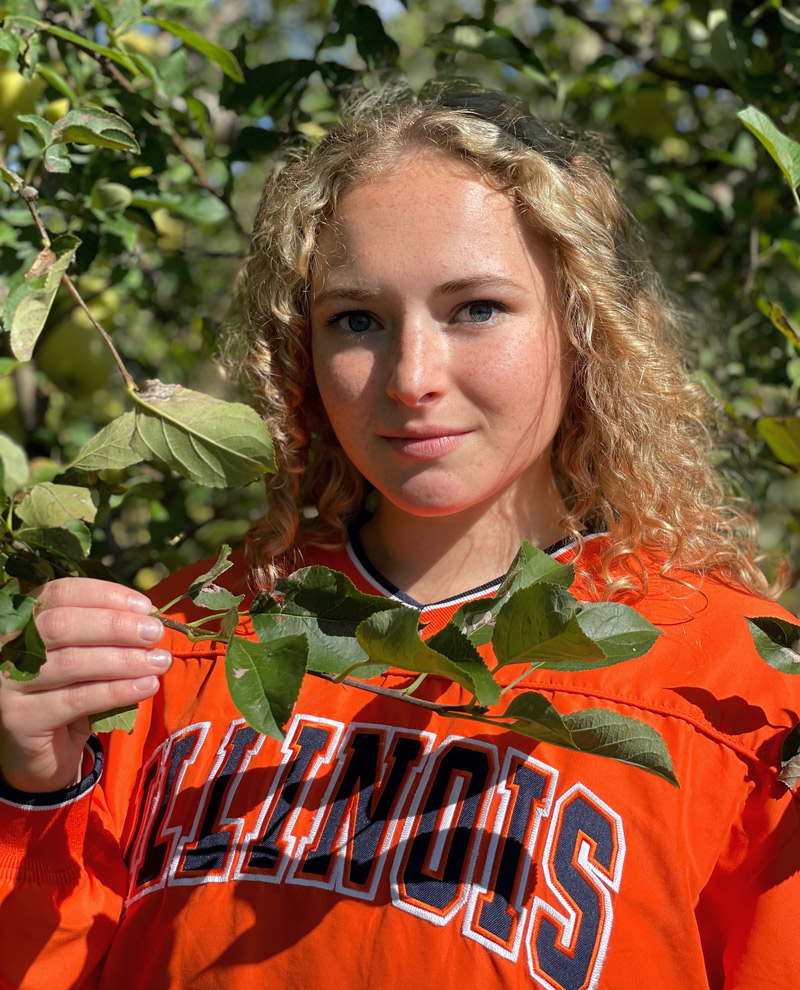 I have had a passion for agriculture since I was eight years old. After I expressed interest in 4-H, my mom signed me up for my first 4-H club, All Cooped Up. Throughout my ten years in Ohio 4-H, my passion for agriculture grew. During the week of our local county fair, I would spend hours holding my chickens while answering the questions of curious community members as they walked through the poultry barn.
When college application season rolled around my senior year of high school, I felt completely lost and alone. Many of my classmates had already accepted their college offers and would gush about the very specific program they were enrolled in. I, on the other hand, was stuck on what university to attend let alone what I wanted to major in. After hearing back from the nine schools I applied to, I was faced with my first obstacle: where do I go?
The University of Illinois has always been my top school, even though I had never visited campus or the state of Illinois before my freshman year. As I sifted through my acceptance letters, the University of Illinois began to stick out to me. To this day, I can still remember the strange gut feeling I had every time I thought about being a U of I student. What sealed the deal was an offer to be a paid Crop Science intern for a prestigious professor and researcher in weed sciences. No other school even came close to U of I's offer. It was clear that this school wanted me as bad as I wanted it. Choosing the University of Illinois is by far the best and easiest decision I have ever made.
In addition to the university's prestigious reputation, the generous scholarship opportunities afforded to me through the college of ACES, and the paid internship via the Ignite Program, I was also very excited about the ACES Undeclared program. I was wary of choosing other schools because they accepted me into a specific degree program (e.g., biology major or animal science) based on my interests. I was still unsure what exactly I wanted to pursue as a career and ACES Undeclared gave me the freedom to explore all my options before being sure of my major choice.
I quickly realized, via my internship, that being a scientist wasn't in the cards for me. I really enjoyed working in the lab setting, but I did not have the passion or skills to be successful in the career field. Because I was in ACES Undeclared, I did not panic about switching majors, I simply changed my classes to fit a different track my sophomore year. After many hours of internal deliberation and reflection–and a few tears–I finally had a major I was passionate about. During the second semester of my sophomore year, I transferred from ACES Undeclared into Agricultural and Consumer Economics with a concentration in Public Policy and Law. I realized that I enjoyed leadership, communicating with others, working as a team, research, writing/reading, and public speaking: all skills a good lawyer should have.
Had I not been enrolled in ACES Undeclared, I would probably not be in a major I love or even the person I am today. If I had been 'locked' into a specific major when I came to UIUC, I probably would have panicked at the thought of changing majors and stayed in a major I was not good at nor enjoyed. I am truly grateful for the opportunities that ACES Undeclared has afforded me.
I am also extremely grateful to my ACES Undeclared advisor, Logan Honegger, for gently guiding me towards success. I sent her many panicked emails about potentially failing Chemistry 102 and what my options were if I did. She was there for her students while we tried to navigate living on our own for the first time and dealing with feeling isolated due to COVID-19. She never pressured me into picking a major and she connected me with people who helped me make an informed decision about my major declaration.
Professor Jonathan Coppess is another influential person in my ACES Undeclared journey. I took ACE 203 on a whim because I wanted to explore other major options within ACES. ACE 203 quickly became my favorite class of the semester and remains my favorite class at U of I. It was exciting to not only finally understand the content of a class, but to be passionate about the topics and succeed. Because of Professor Coppess and ACE 203, I am studying to take the LSAT in August and will begin applying to law schools in the fall. Had I not been in the ACES Undeclared program, I would not have had the freedom to explore other classes in ACES and find what I am truly passionate about and skilled at: agricultural policy and law.
I am forever grateful to ACES Undeclared and the entire College of ACES for giving me a 'home away from home'. Being an out-of-state student can be challenging and isolating at times, but the students in ACES are unlike any I have ever met. Students want to help each other and encourage everyone to discover their passion for agriculture. Some of my closest friends I met in an ACES class. As a way to give back to the community that gave me a future, I became an ACE Ambassador. I enjoy bragging about the cool opportunities students can have in the College of ACES.
If you are struggling to find a major that excites you, I cannot recommend the ACES Undeclared program enough. You have the same opportunities as someone who is enrolled in a declared major without being tied to a specific major. I was able to work in an esteemed crop science lab as a freshman in an undeclared program. That is absolutely unheard of anywhere else. You will be surrounded by people who want to see you succeed and discover your passion, not just fill a seat in some random major you don't have interest in. It is my firm belief that every student who has a passion for agricultural, consumer, or environmental sciences should start in the ACES Undeclared program so they too can discover their passion in a flexible learning environment. If there is one thing I could tell my past self during the college admissions process its this: its okay to be afraid of not knowing what lies ahead, but make sure to take every advantage of every opportunity and your passion will find you.