Shannon Flavin: the entrepreneurial spirit behind Country Bumpkin Pumpkins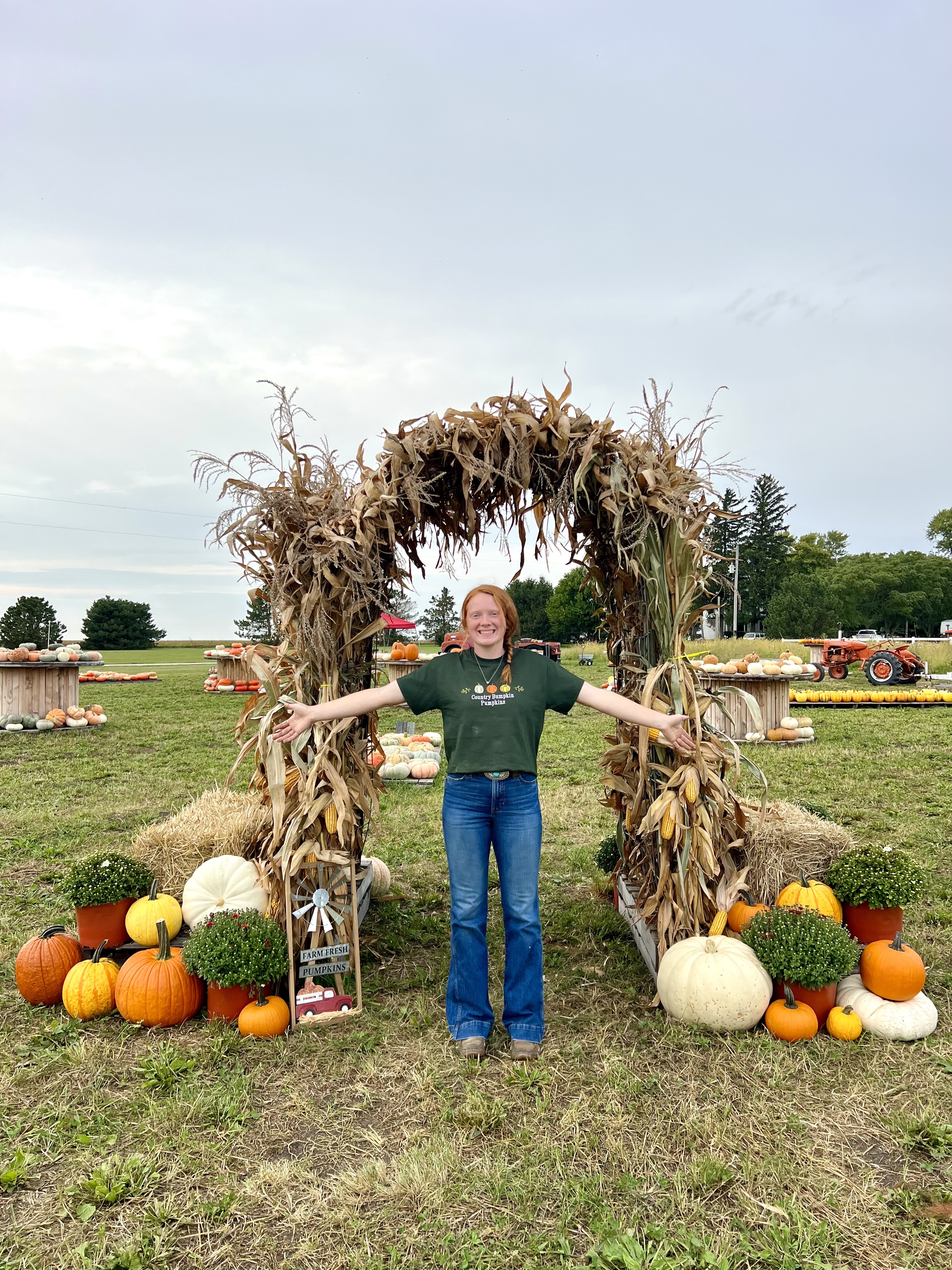 Shannon Flavin, crop sciences student in the College of Agricultural, Consumer and Environmental Sciences (ACES) is the proud owner and entrepreneurial spirit behind Country Bumpkin Pumpkins, boasting 95 pumpkin, gourd, and squash varieties for all needs.
Shannon launched this business at age 14 in 2016 as part of her FFA Supervised Agricultural Experience (SAE) project. Her dedication earned her the State Proficiency Award in Vegetable Production in 2021.
"I fell in love with harvesting the abundance of pumpkins that came from the seeds I sowed and marketing my produce to the community," she said.
Her passion for cultivating and marketing pumpkins led her to expand her project annually. She began with half an acre, and eight years later, it has grown to five acres.
In high school, Shannon started small, selling pumpkins at Casey's in Tolono with the help of her older brother or dad driving her trailer since she was only 14. After turning 16 and obtaining her driver's license, she began to offer deliveries, custom displays, and fall cleanup for local businesses and homes.
Today, Shannon primarily sells her produce at her family's farm in Ivesdale, occasionally attending local fall markets. Her farm is open to the public from 9 a.m. to dusk from mid-September to Halloween.
Managing her business alongside her college studies and extracurricular activities is no easy task. Shannon's days are filled from sunrise to sundown, with schoolwork squeezed in during rainy or dark hours. Tasks on the farm include planting, field maintenance, disease monitoring, hand-picking each pumpkin, and making strategic business decisions.
As many farmers experience, Shannon says her biggest challenge is Mother Nature. Droughts, flooding, or unfavorable weather can greatly affect the quality and quantity of the pumpkins that are crucial to her business.
As the owner of Country Bumpkin Pumpkins, Shannon has learned about both crop production and work-life balance. She said the job allows her to strike a balance between hard work, authenticity, and forward thinking.
Being a student in the College of ACES has been an integral part of Shannon's business and entrepreneurial mindset.
"ACES has built me so many connections I would not have otherwise. I have tried to tailor my degree as much as possible to what I am genuinely interested in learning and taking back to the farm, which is feasible through both crop and business aspects to my concentration."
Shannon also attributes a lot of her success to her supportive friends and family, including her mom, dad, brother, and grandparents, who all play a role in her business success.