ACES and UIF host McBride Farm Dedication on Aug. 8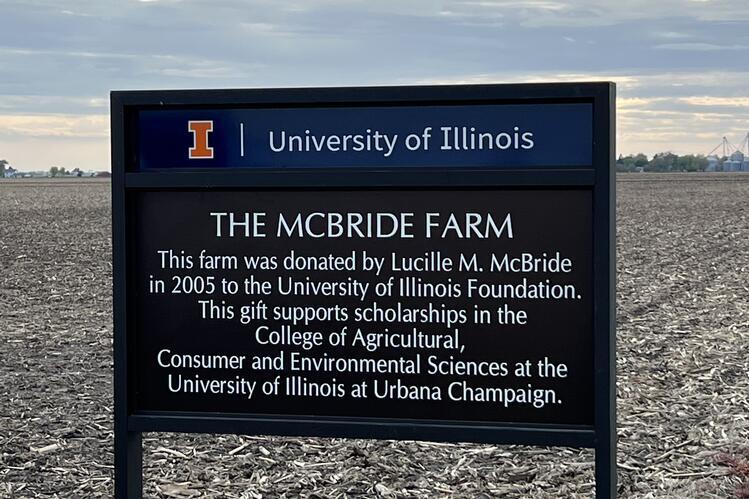 McBride Farm sign
MEDIA ADVISORY
What: Media are invited to attend the Lucille Dunn McBride Farm Dedication, hosted by the College of Agricultural, Consumer and Environmental Sciences (ACES), part of the University of Illinois Urbana-Champaign, and the University of Illinois Foundation (UIF).
Leadership from the College of ACES and UIF will celebrate the impact of the Lucille Dunn McBride Farm — donated to UIF in 2004 — with a sign dedication ceremony on Tuesday, Aug. 8, near North Henderson, Illinois. 
Lucille McBride, of Galesburg, donated 76 acres in Mercer County to the College of ACES to create the "Illinois Society of Professional Farm Managers and Rural Appraisers, Wendell L. Farris, Raymond Kreig and Wanda Kreig Scholarship Fund" to support ACES students from a 150-mile radius of Galesburg.
McBride's gift honors her farm managers, Farris and Raymond Kreig, as well as her close friendship with the Kreig family whose children and grandchildren are alumni of the university and the College of ACES. Farris graduated from ACES in 1939. 
The College of ACES is the grateful beneficiary of more than 6,000 acres of farmland held collectively by the university and the University of Illinois Foundation. Income from the ongoing operation of gifted farmland serves as a perpetual funding source to support the college's land-grant mission. 
Who: Speakers will include the following:
Germán Bollero

, Dean, College of ACES

Meg Cline

, Vice President for Gift Planning and Trust Services, UIF

Kim Bishop

, Assistant Dean of Advancement, College of ACES

David Nelson, McBride Farm tenant

Janet Kreig, daughter of Raymond and Wanda Kreig
When: Remarks will begin at 3:15 p.m. on Tuesday, Aug. 8, 2023, with a reception to follow
Where: The McBride Farm is located at 41° 5'35.01"N, 90°26'54.88"W — from Route 150, head west on Knox Highway 34. The sign is just west of the intersection of Knox Highway 34 and 335th Street near North Henderson, Illinois. A reception will follow the sign dedication at David Nelson's farm at 457 Knox Rd 2200 N, Wataga, IL 61488. 
Media Contact: Claire Benjamin, 217-244-0941, claire@illinois.edu